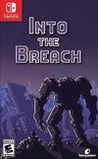 Summary:

Control powerful mechs from the future to defeat an alien threat. Each attempt to save the world presents a new randomly generated challenge in this turn-based strategy game.
Developer:

Subset Games

Genre(s):

Strategy

,

Turn-Based

,

Tactics

# of players:

No Online Multiplayer

Cheats:

On GameFAQs

Available On:

Stadia

Rating:

E10+
Please enter your birth date to watch this video:
You are not allowed to view this material at this time.
Into The Breach - Official Launch Trailer
Subset Games has delivered one of the tightest strategy games we've ever seen.

Subset games has achieved a mastery of the microdrama, and as such, Into The Breach is about as essential as indie games get.

I came in expecting a lot, and I actually got a lot more than I bargained for. This is one of the more captivating, tactical and rewarding games of 2018.

The game's UI and miniature battlefields, both of which scale incredibly well on different monitor resolutions, unsurprisingly make the transition to the Switch's handheld mode flawlessly. The visuals are sharp and readable, the loading times are instantaneous and on-par with the PC version, and the addition of controller rumble to accompany on-screen action serves as an enjoyable touch.

The basic gameplay itself doesn't really change over the course of each run: guard buildings, kill Vek, and try not to die in the process. The randomized maps and objectives add variety, but you will need to appreciate the subtle changes that the islands undergo in each run. Undoubtedly, one of the best features of the game is unlocking new mechs and creating your own squads, and it is that element that will keep me coming back to the game. Hop into a breach and pick up this game yesterday, soldier. It's Vek-hunting season.

Into The Breach is a fantastic example of how you can play around with an established genre. Taking turn-based strategy and letting you see what is about to happen changes everything about what would normally play out. The feeling of intellectual superiority you feel when you outsmart the aliens is incredible and will keep you playing through every loss you will experience. Best of all the bite-size maps fit onto the Switch so perfectly that the idea of playing it on a PC is absurd. This is a game made for a handheld, and damn is it good.

Into The Breach is a challenging turn-based strategy game that features a competent gameplay and a wide variety of levels. While it could certainly use a more elaborate plot and some more weapon tutorials, it's safe to say that this rather orthodox work will appeal to fans of strategy games looking for something that follows the genre's main tenets.
Terrific puzzle/strategy game. I'm not a usually a fan of turn based combat but this game has me hooked.

A flawless Switch port! This is how it is done. Fast and fluid controls, text size that is readable. The devs has done a great job with this.

I created an account just to combat the negative reviews for this game as it is just unreasonable to give this game anything below a 6 quite

I created an account just to combat the negative reviews for this game as it is just unreasonable to give this game anything below a 6 quite honestly.

This game is chess meets Advance Wars and is an amazing roguelike turn based strategy game that I have put almost 100hrs into. The game is difficult and you find yourself on your heels most levels trying to stay a step ahead of the bugs. Mechs have several upgrade and customization options as well as interchangable pilots with various special abilities and you unlock a wide roster of pilots the more you play and find.

Graphically the game is a bit pixelated but the strength of the game is in strategy and replayability. Even with only a few enemy types and a fairly easy learning curve, the game keeps you hooked as you push into increasingly unforgiving levels in the later stages of the game.

I think this is an amazing game for the price. So much so that I bought it 2x, once for PC and once for the Nintendo Switch.

…

Expand

Addictive and satisfying turn-based strategy that is more like chess than Starcraft. The variety of teams you can you make this endlessly

Addictive and satisfying turn-based strategy that is more like chess than Starcraft. The variety of teams you can you make this endlessly playable.

Sometimes relies on RNG--a game might sometimes hinge on random starting placement or weapon drops, but not often.

…

Expand

This is a beatiful strategy game that takes it's gameplay with well designed mechanics. The main reason this is a great game is the amazing

This is a beatiful strategy game that takes it's gameplay with well designed mechanics. The main reason this is a great game is the amazing gameplay loop that rewards you for completing each island but can bite you in the behind if you don't plan your upergrades well as in some areas rewards good movement options and abilities, but another can require you to tank loads of damage. It keeps you on your toes all the way to the final island. But it can be to tougth in some places. A game isn't good because it's hard but it's good for being challenging and creative in the ways of its roadblocks. Take dark souls for example. many of the bosses are big and have massive healthpools, as well as doing tons of damage. But they can be exploited with fast mowement or clever exploits or just a general understanding of its attack patterns. But in into the breach, especially the snow island boss, has good movement and attack, as well as a sizeable health pool. There is almost no room for creativity when fighting these bosses. The only one that really was interesting so far was the blob in island two. But still, this a beautiful strategy game with fun and interesting game mechanics. A gem for shure

…

Expand

For someone who is super into board games, this more than filled my craving. The difficulty toggle works very nicely for introducing people to

For someone who is super into board games, this more than filled my craving. The difficulty toggle works very nicely for introducing people to the game, and it's overall just really fun to win games.

…

Expand

Hardly a "game". Overrated to the extreme. "Procedurally generated roguelike" equals 0 skill, sheer luck and massive frustration. Bad

Hardly a "game". Overrated to the extreme. "Procedurally generated roguelike" equals 0 skill, sheer luck and massive frustration. Bad graphics, bad sound, horrible game design. Boring, repetitive, no replayability. Waste of money, still not worth it if it were free. Shame for devs and 10/10 spammers alike.

…

Expand