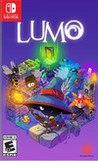 Summary:

Witness the rebirth of a genre in Lumo a classic isometric adventure with a modern twist for gamers young and old alike!
As a contemporary take on the long-lost isometric platform genre, Lumo can be enjoyed by anyone looking for an absorbing, challenging and rewarding adventure. But forWitness the rebirth of a genre in Lumo a classic isometric adventure with a modern twist for gamers young and old alike!
As a contemporary take on the long-lost isometric platform genre, Lumo can be enjoyed by anyone looking for an absorbing, challenging and rewarding adventure. But for those who lived through the golden age of videogames the 80s and early 90s or know about the games and culture from that time, layer upon layer of nods, winks and touches to those times help build upon an experience thats as heart-warming as it is exciting!

…

Expand
Developer:

Rising Star Games

Genre(s):

Action

,

Platformer

,

3D

# of players:

No Online Multiplayer

Cheats:

On GameFAQs

Rating:

E10+
An absolute classic, in all meanings of the word; Lumo tugs at the nostalgia heartstrings, and proves to not only look and feel as good as the '80s and '90s Commodore 64 and Spectrum golden oldies, but plays far better than the majority actually would if dusting off the old systems nowadays. Highly inventive, with secrets galore packed in, plus dastardly puzzles that provide a fantastic challenge - it is the sort of title that just keeps on giving and giving, and it is hoped that more Lumo is on the way in the near future.

Lumo succeeds as a new entry into a genre that had been lost in time. It delivers an experience that feels retro while including the option for modern gaming conveniences to take a genre that would likely be unapproachable for newcomers to a worthwhile experience for anyone who is willing to try something challenging and new.

For retro kicks with a modern feel, or for those curious about this genre and the experience it offers, this is certainly an enjoyable adventure.

Lumo is a fitting tribute to isometric platform games which honours its retrogaming references with a progressive and well adjusted difficulty curve, as well as plenty of references to classic titles of years gone by. While the fixed camera may cause some issues in specific moments, the overall experience is nothing short of pleasant and enjoyable, whether on short or long gaming sessions.

Lumo is a game with something for everyone. It's nostalgic in its inspiration from classic dungeon crawling and puzzlers; it's fresh for its minimalist style and calming yet challenging experience.

Lumo is an imaginative platform game with the essence of the classics of ZX Spectrum.

While Lumo is a charming throwback game to the puzzlers of old, many of the issues with the game's older design rear their head again here. Those who are fans of the genre will enjoy the game, while those going in blind will most likely find themselves frustrated with the game.