Publisher:

Nintendo

Release Date:

Jul 17, 2020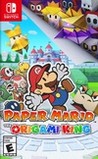 Summary:

Featuring a new ring-based battle system that mixes puzzle-solving skills with traditional turn-based combat, Paper Mario: The Origami King aims to put new twists in the series' established formula.
Please enter your birth date to watch this video:
You are not allowed to view this material at this time.
Paper Mario: The Origami King - Closer Look Trailer
LEVEL (Czech Republic)

Oct 7, 2020

Origami King is a huge game created from dozens of small entertaining levels, missions and simple quests and other things to do. While still working with years-proofed mechanics, it is not afraid to bring out something new and fun. [Issue#306]

A constant flow of imagination and good ideas, filled with variety and surprises at every corner. From now on, every time the words "fun as hell" come to our mind, we'll remember Paper Mario: The Origami King.

Nintendo Force Magazine

Oct 26, 2020

If you're looking for a return to the originals, you'll be disappointed – but only just. This is a worthy standalone title, and its story is great. [Issue #48 – September/October 2020, p. 68]

Paper Mario: The Origami King is an adorable adventure, a breath of fresh rhythm on Nintendo Switch. The artistic direction, the well thought-out fighting system, the puzzles that require a reading of the environment and the atmosphere through the many sets make this game a real fun video candy-filled with humor and secrets, and very good experience.

Apart from the combat part, Paper Mario: The Origami King is fun, adorable, and full of surprises.

I liked playing Paper Mario: The Origami King. It has such high points with the music, the visuals, the comedy, and the willingness to try new ideas. I love how experimental the adventure is with the large variety of situational humor and mini-games. This world was such a treat to journey through, and it was nice to have more then one meaningful emotional moment again in a Paper Mario game. It's so clear that The Origami King is trying to have its cake and eat it too when it comes to its combat system. It's so strange to me how optional the game is to play. I did go for completing every challenge presented to me, but I can definitely foresee players skipping ahead because of the lack of incentives. I applaud Paper Mario: The Origami King for trying something new, but am worried that the friction between its ongoing genre identity is going to keep the series running around in circles.

While Paper Mario: The Origami King makes excellent strides in terms of humor and adventure game design, it's still sorely lacking aesthetically and features a horrendous battle system that only gets more frustrating as you play. I've given up on the series returning to the style of my childhood's classics, but if the series ditches battles entirely it could make for some extremely fun adventure games.
Good Game, Its a Paper Mario Classic with a good adventure, that game its so beatyful

I'm really glad I picked this up on a whim. I was itching for a new RPG to really sink my teeth into and I have always been a fan of Mario

I'm really glad I picked this up on a whim. I was itching for a new RPG to really sink my teeth into and I have always been a fan of Mario games but never picked up a Paper Mario title in the past. My friends had the previous games growing up and I would watch them play and I was fascinated with the charm in the art style, beautiful soundtrack, and great humor. Well those things stayed in tact as I finally joined the Paper Mario fandom. Granted some mechanics are different and the battle system while sometimes frustrating is still fun in its own way and offers a fresh spin on rpg battle systems. I found myself exploring carelessly in this beautiful paper world while playing through the main story. If you think that you might have any doubt in giving this a shot but are a fan of the rpg genre, a fan of exploration and humor, or a true Mario fan, hesitate no more. Grab this game immediately!

…

Expand

Simple pero visualmente hermoso un buen viaje para pasar un rato agradable todo super bien

I've never played a Paper Mario game before but I am enjoying the game. I was hoping it would be as exciting as Mario Odyssey but the

I've never played a Paper Mario game before but I am enjoying the game. I was hoping it would be as exciting as Mario Odyssey but the unnecessary battles and the mechanics behind them are 1 of the biggest setbacks for the game. The companion (Olivia?) is fine for the story but she is constantly talking and slowing down the story.

Ultimately, the game is vibrant, fun and entertaining all around. I'm happy I got it and would recommend it to a friend. I would even commit to a digital copy.

…

Expand

I've never played a Paper Mario game before, but I think this one is quite nice. My main complaint is the combat system. I think it's an

I've never played a Paper Mario game before, but I think this one is quite nice. My main complaint is the combat system. I think it's an interesting idea but every so often there are fight where it's practically impossible to align the enemies in the short amount of time you have which is very infuriating. Also there is very little reason to fight enemies since all you get is coins which you also get in lots of different ways. It definitely lacks something and definitely drags down the score. Outside of combat the game is enjoyable and worth experiencing.

…

Expand

Although the game is easy on the eyes, and the world is a delight to explore. The RPG-style turn based battle system is tedious and pointless.

Although the game is easy on the eyes, and the world is a delight to explore. The RPG-style turn based battle system is tedious and pointless. Seriously, battles are best avoided. Nintendo, quit being so damned stubborn and pretending to be oblivious to what your fans want! We want another Sticker Star and a Metroid Federation Force HD please!!!

…

Expand

Paper Mario: The Origami King is a downright terrible game with unfun and useless combat, a nonsensical and uncreative story, and relentlessly

Paper Mario: The Origami King is a downright terrible game with unfun and useless combat, a nonsensical and uncreative story, and relentlessly unfunny writing.

…

Expand