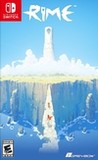 Summary:

The story of a boy who must use his wits and ingenuity to survive - and ultimately escape from - a mysterious island and a terrible curse.

An end, and a new beginning. A strange island with a sinister secret, and an open-world adventure with a difference. As a boy who finds he is keyThe story of a boy who must use his wits and ingenuity to survive - and ultimately escape from - a mysterious island and a terrible curse.

An end, and a new beginning.

A strange island with a sinister secret, and an open-world adventure with a difference. As a boy who finds he is key to solving a series of ancient puzzles, you'll use an enigmatic artefact to manipulate your environment and even time itself.

Thanks to the innovative control offered by the DUALSHOCK 4 controller, you'll find that light, sound and touch are all essential in your bid to escape the island.

…

Expand
Developer:

Tantalus, Tequila Works

Genre(s):

Action

,

Adventure

,

General

,

3D

,

Third-Person

# of players:

No Online Multiplayer

Cheats:

On GameFAQs

Rating:

E10+
Please enter your birth date to watch this video:
You are not allowed to view this material at this time.
While it's reminiscent of Journey, The Wind Waker and Ico, RiME is so much more than a grab-bag of borrowed ideas. Combining art, craftsmanship, enigmatic storytelling and engaging gameplay, it does what the likes of Bound and ABZU couldn't: wrap a powerful experience inside a compelling game. I'm still working out whether RiME is a masterpiece and, if so, where it sits in the pantheon of greats – but one thing's for sure: if you love the games it's inspired by, you're going to love RiME as well.

It might have its issues when you're playing it handheld, but Rime is still a real joy to experience on Switch.

Had it run better, Rime would've been an easy recommendation. Its story offers a tantalizing look into a beautifully realized and poetically orchestrated world of magic, love and loss. Its gameplay, while simple, offers satisfying puzzles that guide the action in meaningful ways. However, severe frame rate drops and unbearable resolution compromises hold back the final product from the greatness it deserves. While there is enough good here to overshadow the optimization problems on display, avoid the Switch port of Rime unless you have no better option.

RiME on Switch is a disappointing experience, despite the obvious quality of the game itself. As a puzzle-led adventure RiME is enjoyable, atmospheric and at times deeply moving; all of these qualities are undone by spotty performance, low resolution visuals and a frame rate which sputters along like a battered car engine. When played docked things are just about passable, but in handheld mode the game's technical problems sap away the satisfaction of playing it. If you have any other means of accessing the game on other systems then you should pick those over this port; while enough of RiME's magic remains on show, the Switch version of the game is almost crippled by technical problems which unfortunately rob this captivating quest of its lustre.

Overall, RiME is a delicately-constructed experience sprinkled with beautiful moments, on the proviso you play the game exclusively docked to the TV. However, you should consider playing RiME on another platform to avoid the myriad technical and visual issues that come with the Switch port.

RiME is still a wonderful game, but the Switch version is a tremendous porting, that can seriously ruin an otherwise unforgettable experience. You can overlook the downgrade of the resolution, or even the lower graphic detail, but the palette is faded, the pop-in is terrible, the frame rate unstable, and all these combined can seriously discourage everyone.
Don't let the low rating fool you. A patch has been released which fixes the game. The game looks amazing in both handheld and docked mode

Don't let the low rating fool you. A patch has been released which fixes the game. The game looks amazing in both handheld and docked mode now. Although the graphics are not as good as the PS4 or the Xbox One version, it doesn't take away anything from the experience, which is amazing graphics, outstanding story and excellent music. Highly recommended.

…

Expand

Great story and experience. I have played after the long awaited patch and game was looking sharp and running smoothly. Mechanics are simple

Great story and experience. I have played after the long awaited patch and game was looking sharp and running smoothly. Mechanics are simple but there is something in this game - the art style, climax and the story (especially after the end). Overall I am very happy that I have played that (after the patch).

…

Expand

RiME is an excellent game, even when the Switch port is not perfect.
Sure, it drops a lot of frames when changing certain areas, but I alwaysRiME is an excellent game, even when the Switch port is not perfect.
Sure, it drops a lot of frames when changing certain areas, but I always thought of these moments as really fast "loading screens". It's not perfect, but it doesn't hinder the experience as much as everyone says. Frame drops are not that common and gameplay is fluid most of the time.
The blurry look during portable mode is a greater deal, but I mostly played through the game in docked mode anyway.
If you don't have any other platform to play this game on, don't miss out. It's a great experience.

Edit: With latest update, they managed to fix the resolution in portable mode and some enhancements on docked mode as well.

…

Expand

What a great game this could have been. i didn't know anything about the game before.
I started it up and was very pleasantly surprised byWhat a great game this could have been. i didn't know anything about the game before.
I started it up and was very pleasantly surprised by it.
You have to figure out yourself what to do and where to go. No words are spoken but the world and the atmosphere really took me in.
But the frame rate drops are far too often and far too extreme. They really pull you out of the game.
I still liked the game and finished it, but the experience is not as good as it should have been.

…

Expand

Um obra de arte dessa jogava fora no switch, esse jogo tava na minha lista desde que anunciaram e dou parabéns aos desenvolvedores por essa

Um obra de arte dessa jogava fora no switch, esse jogo tava na minha lista desde que anunciaram e dou parabéns aos desenvolvedores por essa obra prima. Porém a versão do switch foi muito mal otimizada, infelizmente tô tento minha jogatina inteira comprometida por quedas de frames constantes , quase. Por isso que de um jogo que merece nota 10, a minha nota fica 4, pq a plataforma que resolvi jogar tá me fazendo se arrepender de ter comprado o jogo. Se quiser jogar aconselho que jogue, mas não no switch.

…

Expand

UN CERO. LAMENTABLE. Pésima optimización. Gráficos muy borrosos, con una definición de tiempos de PS2 y encima por momentos cae a fps

UN CERO. LAMENTABLE. Pésima optimización. Gráficos muy borrosos, con una definición de tiempos de PS2 y encima por momentos cae a fps injugables. Debería estar prohíbido que lancen un juego en las condiciones en las que ha salido Rime para Switch. El resto de versiones genial porque el juego en sí es maravilloso, pero a los encargados del port debería darles vergüenza. Lo compré por 50€ (ed. coleccionista) me sentí estafado y fue directo al mercado de 2ª mano

…

Expand