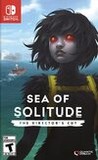 Summary:

Sea of Solitude: The Director's Cut is an improved version of the original experience offered by Jo-Mei in 2019, with a set of new features and enhancements designed specifically for the Nintendo Switch. The dialogue has been rewritten with the help of award-winning author Stephen Bell and a

Sea of Solitude: The Director's Cut is an improved version of the original experience offered by Jo-Mei in 2019, with a set of new features and enhancements designed specifically for the Nintendo Switch. The dialogue has been rewritten with the help of award-winning author Stephen Bell and a new cast of actors have re-recorded all the game's dialogue to provide a fully dubbed experience in French, English, Spanish, Japanese and German*.

…

Expand
Developer:

Jo-Mei Games

Genre(s):

Action Adventure

,

Linear

# of players:

No Online Multiplayer

Cheats:

On GameFAQs

Rating:

T
Please enter your birth date to watch this video:
You are not allowed to view this material at this time.
Sea of Solitude: The Director's Cut - Launch Trailer
Sea of Solitude: Director's Cut will be an indie game I'll remember for years to come, just like Celeste and What Remains of Edith Finch. Its powerful storytelling, excellent performances, and stunning world will eventually invite me back to play it once again.

Sea of Solitude: The Director's Cut is a very personal and beautiful narrative adventure that deals with some topics in an interesting way. Although it may not connect with everyone, it will surely appeal to players looking for a different proposal.

Despite the lack of subtlety, Sea of Solitude is largely successful in bringing its positive affirmative message to a colorful world. The events that play out are often powerfully voice acted and complemented with incredible art. It wears its influences on its sleeve and is profoundly direct with its, but that isn't necessarily a bad thing. Even though the gameplay is flawed with clumsy and inaccurate platforming, it's not enough to capsize a strong overall presentation.

This beautiful adventure lands on Switch with some adjustments, while keeping all the good and bad things of the original.

From a storytelling standpoint, there are few games that have affected me as much as this did. The themes explored are heavy but the game has a nice balance of optimism and dread. Music is used perfectly to elevate the emotional impact of the game. Where it falls short however is its gameplay. It's basic, but slightly sluggish controls and frame drops make it a bit of a mixed bag from a gameplay perspective.

Despite a somewhat lacking narrative and a fairly short length – we saw the (beautiful) credits in less than four hours – Sea of Solitude is fun to play while it lasts. It looks superb and there's plenty of variety in the locales even in its brief running time. Sadly, though, it's not a standout – it wasn't on its original release and it still isn't here on the Switch. It's no walking simulator, but in trying to marry its story with somewhat rudimentary platforming gameplay, neither are entirely satisfactory. Of course, your mileage may vary in what the various heavier themes mean to you, but we found them pretty leaden and uninteresting takes on what are admittedly quite universal issues.

A heartfelt confession, but an otherwise boring experience, Sea of Solitude fails both as a game, as well as an exploration of mental health. At times too symbolic and abstract to decode, and at other times very straightforward with its message, most will find it hard to feel the struggles of its cute, feathery protagonist and connect with her. This is basically like reading the diary of a high school kid. What is said within its pages is true and all, but that doesn't make it a good read. Even worse? The simplistic platforming/exploring/puzzle-solving that needs to be done here can even put an elephant to sleep.
This game has such a powerful story and an immersive atmosphere, highly recommended.

I like the videogame because I feel that's showing fears that most of the people we have. The graphics are amazing and the story is perfect; I

I like the videogame because I feel that's showing fears that most of the people we have. The graphics are amazing and the story is perfect; I play the game in spanish and is wonderful for me.

…

Expand

This game is just amazing.First for the story that is just incredible,you could thought that Tim Burton worked on this game just that says how

This game is just amazing.First for the story that is just incredible,you could thought that Tim Burton worked on this game just that says how good the story is.Can we talk about the music of this thing.My god is it good.I highly recomend this game.

…

Expand

Superb game with an awesome story, the director of this game is such a talented person and the mechanics are clean

This is the perfect mix of an excelent story and well-made platform mechanics. Sea of Solitude: Director's Cut will please either the players

This is the perfect mix of an excelent story and well-made platform mechanics. Sea of Solitude: Director's Cut will please either the players that care more about story-driven elements and those who simply prefer to dive into a good gameplay. Also, the photo mode was a great addition to this version.

…

Expand

I love this game. It deals with some pretty heavy stuff, particularly the first segment of the game was definitely a pretty emotional heavy

I love this game. It deals with some pretty heavy stuff, particularly the first segment of the game was definitely a pretty emotional heavy segment to play through, but with all the dark and depressing tones it carries through to a really beautiful and satisfying ending for me. On the technical side, there were some bugs here and there but nothing that every broke the immersion for my play through. For all the so-so to negative reviews this game got I never expected it to be so good. I'm really glad I tried this and I think it provides a good perspective to keep in mind when dealing with any type of mental illness.

…

Expand

Sea of Solitude: The Director's Cut es un juego de aventuraa con una historia muy dura basada en ciertos aspectos mentales, como la depresión.

Sea of Solitude: The Director's Cut es un juego de aventuraa con una historia muy dura basada en ciertos aspectos mentales, como la depresión. Es un juego muy sencillo y corto (6 horas aproximadamente), pero que tiene varios aspectos negativos a destacar, aunque hay que tener en cuenta que se trata de un Indie de presupuesto bajo. Lo mejor que tiene el juego es que la historia logra transmitir totalmente una sensación de angustia y empatía hacia la protagonista, haciéndonos entender cono pueden sentirse las personas afectadas por los temas tratados en el juego. Este es su principal objetivo, y lo hace muy bien. Sin embargo, los controles no son muy precisos, pudiendo ser incómodo en algunas situaciones. Los gráficos son bastante justos, y el estilo artístico aunque bobito, da pie a confusión a veces. Un ejemplo de la sensación que me ha dejado, es que la historia me ha impactado, pero debido al gameplay he obviado coleccionables, algo que siempre me gusta conseguir. Si el tema que trata es de tu interés, si lo recomendaría, pero solo en este caso.

…

Expand