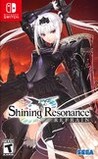 Summary:

Assume the role of Yuma Ilvern and stop the Empire from exploiting the power of the ancient dragons, including the soul of the Shining Dragon within you. With the help of your friends, realize your destiny, save Astoria, and unleash the strength you've always had locked away.
Developer:

Sega

Genre(s):

Role-Playing

,

Action RPG

# of players:

No Online Multiplayer

Cheats:

On GameFAQs

Rating:

T
Shining Resonance Refrain plays like a pretty standard yet extremely solid JRPG. Despite the slow beginning, the story is interesting and extremely well thought out. The characters are likable and the graphics are beautiful.

Its smaller scale and relatively simpler structure makes it easier to sink some time into than an even more massive JRPG like the Xenoblade titles, which may be more intimidating as a result of their scope. As for its minor setbacks, they are easily offset by its other intrinsic qualities, chiefly the loveable cast of main characters. Fans of the JRPG genre in its more classical form, but also of manga/anime style adventure stories, should find plenty to enjoy here.

A triumphant return overseas for an iconic JRPG series. It has solid foundations in the usual JRPG business of fantasy kingdoms and amnesiac warrior boys, but it builds off of that foundation with charming characters and gorgeous art to create a pretty unique identity for itself. While some aspects of the game are a little unpolished, it's still a standout JRPG worth standing alongside any of the other big players in that genre, and worth checking out by anyone who calls themselves a JRPG fan.

Shining Resonance Refrain is the kind of game that can put on a solid performance, but it's also abundantly clear that it doesn't quite have the pipes to hit the high notes; it's a good game, but not a great one.

Shining Resonance Refrain is a decent action RPG. While the story doesn't really tread any new ground, the characters are likeable enough to want to see it through. The combat gameplay is fun if you enjoy a fast-paced battle, and the musical elements add a neat feature on top of the usual mechanics. And it's all playable on a portable device. While it's harder to recommend this over more recent games of this genre, If you can't get enough of action RPG's then Shining Resonance has something to offer.

Shining Resonance Refrain isn't a terrible game, it's just riddled with incredibly poor decisions which almost overshadow a great combat system.

Shining Resonance Refrain pivots between enjoyable and very dull moments. For every good aspect, there is another that undoes it, while everything else is strictly mediocre. If players are in desperate need of an action JRPG and have somehow managed to exhaust all other options, then Shining Resonance Refrain may fill part of the void. However, it certainly isn't the glorious return that series fans have been hoping for.
Best game on the switch so far in 2018.
Amazing graphics , Great characters , Great lore, amazing soundtrack and outstanding combat andBest game on the switch so far in 2018.
Amazing graphics , Great characters , Great lore, amazing soundtrack and outstanding combat and gameplay.
Dont listen to the moronic critics !
Play the game to when you get all 4 characters in a party and open up the Grimoire ! you will then start to see how good this game is.
Its much better than the Tales series and has the charm of the original shining force games even though its a different style of game.
Dont listen to the haters support these games.

…

Expand

Absolutely amazed by this game. Very deep and intuitive battle system and character relationships. Solid story with English voice

Absolutely amazed by this game. Very deep and intuitive battle system and character relationships. Solid story with English voice localization. Visually it's top shelf with a smooth frame rate. I also preordered Octopath Traveler but it will have to wait until I play this into the ground first. Highly recommend if your a fan of the genre. Instant classic.

…

Expand

Shining Resonance Refrain is pretty incredible on Switch: beautiful visuals in 720P / 30FPS, good characters, fun battles and nice soundtrack.

Shining Resonance Refrain is pretty incredible on Switch: beautiful visuals in 720P / 30FPS, good characters, fun battles and nice soundtrack. It's a Tales Of game but without the name :)
An excellent RPG to buy alongside Octopath Traveler.

…

Expand

this game is amazing the gameplay feels very good and while it does require grinding sometimes it never feels like too much . visually its

this game is amazing the gameplay feels very good and while it does require grinding sometimes it never feels like too much . visually its pretty damn good and to be honest the only technical issue i had was a random crash just two times in my several hundred hours . the story is very captivating and i had a good time with this game . the dating sim mechanics were VERY apricated

…

Expand

Nice JRPG, beautiful graphics and really good music. Stereotypical and goofy characters. If you like the Tales of Series i think wou will have

Nice JRPG, beautiful graphics and really good music. Stereotypical and goofy characters. If you like the Tales of Series i think wou will have fun with this game. Runs smooth in Handheld and docked mode.

…

Expand

Shining Resonance Refrain is a JRPG focused on a classic JRPG lore (Shy Nice Guy FIghts the Evil Empire) with great combat mechanics. However,

Shining Resonance Refrain is a JRPG focused on a classic JRPG lore (Shy Nice Guy FIghts the Evil Empire) with great combat mechanics. However, I have some things to say about it. Please listen, because some things are awesome, others are annoying as hell.

The Good:

-Great Voice acting. The actors really put a lot of effort into their acting and look amazing.
-The graphics are good.
-The soundtrack is OK. At some points, it is awesome (When you use BAND), but in general, you will forget.
-AMAZING combat. For me, this is the meat of the game and what really makes me keep going. The combat pacing is perfect, the moves and special attacks connect as you expect. Its fast as you want, but not too fast to be one of those crappy systems (I am looking to you FF XIII). You have a broad range of special moves and combinations.
- Great party choices. That's another great layer of the game. You have a list of fine characters to chose, all of them good. Seriously, no one is bad and you will be feeling the need to leveling them all up.
-Relationship quests. Some of you may not like this, but it is a classic layer of complexity for JRPGs. You can get to know your party better and advance in some sort of love subplot with the characters of your choice.
-Grimoire Systems. You will know when you get it.
-The characters have classic personalities (you know, from every anime), but this is common for JRPG. Nevertheless, they are all interesting, and you will not care about this. So, thumbs up for all of them. Talk to them, it is nice and pretty funny.
-The core idea of the story is original, but only that.

The Cons:

-Some people like the story and I thought it would get better, but after 30+ hours I saw where it was taking me and... well, it is so standard, so generic that I don't see how some people can say "AMAZING STORY". It is so...so....so...standart.
-Way too many dialogs, cutscenes and subplots that are not even close to interesting. And they stuffed the game with them. All I can say, I don`t even want to talk to NPCs (except for the party members), because whatever they say, it is not important or cool.
-Downright lame sidequests. That's all, downright lame. And they packed the game with tons of them.
-Yuma. Yeah, the protagonist is a Con, because he sucks so much. He is great in combat, and that's it. I prefer any other party member that Yuma in terms of character. He is the lamest character in the game, BY FAR.

In summary, its a good game for the Switch and I would advise you to play it, seriously, it is a good game. But have some flaws that, for me, ruins the flow of the game and the fun I could be having. The story is nice, but they could have given a little more thought to make it better. If Yuma was a better protagonist that would have boosted the story more, but that's not the case. Thus... guys, buy the game, it is good, but you will see some bumps on the road.

…

Expand

The game is interesting but in my opinion the gameplay is bad, you can't cancel the animation to dodge from an attack and the boss fights you

The game is interesting but in my opinion the gameplay is bad, you can't cancel the animation to dodge from an attack and the boss fights you had no time to prepare because you ho from boss to another without preparing. The only good thing is the characters...Kirika is definitely waifu material.

…

Expand