Publisher:

Nintendo

Release Date:

Sep 9, 2022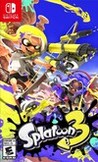 Summary:

Ink up the Splatlands in the next Splatoon game. Enter the Splatlands, a sun-scorched desert inhabited by battle-hardened Inklings and Octolings. Splatsville, the city of chaos, is the adrenaline-fueled heart of this dusty wasteland. Even in this desolate environment, Turf War reigns supreme

Ink up the Splatlands in the next Splatoon game. Enter the Splatlands, a sun-scorched desert inhabited by battle-hardened Inklings and Octolings. Splatsville, the city of chaos, is the adrenaline-fueled heart of this dusty wasteland. Even in this desolate environment, Turf War reigns supreme and battles rage in new stages located in the surrounding wilds. Dynamic new moves help these fighters dodge attacks and cover more ground, along with a new bow-shaped weapon to sling ink.
Ink it up with a new entry in the Splatoon series
Discover the Splatlands, a new sun-soaked region with trendsetting inhabitants
Experiment with new styles for Inklings and Octolings
4v4 Turf Wars* are back, with new stages, new maneuvers, and new weapons



…

Expand
Developer:

Nintendo

Genre(s):

Action

,

Shooter

,

Third-Person

,

Arcade

# of players:

Up to 8

Cheats:

On GameFAQs

Rating:

E10+
Please enter your birth date to watch this video:
You are not allowed to view this material at this time.
Splatoon 3 - Everything To Know
Splatoon 3 has something to offer everybody, regardless of what type of games you usually play. It excludes no one and keeps on giving long after the credits have rolled on its chaotic shooter action.

It's pretty fantastic, thanks to the various additions to the game's multiplayer, the overhaul to the story mode structure, and the implementation of new ideas like the three-way Splatfest Turf War. While I wouldn't call Splatoon 2 old and busted by any means, there's no denying that Splatoon 3 does feel like the new hotness.

Splatoon 3 has come a long way since the series' inception on the Wii U and has become one of my favorite competitive games to date, shining brightly with its new quality of life improvements. There's still a lot on the horizon for this game, given that there are promises to keep the updates coming until 2024, but as it is, you will not regret spending on this fantastic title.

Splatoon 3 confirms that this is one of the freshest and funniest franchises in Nintendo's portfolio.

There's very little wrong with Splatoon 3. Almost everything it does is done well, and the few minor complaints I have are likely to be fixed or involve a card game that most players will likely ignore. Its plethora of quality-of-life changes means this will almost certainly be the best game in the series going forward and the place for new players to jump in. Right now, though, if I have to pick between those quality of life changes or the larger amount of content in Splatoon 2, that's not as easy a choice as it should be because the gameplay hasn't evolved in any major way, and little of the new content truly stands out. Which means that while I can easily recommend Splatoon 3 to series devotees desperate for new content and new players needing a good starting point, anyone who falls in between may want to wait for the game to be fleshed out before diving in.

Splatoon 3 feels like a fresh coat of paint for the series, with a new story mode as well as additional weapons, stages and enemies. With the main multiplayer modes largely unchanged compared to Splatoon 2, series veterans may feel aggrieved that there aren't any substantial upgrades or new game modes. But Splatoon 3 still offers spades of fun and will no doubt be one of the leading multiplayer titles on the Nintendo Switch.

Splatoon 3 adds nothing of significance to the series, which is quite disappointing considering that it, as a whole, was bursting with originality when it first launched.
This review contains spoilers

, click expand to view

.

Splatoon 3 is by far the best in the franchise, with multiple additions to confirm that it is a new game and not just dlc. To all the people who are giving bad reviews, your right. Splatoon 3 didn't totally reinvent the franchise, but name one sequel that does, I'm waiting. The story mode is just 100x better with an actual story that's interesting, and finally reveals all of the game's lore, with fighting the ending boss in space on a rocket ship! You can't tell me that's not cool. Multiplayer has significant changes as well, with new movement options, specials, weapons, replay system, matchmaking system, ranking system, UI and much more. Splatoon 3 overall is just a fantastic, addictive game and is a straight up perfect sequel to Splatoon 2. And i'm sure that Splatoon 4 will reinvent the series, just you wait.

…

Expand

A much bigger story mode with a grand ending. The online modes have been greatly improved and are very addictive!
**DO NOT BUY THIS GAME IFA much bigger story mode with a grand ending. The online modes have been greatly improved and are very addictive!
**DO NOT BUY THIS GAME IF YOU WONT PAY FOR NINTENDO SWITCH ONLINE**

…

Expand

First time I though it was gonna be the same Splatoon formula, but then, they put a lot of love in this Splatoon game, with new modules in

First time I though it was gonna be the same Splatoon formula, but then, they put a lot of love in this Splatoon game, with new modules in Multiplayer, and a great campaign with another different story and a upgrade system like the RPG games

…

Expand

One of the best of 2022.
Amazing vibe, beautiful and colorful visuals, top-tier character designs, music and more.
I've had lots ofOne of the best of 2022.
Amazing vibe, beautiful and colorful visuals, top-tier character designs, music and more.

I've had lots of connection issues (especially on launch day, oh god, the launch day...). Expect to see a "Communication error has occured" once or twice. But it's fixable, I hope it won't be a problem for the next months of the game.

The story is super fun and I'm glad they learned from Octo Expansion, the DLC was amazing. The ending was absolutely worth the journey.

I'm looking forward to updates and more content. This game already had a strong start.

…

Expand

This was practically my first Splatoon experience. I never played the original Wii U Splatoon and had only played a very limited amount of

This was practically my first Splatoon experience. I never played the original Wii U Splatoon and had only played a very limited amount of Splatoon 2. The story mode is fine, it's about what you would expect. The core game itself is also just good. It's not a must buy Nintendo Switch game but it is worth checking out if you have either never played Splatoon before or are a long time fan.

…

Expand

Sorry, I love the game, but basically every other game is a disconnect, especially so if I'm the one who wins, for some reason, fix your

Sorry, I love the game, but basically every other game is a disconnect, especially so if I'm the one who wins, for some reason, fix your servers wtf is this **** this feels like it needed time in the oven or more server tests, especially considering this is an online game

…

Expand

while entertaining, it does have flaws, as all things have, you cant do much without nintendo online, but the story mode has great plot