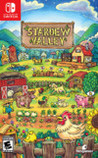 Summary:

You've inherited your grandfather's old farm plot in Stardew Valley. Armed with hand-me-down tools and a few coins, you set out to begin your new life. Can you learn to live off the land and turn these overgrown fields into a thriving home? It won't be easy. Ever since Joja Corporation came

You've inherited your grandfather's old farm plot in Stardew Valley. Armed with hand-me-down tools and a few coins, you set out to begin your new life. Can you learn to live off the land and turn these overgrown fields into a thriving home? It won't be easy. Ever since Joja Corporation came to town, the old ways of life have all but disappeared. The community center, once the town's most vibrant hub of activity, now lies in shambles. But the valley seems full of opportunity. With a little dedication, you might just be the one to restore Stardew Valley to greatness.

…

Expand
Developer:

ConcernedApe

Genre(s):

Role-Playing

,

General

# of players:

No Online Multiplayer

Cheats:

On GameFAQs

Rating:

E10+
Please enter your birth date to watch this video:
You are not allowed to view this material at this time.
Stardew Valley - Collector's Edition Retail Announcement
Nintendo Force Magazine

Oct 30, 2017

Run, don't walk. Visit the valley and lose yourself in nature like millions of other fans have! [Issue #30 – November/December 2017, p. 26]

Aside from a few technical blips, Stardew Valley remains a shining Stardrop in its genre, welcoming back fans of the series that inspired it and inviting newcomers to relax in the valley, too.

It is a truly magical experience; games can often be enjoyable but they don't all manage to be as captivating as this. This is the sort of game that ideally requires a significant amount of time to be invested; the enjoyment doesn't necessarily come from the day-to-day actions you perform, but rather from the general growth of pride, satisfaction, and sense of security as the days go by. Fans of games such as Harvest Moon and Animal Crossing will be right at home here and, for those who aren't, there is a decent chance this game might just surprise you. For the asking price the risk couldn't be more worth it.

The charming RPG Stardew Valley is so much more than just another farming simulator and feels right at home on the Switch.

The farming simulator genre is back and better than ever! Stardew Valley provides you an experience that just grows more and more as you play. Every little thing, from planting to befriending the community, becomes surprisingly meaningful as your hard works comes to life in front of you. With tons of content, it'll keep you hooked into living this calm, pleasurable and magical second life, all made better with Switch's portability.

The portability of the Nintendo Switch makes this undoubtedly the best way to play Stardew Valley. Unless you are really keen on modding the game, the combination of easy portability and excellent controls makes this a staple in any well-rounded Switch library. It's still the same great farm simulator it was on PC - robust, full of secrets, and comes with an inescapable charm that will keep pulling you back in, season after season.

The best farming sim ever finds its ideal home on the Switch, with gameplay and hardware that complement each other perfectly.
What can I say other than Stardew Valley portable? The game came out yesterday and i already sank over 10 hours in it. Even if you have

What can I say other than Stardew Valley portable? The game came out yesterday and i already sank over 10 hours in it. Even if you have already played it on multiple consoles and the PC the portability of the Switch is a match made in heaven for Stardew.

…

Expand

A masterpiece made by just one person. Very relaxing and addictive. I already bought the game on steam and ios yet nintendo switch is probably

A masterpiece made by just one person. Very relaxing and addictive. I already bought the game on steam and ios yet nintendo switch is probably the best platform to play it due to the portability.

…

Expand

This is a masterpiece an a very magical game. Hundred times better than Animal Crossing an thats a decent game. This is game every gamer

This is a masterpiece an a very magical game. Hundred times better than Animal Crossing an thats a decent game. This is game every gamer should experience, it's a game I would think about in my head but never have the skills to bring It to life. Is it just a game or a way of life ? That is the question. It's in my top 5 games all time. An I'm giving nothing away just buy it's quality

…

Expand

This is a without a doubt one of the hardest games to stop playing, for me anyway. The reason this game is so hard to put down is due to there

This is a without a doubt one of the hardest games to stop playing, for me anyway. The reason this game is so hard to put down is due to there being no winning or losing as most targets are set by the player, for example I spend most of my time getting resources and not mining and I dont get penalized for not mining

…

Expand

I found the day-to-day chores tedious and couldn't find value in the in-game currency, but it has a lot of charm and is probably perfect for

I found the day-to-day chores tedious and couldn't find value in the in-game currency, but it has a lot of charm and is probably perfect for the intended audience.

…

Expand

Charming, calming, comforting. How many hours have I whittled away fishing, farming, and chasing the townsfolk with my signature Blueberry

Charming, calming, comforting. How many hours have I whittled away fishing, farming, and chasing the townsfolk with my signature Blueberry Jam? Countless. Have I "beaten" the game? No. How does one "beat" farming any way?

Each day you wake up and go about your business, unless its a Wednesday and your business involves buying seeds at Pierre's. This game is like a zen garden. Just go with the flow, do what makes you happy, just get home before you pass out in a cave. Every year, I'm a better version of myself. Life is good in Stardew Valley.

…

Expand

Будь игра без боевой системы и шахт в целом игра получилась бы достойно, но когда разработчик добавляет экшен-составляющую и она хуже чем в

Будь игра без боевой системы и шахт в целом игра получилась бы достойно, но когда разработчик добавляет экшен-составляющую и она хуже чем в его предыдущих проектах это позор. Персонаж неповоротлив, враги игнорируют отталкивающие удары, персонаж порой вообще не слушается твоих нажатий и я уверен, что я не один такой, у кого была эта проблема, ставлю 0 потому-что игра добавила эту дрянь (боевки) как обязательную дляигры механику, но нервов проходить через нее нет вовсе, поэтому в определенный момент я настолько морально устал от этой "крутой" фичи, что отпало желание играть в "это", и других способов продолжения игры нет, так как надо лезть за ресурсами, а нервы жалко. И кто подумает что, "надо брать больше еды", "играй в компании" , "у тебя плохой уровень игры" идите и играйте дальше, боевка - это бич этой игры, она ужасна, она не интересна, она идет игре во вред и это факт, не видел и не поверю людям, которые будут говорить что она хорошая.

…

Expand