Publisher:

Nintendo

Release Date:

Oct 27, 2017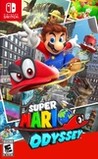 Summary:

New Evolution of Mario Sandbox-Style Gameplay. Mario embarks on a new journey through unknown worlds, running and jumping through huge 3D worlds in the first sandbox-style Mario game since Super Mario 64 and Super Mario Sunshine. Set sail between expansive worlds aboard an airship, and

New Evolution of Mario Sandbox-Style Gameplay. Mario embarks on a new journey through unknown worlds, running and jumping through huge 3D worlds in the first sandbox-style Mario game since Super Mario 64 and Super Mario Sunshine. Set sail between expansive worlds aboard an airship, and perform all-new actions, such as throwing Mario's cap.

…

Expand
Developer:

Nintendo

Genre(s):

Action

,

Platformer

,

3D

# of players:

No Online Multiplayer

Cheats:

On GameFAQs

Rating:

E10+
Please enter your birth date to watch this video:
You are not allowed to view this material at this time.
Super Mario Odyssey - Overview Trailer
Each kingdom is absolutely packed with charm, clever objectives, gorgeous visuals, a stellar soundtrack, and a huge variety of ways to have fun. One moon would have me leaping across tiny platforms with pinpoint precision, and the next would have me cheering up a businessman by dressing like a clown. At no point did I feel like I was checking boxes just to up my completion percentage. Even now that I've collected every moon and purple coin in the game, I still want to play more of it. It's one of the most joyous and entertaining gaming experiences I've had in a long time, and it stands tall among the all-time great Mario games.

Super Mario Odyssey's unabashed sense of whimsy and charm is all too welcome in today's modern video game climate. Whereas other titles feel the need to overbear you with endless things to do, people to kill and towers to climb, Mario's latest globe-trotting adventure is all too happy to keep things simple — and in the most imaginative way possible. Super Mario Odyssey is the type of game that I'd probably have taken for granted as a kid, but as an adult, I'll cherish it for decades.

The best entry to the best platforming series is so ridiculously huge it's like a theme park made of theme parks. It's a wonderful tribute to Super Mario 64, but it's not a lazy homage. Super Mario Odyssey draws inspiration from the superb classic to top it and everything that came after it. [13/2017, p.38]

Super Mario Odyssey is a jewel that shines with perfect controls, fresh possibilities and gameplay variety. An experience filled with surprises and challenges to explore everywhere. All kinds of players will remember Oddyssey as one of the best entries in the series for generations to come.

It's a world that feels huge at first, then small as you get to know it, and then huge again as you realize how fantastically dense it is with secrets and challenges. It gives you a simple set of tools and then asks you to do something different with them every ten minutes. Super Mario Odyssey is a fun game, an unoriginal observation that feels nonetheless vital in the modern gaming landscape. It is a game that tasks you with finding joy, and then lets you point yourself in the right direction. It is a game you should play.

There are so many new elements in Super Mario Odyssey, but in the end what actually strikes us is its ability to be fun in the usual elegant, essential and inevitable Mario way. If you want to run, jump, discover, fly… and keep on doing these (and more) things for hours and hours, Super Mario Odyssey is the game for you.

Though a really neat game, Super Mario Odyssey is an utterly underwhelming adventure for every long-term Super Mario fan in existence. Unless Cappy brainwashed you. In that case, you are a satisfied zombie customer now. No, seriously, only a zombie would find a healthy challenge in this pleasant but disappointingly easy Super Mario Walk-in-the-park. Sorry - Odyssey.
I am just lost for words. The spirit of Super Mario 64 and Super Mario Sunshine lives on in this game. It was as if I stepped into a portal to

I am just lost for words. The spirit of Super Mario 64 and Super Mario Sunshine lives on in this game. It was as if I stepped into a portal to my childhood. I highly recommend the "single joy-con in each hand" motion control scheme. The motions controls feel so intuitive and really enhance the gameplay. Cappy serves as a great sidekick, with his boomerang and capture abilities providing a refreshing take on the classic 3D Mario Mechanics. Visually, it is a gorgeous game. It maintains 60 fps consistently in both mobile and docked. There seems to be a variety of different environments in this game, unlike Super Mario Galaxy and Sunshine. While those games followed a common theme, Odyssey takes influence from Super Mario 64 and Super Mario World in that there is a (Spoilers) desert world, ghost world. tropical world, metro world, etc. The music is phenomenal. I recommend that everyone use a headset to truly appreciate it. I had chills running down my spine once I heard the theme from the Switch Presentation Trailer for Odyssey. No other franchise has made as big of an impact on the gaming industry as Mario. He is the Micky Mouse of gaming. This game can be enjoyed by anyone. Enthusiast gamers. Father/Mother playing with his or her kids. Teenagers. Anyone. I had lost faith in Nintendo during the Wii U generation. They have absolutely blown me away with putting out masterpieces such as Breath of the Wild and Super Mario Odyssey. These 2 games make the Switchh worth it. I must also add that this year has been incredible for gaming. Besides Mario and Zelda, we had Persona 5, Cuphead, Horizon Zero Dawn, Nier, Nioh, Divinity. Instead of debating Game of the Years. We should declare 2017 as the Year of the Games. I hope everyone enjoys these games as much as I have.

…

Expand

Well, i can finally say what do i think about this game. I haven't done it yet, but i saw all i need for review.
So, game is perfect. Its notWell, i can finally say what do i think about this game. I haven't done it yet, but i saw all i need for review.
So, game is perfect. Its not as good for me as ZeldaBoTW, but mario is still cool.
it do not have an open-world, but the world is so beautiful, in some condition it ever better. 1080p resolution vs 900p in zelda, and its way more colorful.
I was just shocked when i understood that game do not uses all the buttons of controllers, but in hour i realised that they were replaced by motion controls. And a little bit more about gamepads (joy cons and pro controller) abilities, about hd vibration. Its first AAA title on NSwitch using its in that way, you dont need sound while playing you feel the game without it, because the vibration is 10 out of 10.

I don't think i need to say something more, this game is necessary to try. I think its true 10/10.

…

Expand

Amazing Mario game. Not quite as good as 3d world but I loved it. It has a. Amazing feel of parkour.

A games main goal is to give the player a experience that is exciting and Super Mario Odyssey does just that. With a new capture mechanic you

A games main goal is to give the player a experience that is exciting and Super Mario Odyssey does just that. With a new capture mechanic you really don't know what new and exciting game play or discovery you will find. During E3 we found out that the main goal of Super Mario Odyssey was to keep the felling of surprise there every step of the way. I can say now that Super Mario Odyssey does just that even when you are down at the depths of the sea or up and beyond, Super Mario Odyssey is pure joy and will be praised for years to come.

…

Expand

This review contains spoilers

, click expand to view

.

SUPER MARIO ODYSSEY IS GREAT. this game is the reason I got a nintendo switch and you can travel any where and the power moons are fun and easy to collect

…

Expand

Great fun, yet infuriating in parts. So basically, it's a modern-day super Mario 64 or Sunshine.

Collecting several hundred moons is a niceGreat fun, yet infuriating in parts. So basically, it's a modern-day super Mario 64 or Sunshine.

Collecting several hundred moons is a nice idea, although like Breath of the Wild, some are quite lazily placed in the world with no challenge.

Bonus points for allowing the player to go out of bounds, and even placed huge stacks of cash, the amount of freedom this game grants, is more than we have seen in a Mario game for some time.

In short, if you loved Super Mario 64 or Sunshine, this is the game for you.

…

Expand

if you don t love mario dont buy thia game its trash if you dont love nintendo games don t buy this its the worst 3d game ı ever seen