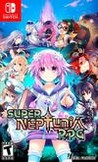 Summary:

There was once a primitive form of entertainment software that ruled the world: 2D games.

In one of infinite dimensions, the world of Gamindustri exists... a world where 2D games reign supreme. An organization fiercely devoted to these games rules over this vibrant world. They are known asThere was once a primitive form of entertainment software that ruled the world: 2D games.

In one of infinite dimensions, the world of Gamindustri exists...
a world where 2D games reign supreme.

An organization fiercely devoted to these games rules over this vibrant world.
They are known as Bombyx Mori and their devotion comes with a heavy price.

Citizens of Gamindustri are forced to offer 2D games to Bombyx Mori as taxes.
Those who dare to use new technologies or create games that don't meet
their standards risk being banished to the Trial Grounds.
It is in this Gamindustri, a dark world with no real future in sight, that a girl wakes from her sleep.

Her name is Neptune, and with a strange book in hand, she sets off on the journey of a Hero.

…

Expand
Developer:

Compile Heart, Artisan Studios

Genre(s):

Role-Playing

,

Action RPG

# of players:

No Online Multiplayer

Cheats:

On GameFAQs

Rating:

T
It's a cute RPG that's not super demanding and can easily be played while you watch TV or lie in bed. There are a few places where it's not super clear what you're supposed to do next (find all the Mysterious Grasses before visiting the fairgrounds, kids, and those Grasses are all in the Twin Mountains) but overall it's pretty straightforward. And there's swimsuit DLC coming in July, so that's cool.

You need to have an acquired taste to enjoy Super Neptunia RPG, but my first experience with this series satisfied me in general: solid combat system with varied skills and abilities, gorgeous art direction and nice music. however, it is a shame that Switch version suffers from frame rate drops and inconsistency in terms of its technical performance.

Despite its great performance issues, Super Neptunia RPG is a spin-off that offers a refreshing experience in the franchise, introducing us to an unprecedented and beautiful two-dimensional world that will not disappoint fans of the saga.

Although it's an absolute treat to look at, the fights and some odd design choices mar the experience, so this is a bit more eggplant than pudding.

Super Neptunia RPG negates the positives that it brings about. The fresh perspective that comes from being a classic 2D RPG with a simple battle system clashes with the unintuitive and unresponsive platforming. The presentation is beautiful, but the performance is hampered when compared to its predecessors. The ability to explore also seems nice until you realize that the streamlined side-quest system has been replaced with the more time-consuming method of visiting each quest-giver individually. Fans of the series may still enjoy it.

Super Neptunia RPG is a fun little game but leaves a lot more to be desired. I could see a sequel full of potential, but at its current state with all the technical hiccups, it really boils down to you being a Neptunia fan or not. The game lacks enough polish for it to be a great game, but perhaps a sequel down in the line or even using a fresh IP without Neptunia holding it back can make room for a more interesting project.

Unresponsive and loaded with framerate issues, Super Neptunia RPG isn't for anyone other than hardcore Hyperdimension fans who desperately need something to play until the next mainline installment comes jiggling downline the assembly line.
Super Neptunia RPG brings a fun, new two-dimensional perspective to the beloved characters and locations of Gamindustri. The character

Super Neptunia RPG brings a fun, new two-dimensional perspective to the beloved characters and locations of Gamindustri. The character customization system, in which your party learn skills and abilities from items collected throughout the story, offers a variety of options in play style for engaging the monsters that appear throughout the world. Although much of the supporting cast from the previous games is absent, the main characters are fully realized in a story that brings their personalities to life in a fresh way. As someone who generally despises platform jumping, I had some trouble with the occasional platforming segments in the game but did not find them frustrating as they rarely presented a setback of more than a minute when I let Neptune fall into the void. The only real negatives here, in my opinion, are the general sluggishness of the engine running on Switch and a handful of crashes I observed after long program run times.

…

Expand

This review contains spoilers

, click expand to view

.

Es un buen juego rpg, se enfoca en la navegación horizontal, con elementos "metroidvania", pero en realidad no lo es como tal, tiene plataformas, pero el gameplay no se enfoca en eso. El sistema de batallas es muy bueno, ya que toma influencias un poco de Bravely Default, en cuanto a la administración de turnos, puedes almacenar turnos, para realizar un ataque. Un solo botón sirve para controlar un personaje y serán asignados con A, B, Y, X (O según la consola), manejaremos diversas formaciones y dependiendo de ellas tu batalla se enfocará a como tu la organices. Hay muchas formaciones y habilidades por desarrollar. Para mi es un juegazo, por el arte del juego, la historia, las referencias a la guerra de consolas. Si no te gustan los RPGs por turnos, no te lo recomiendo. Pero si eres amante de los RPGs este juego es para tí.

…

Expand

a great short rpg for fans of the series. very fun and addicting. the voices english and japanese are all great, and the dialogue is just

a great short rpg for fans of the series. very fun and addicting. the voices english and japanese are all great, and the dialogue is just brilliant. the gameplay is flawless with the only downside is a little slow. the story is engaging and the artstyle is beautiful. 9/10

…

Expand

Chose plutôt rare dans l'industrie, on peut reconnaître et saluer la prise de risque décidé par Idea Factory en confiant sa licence

Chose plutôt rare dans l'industrie, on peut reconnaître et saluer la prise de risque décidé par Idea Factory en confiant sa licence Hyperdimension Neptunia au studio Canadien Artisan Studio. Développé en 2D et avec un sytème de jeu inspiré par Valkyrie Profile, Super Neptunia RPG est très accueillant avec les joueurs qui vont découvrir la licence avec ce titre. Que ce soit dans son système de jeu et dans son scénario, on est en quelque sorte en face d'un reboot qui ne dit pas son nom. Tout n'est pas parfait et le jeu aurai mérité à avoir un rythme plus soutenu et surtout être plus au point techniquement pour la fluidité, mais on peut saluer la direction artistique magnifique et un scénario drôle et bien écrit. Une entrée en matière très sympathique à transformer avec un éventuel second opus…la Guerre des console le mérite!

Note: 7/10

…

Expand

A pretty good RPG that unfortunately suffers from lag and a lack of clarity on several elements (such as the battle system, which isn't

A pretty good RPG that unfortunately suffers from lag and a lack of clarity on several elements (such as the battle system, which isn't explained very well). The music and art style are charming though.

…

Expand

The platforming part of the game is so bad, that most of the time is spent trying to reach the platform. A failed jump takes so many button

The platforming part of the game is so bad, that most of the time is spent trying to reach the platform. A failed jump takes so many button press to get back, and make the pacing of the game really slow.

…

Expand

This review contains spoilers

, click expand to view

.

This Rpg is a worst it's a total waste of interest. You cast a kid as the main bad guy, who fights a child? This is worse than the VIIR.

…

Expand