Publisher:

Nintendo

Release Date:

Dec 7, 2018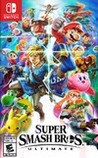 Summary:

Inklings from the Splatoon series, as well as returning Smash characters like Mario and Link will be making appearances in this classic Nintendo franchise's Switch debut. Faster combat, new items, new attacks, new defensive options, and more will keep the battle raging whether you're at home

Inklings from the Splatoon series, as well as returning Smash characters like Mario and Link will be making appearances in this classic Nintendo franchise's Switch debut. Faster combat, new items, new attacks, new defensive options, and more will keep the battle raging whether you're at home or on the go.

…

Expand
Developer:

Nintendo, HAL Labs, Bandai Namco Games, Sora Ltd.

Genre(s):

Action

,

Fighting

,

2D

# of players:

Up to 8

Cheats:

On GameFAQs

Rating:

E10+
Please enter your birth date to watch this video:
You are not allowed to view this material at this time.
Super Smash Bros. Ultimate - Fighting A Rathalos From Monster Hunter Gameplay
Perfecting the mechanics the franchise established way back in 1999, Super Smash Bros. Ultimate is a crazy, chaotic joy. With a gargantuan roster of fighters, an amazing adventure mode and more unlockables than would ever have seemed possible, this is a game that packs one heck of a punch.

Super Smash Bros. Ultimate delivers the fight of a lifetime and an unfaltering experience that is 'ultimate' in every way imaginable. It really is something quite special, a celebration that's rich in gaming history and, polished to perfection, the next must-have game on Nintendo Switch that you won't want to miss.

Super Smash Bros. Ultimate is the perfect incarnation of a 20-year long work. It's the maximum point of the series and of the genre, with its thousand contents and a great single player campaign mode. It's both competitive and fun. It's only a little smash from perfect.

It's an amazing fighting game, an amazing party game, and the only title to be both of them. Even the single player Adventure is long, creative and difficult.

The online features drag the experience down a bit. If you're someone hoping for a good online multiplayer experience with Ultimate, you'll be disappointed. But if you're looking for a fun fighting games to play with friends on a couch, nothing serves you better than Super Smash Bros. Ultimate.

Super Smash Bros. Ultimate is bigger and, for the most part, better than ever. It gives to the audience one of the best experiences ever for single player in a fighting game, but makes a few bad choices for the Online Mode that steals the freedom of choice from the players.

Super Smash Bros. Ultimate is equal parts greatness and lacking. The sheer wealth of content and great gameplay is commended but there are big holes in what could be a great game.
No necesito mas, pues ya tiene mas de lo que pido, Realmente es el smash definitivo y como usuario estoy infinitamente agradecido a nintendo,

No necesito mas, pues ya tiene mas de lo que pido, Realmente es el smash definitivo y como usuario estoy infinitamente agradecido a nintendo, pues en 2 dias ya llevo como 20 horas y lo mejor es que muchas son con mis amigos gracias a la portabilidad
Te quiero Nintendo

…

Expand

The best smash bros game so far, combines everything for casual and competitive game. Without a doubt this is the best work of Sakurai.

I try this, and this is absolute! perfect gaming experience, SWITCH is full of hearts! super mario rpg is the only missing part! thxs

This game is amazing. the game constantly keeps you engaged with new fighters, spirits and other unlockables. the Adventure Mode feels like a

This game is amazing. the game constantly keeps you engaged with new fighters, spirits and other unlockables. the Adventure Mode feels like a crisper, more fresh version of Subspace Emissiary. The games other features are all useful, and really fleshed out. while there are some bugs, i am confident that Sakurai is fixing them. I love the new Echo Fighters, as it makes it easier for the team to add new characters to the roster, which means we should have huge numbers of characters in smash. 10/10 Definitely!

…

Expand

Finally a switch game that is well worth the $60 plus price tag. What are you waiting for? Go and buy it.

Nunca me había gustado tanto un Smash Bros y he jugado a todos. Este mejora muchísimo en todos los aspectos e incluso en lo que parecía

Nunca me había gustado tanto un Smash Bros y he jugado a todos. Este mejora muchísimo en todos los aspectos e incluso en lo que parecía imposible mejorar. Una cantidad increíble de jugadores, escenarios, música y además unos gráficos y sombras muy llamativos que a su vez ayudan bastante a visualizar perfectamente la pelea. Por otro lado y el motivo que le doy un 9 y no un 10 es el modo historia que se agradece que se meta de nuevo después de 10 años (además de que meten la mecánica de espíritus) pero la verdad es que por lo menos a mí se me ha hecho bastante repetitivo. Y también el motivo que le doy un 9 es por la estabilidad del online, que va un poco mejor que el de la WiiU y estás pagando 20 euros al año para jugar online y si quieres te compras el adaptador de ethernet para que te vaya mejor y si no mejora apenas te aguantas. Por lo demás, JUEGAZO.

…

Expand

This game is very bad,Melee,Sm4sh,Brawl and 64 are better,the stages and characters graphics are bad