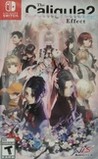 Summary:

Dive into a reality-warping adventure from Persona scenario-writer Tadashi Satomi and director Takuya Yamanaka!

A virtuadoll named Regret has created the world of Redo in order to save people from their past regrets by unknowingly imprisoning them in a simulation. However, this "Paradise"Dive into a reality-warping adventure from Persona scenario-writer Tadashi Satomi and director Takuya Yamanaka!

A virtuadoll named Regret has created the world of Redo in order to save people from their past regrets by unknowingly imprisoning them in a simulation. However, this "Paradise" is shaken to the core when a virtual idol named X breaks into Regret's virtual reality and restores a high school student's memories of the real world. In order to escape Redo, they form the Go-Home Club, a resistance group that seeks to fight against regret and her enforcers, the Obbligato Musicians.

…

Expand
Developer:

historia Inc

Genre(s):

Role-Playing

,

General

# of players:

No Online Multiplayer

Cheats:

On GameFAQs

Rating:

T
There is no doubt that The Caligula Effect 2 is a niche within a niche, and the fact that the second game so closely follows the first just confirms that the developers are comfortable with that. While it might not click with everyone, it's worth trying, because if you do like your games a bit thoughtful and arty, then this is going to be one of the highlights of the year.

The Caligula Effect 2 is an incredibly modern game that encroaches on territory like no other JRPG. With a stunning soundtrack and an extremely fun battle system, it's a riot to play. But it also has a cast ingrained into the narrative that leaves a very strong impression, and I really feel they'll stick with me for a while.

The Caligula Effect 2 isn't a sequel I ever saw coming: a follow-up to one of the most overlooked, underrated games of the last few years. It follows closely in its predecessor's footsteps, and while it could never hope to be quite as groundbreaking, it still finds ways to bring a fresh perspective to the moral philosophy and psychological exploration at the heart of the series. It still won't be for everyone, but nor is it trying to be—and anyone who likes JRPGs that break from the mold and leave them with something to think about is in for something special.

I haven't had a game in which I've had to pull myself away from playing it for a while, but I spent a Saturday basically playing The Caligula Effect 2 and only stopping for supper. I really hope a lot of the other RPGs coming out before the year's out on Switch can elicit that level of devotion.

The Caligula Effect 2 improves on several aspects of the original, namely the combat system, and brings an exquisite story with many captivating elements, very well written characters, as well as a stunning soundtrack. At the same time, its level design could use improvements, and even though the soundtrack is indeed one of the game's top assets, some of its tracks are repeated to the point of exhaustion, which only leads to saturation. Overall this is an enjoyable experience which could have turned out better if some of those elements had been addressed.

If there is one problem with Caligula Effect 2 it is pacing. The beginning hits incredibly hard, with great characterization and drawing the player into the plot. The hours-long plodding dungeons and 'slice of life' sections kill what otherwise is actually a pretty cool story. Much like the first game, the core experience of fights and story is solid, but it is absolutely buried in detail which is unfortunate as it makes it far less accessible.

Like its predecessor, The Caligula Effect 2's greatest sin is that it is entirely average. The soundtrack is incredible, to be certain. Progress is clear, given that the dungeons work so much better. The general story feels stronger as well. But the supplemental elements, generic enemies, and need to only take advantage of the tactical parts of battle when facing bosses leave it feeling a bit lackluster. It's fine and even has its moments, but I suspect only FuRyu fans or people who loved other games in the series will really connect with it.
I adore this game. The art style, music, plot, characters, side quests, character episodes, combat system - every last thing about this game

I adore this game. The art style, music, plot, characters, side quests, character episodes, combat system - every last thing about this game is a perfect 10. I really hope they continue this series.

…

Expand

I'm a bit unsure as to why it has some hefty down scores. It's a pretty low score considering.

I only played a short time. The OST isI'm a bit unsure as to why it has some hefty down scores. It's a pretty low score considering.

I only played a short time. The OST is amazing so far. Battles seem fun. Characters are a bit OTT but likeable.

…

Expand

Amazing game. Great characters, soundtrack, and combat. A bit of hiccups here and there but overall it is an amazing experience