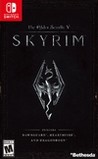 Summary:

The open-world adventure from Bethesda Game Studios where you can virtually be anyone and do anything, now allows you to go anywhere—at home and on the go. New features include motion controls, gear based on the Legend of Zelda series, and amiibo compatibility. Dragons, long lost to the

The open-world adventure from Bethesda Game Studios where you can virtually be anyone and do anything, now allows you to go anywhere—at home and on the go. New features include motion controls, gear based on the Legend of Zelda series, and amiibo compatibility. Dragons, long lost to the passages of the Elder Scrolls, have returned and the future of Skyrim hangs in the balance. As Dragonborn, the prophesized hero born with the power of The Voice, you are the only one who can stand against them. Live another life, in another world—from battling ancient dragons, exploring rugged mountains, building a home, or mastering hundreds of weapons, spells and abilities. For the first time ever, go into battle Legend of Zelda style: fight with the Master Sword, guard with the Hylian Shield, while wearing the Champion's Tunic. The game also includes official add-ons—Dawnguard, Hearthfire, and Dragonborn. [Nintendo]

…

Expand
Developer:

Bethesda Game Studios, Iron Galaxy Studios

Genre(s):

Role-Playing

,

Western-Style

# of players:

No Online Multiplayer

Cheats:

On GameFAQs

Rating:

M
Please enter your birth date to watch this video:
You are not allowed to view this material at this time.
Skyrim VR Reveal Trailer - E3 2017
The fact that a game stuffed with hundreds of hours of content runs so well on a mobile video game console is nothing short of amazing. On its own, Skyrim is a phenomenal game and now I don't have to be stuck on the couch or on my computer. I can play it wherever and whenever I want. What a time to be alive.

The Switch isn't short of games that have already taken a bow, or several, on other hardware, but Skyrim might be the one that most deserves another look from both hardy Elder Scrolls adventurers and absolute beginners alike. Despite its age showing, the countless little cracks in its already fractured façade, it still delivers a palpable sense of space, and the player's niche-carving progress through it, that few games before or since have managed. May its dancing northern lights never dim.

Seeing one of the most celebrated open worlds brought to Nintendo's portable flagship is a welcome surprise. Being able to take a game this expansive on the go is an amazing feat, and seeing it come in this feature complete is Bethesda at its best. While the motion controls have a bit of wonk, come for the HD rumble, and stay for the chance to explain why you are yelling Fus Ro Dah! on the bus.

Overall, I'm more than impressed with Iron Galaxy and Bethesda's work on Skyrim for Switch. If you've never played Skyrim before, now is a great time to get into it. Skyrim on Switch is the only version that you can take to Starbucks for an Americano to the knee and it is quite an accomplishment.

It's still a great RPG too, with a compelling swords and sorcery narrative, plus a sprawling, reactive world to explore.

Bethesda has managed to port its enormous and captivating world into what's basically a tablet, and has done so almost flawlessly.

The magic that is Skyrim is definitely still there after all these years. However, the bugs, old animations and repetitive quests are showing even more than before. There is still a beautiful world out there though, that is ready to be explored.
its just simply amazing, playing skyrim on the switch compared to the ps3 is like night and day, the ps3 verision was the worst one and going

its just simply amazing, playing skyrim on the switch compared to the ps3 is like night and day, the ps3 verision was the worst one and going to whats the best one according to me becouse of how good it looks and with how stable it is and damn the load time are short

…

Expand

Skyrim is outstanding on the Switch. It's beautiful, it runs well, has motion controls, HD rumble and most of all I can be on an adventure

Skyrim is outstanding on the Switch. It's beautiful, it runs well, has motion controls, HD rumble and most of all I can be on an adventure anywhere; portable mode is crisp and as good as it gets!

…

Expand

Yep zelda is a great game , but one of my favorite rpg's come's to the switch
Just imagine ,running trough the big world just on a smallYep zelda is a great game , but one of my favorite rpg's come's to the switch
Just imagine ,running trough the big world just on a small screen on a plain
It pretty much has everything that the other console version have
Only controls are a bit hard in the beginning
That doesn't take anything away from the 10 ,the game is just so good
A must buy!!!!!!!!!!!!!!!!!!!!!

…

Expand

En su momento lo pase en PS3 y es uno total pasada, su ambientación, su historia, su jugabilidad, etc. Lo compro ahora para volver a memorar

En su momento lo pase en PS3 y es uno total pasada, su ambientación, su historia, su jugabilidad, etc. Lo compro ahora para volver a memorar esa hermosa historia y ya que viene con todos los DLC que no pude comprar en PS3.

…

Expand

Its Skyrim on Switch, it is what it is. It does what it set out to do, that is being Skyrim on the switch.
Nothing out of the ordinary here,Its Skyrim on Switch, it is what it is. It does what it set out to do, that is being Skyrim on the switch.
Nothing out of the ordinary here, just a huge open world with lots of content. You know exactly what you are getting as far as game play. That is not to say i'm unhappy, quite the opposite! Its been good fun to revisit the game again. But hands down the best part is having it in a portable state, the ease of seamless pick up and play makes it great.

I'm very happy with it.

…

Expand

Great game and really good port. I have bought this game on xbox one and PS4, and already invested many hours in. Graphically is it close to

Great game and really good port. I have bought this game on xbox one and PS4, and already invested many hours in. Graphically is it close to xbox one in some parts of the game. It obviously doesn't compare to the 4k versions.

It is annoying you can't change brightness, some parts are too dark to play. I don't have this problem on any other console. Overall I am impressed with this port and play it for a few quick sessions on quests I never played before.

EDIT: -

This game has some real game breaking bugs. I couldn't complete the stormcloak quest because of it. I am lowering my score from 9 to 8 / 10

…

Expand

Bethesda is the worst game developer. None of the known bugs were fixed. But that was not enough for them and they added even more. Every 5

Bethesda is the worst game developer. None of the known bugs were fixed. But that was not enough for them and they added even more. Every 5 minutes or even more often, you can hear audio noise. 60EUR for a broken game, that's so adorable.

…

Expand