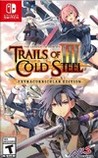 Summary:

The end of the civil war led to the turning point of a new era for the Erebonian Empire. Centering on Rean Schwarzer as the Ashen Chevalier, the young man who came to be seen as a hero within the country, a new story of young heroes will unfold.
Developer:

Falcom, Engine Software

Genre(s):

Role-Playing

,

Japanese-Style

# of players:

No Online Multiplayer

Cheats:

On GameFAQs

Available On:

Stadia

Rating:

T
Please enter your birth date to watch this video:
You are not allowed to view this material at this time.
The Legend of Heroes: Trails of Cold Steel 3 Dungeon Gameplay On Switch
For those willing to invest in playing through or reading into the first two entries, Trails of Cold Steel 3 is an unmissable experience. RPG fans of all kinds are sure to fall for this love letter to the genre. Meaningful side-quests, an engaging combat system, and a story that makes something amazing out of what could easily be a simple routine: these elements represent only a fraction of Cold Steel 3's achievements. The performance isn't flawless, but portability and lengthy RPGs go hand-in-hand, making this a must-own title on Switch.

Nintendo Force Magazine

Apr 28, 2021

If you're looking for a solid JRPG experience on the Switch, Cold Steel III will give you that and more if you take the time to dive deep into its story and combat. [Issue #49 – November/December 2020, p. 75]

The Legend of Heroes: Trails of Cold Steel 3 is an excellent role-playing game of classic style, absolutely unmissable for the veterans of the saga. Everyone else may find themselves overwhelmed by excessive references, compromising the experience.

Besides some shortcomings on the technical side, this port for Nintendo Switch is an excellent opportunity to recover a long-lived and engaging title, certainly not suitable for all palates, but a perfect transition between what has been and what the saga will be.

Trials of Cold Steel III is another excellent addition to a franchise that gains so much of what makes it absorbing from the huge amount of background detail and world-building that's been achieved in earlier entries in the series. Newcomers should be aware that taking the time out to play Trials of Cold Steel I and II is advised to get the absolute maximum amount of enjoyment out of this one but, even if you're jumping in fresh, there's still plenty to love here once you find your feet. With a massive cast of well-written characters and tons of excellent combat and exploration spread across its epic running time, this is a top-notch addition to the Switch's library of JRPGs.

As a mid-chapter of a long-branching narrative, The Legend of Heroes: Trails of Cold Steel III doesn't really slow down for new players. If you're patient with the game's unique passing, tough, you may find an engaging combat system and tons of content to enjoy.
This is a good PS4 to Switch port. Framerate is stable with only minor graphical adjustments (aliasing). The game itself lends itself well to

This is a good PS4 to Switch port. Framerate is stable with only minor graphical adjustments (aliasing). The game itself lends itself well to portable play, which is how I prefer to experience these games after playing the first two on PS Vita.

…

Expand

This is a complete experience for JRPGs fans, the combat system, quests, history and characters are all awesome, but the graphics isn't worth

This is a complete experience for JRPGs fans, the combat system, quests, history and characters are all awesome, but the graphics isn't worth of this current generation, and the switch version has many problems. Despite of this is a must have for any fan of the JRPG genre, and one of the best games of nintendo switch.

…

Expand