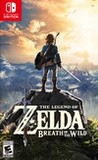 Summary:

Forget everything you know about The Legend of Zelda games. Step into a world of discovery, exploration and adventure in The Legend of Zelda: Breath of the Wild, a boundary-breaking new game in the acclaimed series. Travel across fields, through forests and to mountain peaks as you discover

Forget everything you know about The Legend of Zelda games. Step into a world of discovery, exploration and adventure in The Legend of Zelda: Breath of the Wild, a boundary-breaking new game in the acclaimed series. Travel across fields, through forests and to mountain peaks as you discover what has become of the ruined kingdom of Hyrule in this open-air adventure. Explore the wilds of Hyrule any way you like - Climb up towers and mountain peaks in search of new destinations, then set your own path to get there and plunge into the wilderness. Along the way, you'll battle towering enemies, hunt wild beasts and gather ingredients for the food and elixirs you'll need to sustain you on your journey. More than 100 Shrines of Trials to discover and explore - Shrines dot the landscape, waiting to be discovered in any order you want. Search for them in various ways, and solve a variety of puzzles inside. Work your way through the traps and devices inside to earn special items and other rewards that will help you on your adventure.
* Be prepared and properly equipped - With an entire world waiting to be explored, you'll need a variety of outfits and gear to reach every corner. You may need to bundle up with warmer clothes or change into something better suited to the desert heat. Some clothing even has special effects that, for example, can make you faster and stealthier.
* Battling enemies requires strategy - The world is inhabited with enemies of all shapes and sizes. Each one has its own attack method and weaponry, so you must think quickly and develop the right strategies to defeat them.
* amiibo compatibility - Tap the Wolf Link amiibo (sold separately) to make Wolf Link appear in game. Wolf Link will attack enemies on his own and help you find items you're searching for.

…

Expand
Developer:

Nintendo

Genre(s):

Action Adventure

,

Open-World

# of players:

No Online Multiplayer

Cheats:

On GameFAQs

Rating:

E10+
Please enter your birth date to watch this video:
You are not allowed to view this material at this time.
Zelda: Breath Of The Wild - Master Mode Gameplay
The Legend of Zelda: Breath of the Wild is one of the best games ever made.

Where it takes mechanics from others in the industry, it improves upon them; where it introduces new ones, you slap your forehead in amazement that it hasn't been done before. Breath of the Wild is development done right, and damn near the best game you'll play all year.

I guess, in the end, it's not just that Breath of the Wild signals that Zelda has finally evolved and moved beyond the structure it's leaned on for so long. It's that the evolution in question has required Nintendo to finally treat its audience like intelligent people. That newfound respect has led to something big, and different, and exciting. But in an open world full of big changes, Breath of the Wild also almost always feels like a Zelda game — and establishes itself as the first current, vital-feeling Zelda in almost 20 years.

Despite the stellar story and the absolutely fantastic visuals (aside from some framerate issues on the Switch), it's this world overflowing with life that will grab and hold your attention for hours upon hours of gaming. As much as this is a story-driven RPG, Breath of the Wild is about its world, a world so vast that you could spend hours upon hours traversing its lands (trust me, I did) before actually making tangible progress in the story...It's the Zelda game we've all been waiting for.

The largest Zelda? No dispute. The finest launch title for a new console? So, it is. And isn´t it also the best Zelda? Yippee. And something more. Breath of the Wild is so far the best Zelda, which will be unforgettably written in the history of open-world games.

A new direction for the franchise that is as brilliantly successful as it is bold, Breath of the Wild raises the bar for a series that has already set a phenomenally high standard.

The audiovisual beauty alone of The Legend of Zelda: Breath of the Wild is liable to convince you that more is indeed better.
This review contains spoilers

, click expand to view

. I want to make this clear to whoever is reading this review right now. This game is not perfect, but that's ok because no game will ever be. What this game has accomplished is simply amazing. Nintendo finally took a shot at an open world game, with the genre being as popular as it is, and blew us away with their first go. (Spoilers from here on out)

PROS- Traveling throughout the world in Breath of the Wild (BOTW) is the most fantastic part of the game. You have so many options as you are traveling. You can surf down massive cliffs and snow mountains for a blistering way to get to places. Climb up mountains anywhere to get a good view on the landscape, plan where to go next and paraglide over their. If you want to get to an area quickly you can take a horse, or if you completed the DLC a motorcycle. If your in the desert you can use a seal to take you across it quickly. This game provides options when traveling throughout the world witch plays in part why it's so fun to explore. The other reason this game is so enticing is their is something around every corner. Their are 4 divine beast, 120 shrines, 900 korok seeds, and many side quest and mini games. So while the world is massive their is always something to see or do. The world is most enjoyed when you take your time with the game. Both me and one of my friend got the game around the same time as each other my friend tried to collect everything in the game before beating Calamity Ganon, including all 900 korok seeds. By the end of the game he had put just about 300 hours in to it. He was completely burned out and hated the game for it. This is not the game where completing it 100% completion will be fun in a short period of time. I have had the game for about 1.5 years now and still play it because I don't do the little at at once. I beat the game a couple months after I got it and completed all the main stuff along with it like, freed all dive beast, got the master sword, found all the memories, and beat the DLC. After I defeated Ganon I still wanted to explore the world and see what I could find. I still only have about 250 korok seeds and finally finished all the shrines but I'm till even to this day having fun exploring the world. I constantly come back and find new things. I stumbled upon a beautiful dragon for the first time and was blown away. Found full towns after beating Ganon and still have fun finding korok's around every corner. Some of the best moments I have ever had in gaming are from stumbling into stuff naturally from this game. BOTW does this better than any game I have played yet.

Cons- It's interesting because what this game achieves so well make the shortcomings seem like more of a misstep than it normally would be. The voice acting in many ways is just average, which really surprised me since this is the first time there are voice actors in a Zelda game that both Nintendo and the voice actors didn't go for perfection. In many of the cutscene it seemed like they were took only a couple times. The Divine Beast are very interesting and unique concept the first couple you do but later on I realized they were extremely short and boring compared to past Zelda dungeons. They also have exactly the same boring interior look for each dungeon and shrine. Again, previous Zelda dungeons where much more creative and interesting than these and if one thing gets changed in the sequel I hope it would be this. Most of the other problem I had were small. The music in this game is perfect for what the game is supposed to be, but for a more personal problem I miss the bombastic Hyrule Field music or the optimistic Great Sea theme. Again this is not a problem for the game but a personal one. The durability system is almost great for the ability to keep you on your toes at all times but I would like if you got a couple more hits out of each weapon, so instead that would make players be more aggressive instead of being cautious about breaking weapons. The menu system works ok but I still often find myself stumbling around in it. Also I didn't like how you can only hold 5 items at a time; I would like to be able to hold more.

In conclusion, this game is fantastic and I would recommend it to anyone who has any interest in it. This is probably my favorite game of all time, mainly because I have had so many memorable moments from it and I can call my adventures in the game my own. This game got me back into video games and I really appreciate it for that. Yes, the game does have flaws just like every other game ever will, but here hoping the recently announced direct sequel can fix some of those problem, retain what's great about this game, and come up with creative ideas and story to make it unique from its predecessor.

…

Expand

Breath of the Wild broke a lot of records in the history of gaming. By that, I mean it is most likely impossible to find one thing wrong with

Breath of the Wild broke a lot of records in the history of gaming. By that, I mean it is most likely impossible to find one thing wrong with this game. It's like Nintendo took the base of Ocarina of Time and modernize it to make it look like this game over here. This is why Nintendo will forever remain in my heart no matter where it all goes. I'm telling you this, Breath of the Wild has everything... yes, every... single... thing that made Ocarina of Time look like a masterpiece. This is the lost brother of Ocarina of Time and the true brother Ocarina of Time will ever need. Just go buy this game, it wants your money so bad, it wants you to play it so bad, it wants to be your local friend literally bad. I'll be waiting until you get this game.

…

Expand

Extremely good. Nintendo has crafted a world that I can get lost in for hours no matter how long I've had the game.

This review contains spoilers

, click expand to view

. this game is just amazing i don't see why people are hating zelda BOTW and they come here to dislike it
i'm not a sony fun but i don't go and dislike their games because poeple loved it

…

Expand

Basicamente é um dos melhores jogos que eu tive a oportunidade de jogar na vida. Achei o jogo fantástico, parece uma pintura feita a mão.

Basicamente é um dos melhores jogos que eu tive a oportunidade de jogar na vida. Achei o jogo fantástico, parece uma pintura feita a mão. Simplesmente sensacional. Somente Zelda é Zelda e manter essa magia por tantos anos inovando a franquia mostra que outras empresas tem muito o que aprender com a Nintendo.

…

Expand

Beautyful locations, interesting character with their own story and a lot of variety about weapons, monsters and animals. Cutscenes and music

Beautyful locations, interesting character with their own story and a lot of variety about weapons, monsters and animals. Cutscenes and music maybe are to much absents and sometimes the game lag in locations with a lot of obstacles, like tropical forests.

…

Expand

Weapons break badly.
The map is too big for nothing.
Solving dungeon riddles is boring. Link's clothes are light blue for some reason, andWeapons break badly.
The map is too big for nothing.
Solving dungeon riddles is boring.
Link's clothes are light blue for some reason, and Princess Zelda's design is terrible.

…

Expand