Publisher:

Nintendo

Release Date:

May 12, 2023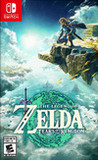 Summary:

An epic adventure across the land and skies of Hyrule awaits in The Legend of Zelda™: Tears of the Kingdom for Nintendo Switch™. The adventure is yours to create in a world fueled by your imagination. In this sequel to The Legend of Zelda: Breath of the Wild, you'll decide your own path

An epic adventure across the land and skies of Hyrule awaits in The Legend of Zelda™: Tears of the Kingdom for Nintendo Switch™. The adventure is yours to create in a world fueled by your imagination. In this sequel to The Legend of Zelda: Breath of the Wild, you'll decide your own path through the sprawling landscapes of Hyrule and the mysterious islands floating in the vast skies above. Can you harness the power of Link's new abilities to fight back against the malevolent forces that threaten the kingdom?

…

Expand
Developer:

Nintendo

Genre(s):

Action Adventure

,

Open-World

# of players:

No Online Multiplayer

Cheats:

On GameFAQs

Rating:

E10+
Please enter your birth date to watch this video:
You are not allowed to view this material at this time.
The Legend of Zelda: Tears of the Kingdom – Official Gameplay Trailer #3
The Legend of Zelda Tears of the Kingdom is an outstanding achievement, masterfully evolving upon nearly all of the major strengths and weaknesses of its predecessor to create one of the most inventive and exciting open world adventures ever. Matched with deep world-building and characters, it's an adventure you don't want to miss.

Tears of the Kingdom is a sequel that knows how to present new things and adds more lore to the incredible universe of Zelda. Islands with a sense of freedom, exciting game, and twists from start to finish will make you play for countless hours in this game and its immensity.

I felt like a hero at every moment, whether I was saving the princess or exploring hidden passageways or helping rediscover the lost recipe for that aforementioned cheese. But I felt like a hero not because the game told me I was but because it showed me. It showed me that my wacky ideas for building silly motorcars were clever and fun. It showed me that with a bit of bravery I could beat a swarm of enemies with nothing but sticks and stones. It showed me that I could dive off a flying island into the unknown and find my way.

Edge Magazine

May 18, 2023

But these rare lows are a fair trade for some of the most stratospheric highs we've experienced in a videogame since, well, its predecessor. In reimagining Hyrule and reshuffling the tools you'll use to explore and to save it, Nintendo may not have quite reinvented the wheel. But this kingdom provides a wondrous space in which to consider how you just might. [Issue#385, p.98]

The Legend of Zelda: Tears of the Kingdom is a wondrous adventure that somehow makes exploring the same Hyrule magical again. The returning Zelda tropes aren't quite at their strongest yet and there are some technical and mechanical issues, but this incredible feeling of adventure is something that can only be done through a video game. Tears of the Kingdom masterfully builds on its predecessors to bring the new and old together once more.

Link's new open-world adventure is a masterpiece that will enchant fans both new and old.

If you've yet to step foot into the open world of Hyrule, Tears of the Kingdom is the best way to experience it, with just enough new ground to keep things interesting. But if you didn't gel with the 2017 release, the story alone might not be worth the second attempt.
Breath of wild was already a masterpice. This game improves it in every departmen (story, world exploration, secrets to discover,...)

The perfect game, loads of mechanics and incredible creativity Definitely the game of the year

I was not sure at first, but after 10 hours into the game, I believe this is a masterpiece!

Zelda breath of the wild gives a sense of adventure that can get you lost for hours, But tears of the kingdom gives a real adventure where you

Zelda breath of the wild gives a sense of adventure that can get you lost for hours, But tears of the kingdom gives a real adventure where you can solve any problem, the way you want. When playing I constantly asked myself, "what if I use this" and I would always find a way to solve the problems using simple creativity

…

Expand

This review contains spoilers

, click expand to view

.

La mejor continuación de la historia, lograron lo impensable superar a breath of the wild.

…

Expand

Nice and wonderful game.... I lived and I live a great experience... a more advanced systemic gameplay than BOTW... that I haven't replayed

Nice and wonderful game.... I lived and I live a great experience... a more advanced systemic gameplay than BOTW... that I haven't replayed for 5-6 years with my 300 hrs.. that I'm going to exceed with this one ❤️ ‍

…

Expand

This review contains spoilers

, click expand to view

.

Este jogo é muito bom, eu tenho mais de mil horas nele, já platinei duas vezes, posso afirmar q não tem voz nos diálogos secundários, logo, esse jogo é muito desinteressantes.

…

Expand