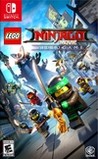 Summary:

Find your inner ninja with the Lego Ninjago Movie Video Game. Play as your favorite ninjas to defend Ninjago from the evil Lord Garmadon.
Developer:

TT Games

Genre(s):

Action Adventure

,

General

,

Linear

Cheats:

On GameFAQs

Rating:

E10+
Please enter your birth date to watch this video:
You are not allowed to view this material at this time.
The LEGO Ninjago Movie Video Game - Announce Trailer
Nintendo Force Magazine

Jan 7, 2018

If you (or your kid) love playing LEGO games, then these ninjas are good to Ninja-go. [Issue #31 – January/February 2018, p. 28E]

The LEGO Ninjago Movie Video Game isn't perfect, but very entertaining. Its strength lies in the gameplay and the humorous parts. Although the audio lets down sometimes, every LEGO fan likes this. You're never too old to play with LEGO.

My biggest takeaway from Ninjago was how gorgeous the clips from the movie looked on the Switch's screen, even if they're unskippable. The Lego Ninjago Movie Video Game is, perhaps unsurprisingly, best enjoyed as a companion to The Lego Ninjago Movie and only by its biggest fans.

If you're familiar with the Lego franchise, you'll know exactly what you're getting into here. Lego: The Ninjago Movie Videogame is a fun, accessible title marred with some bizarre design choices and some unfortunate technical issues. Nevertheless, it'd make a great present for the kids.

LEGO games are typically quite good. Movie franchise games are typically quite bad. The LEGO Ninjago Movie Video Game is, both, but ultimately it feels more like a movie game than a LEGO game. Poor level design, long load times and bugs make for a game that doesn't realise its full potential; funny dialogue and entertaining movie clips can't elevate this one to greatness. If you're looking for a great LEGO game for your Switch, stick to Undercover for now.
If you like other LEGO games, you will probably like this one too. It's a pretty simple game and that make it easy to play when you don't want

If you like other LEGO games, you will probably like this one too. It's a pretty simple game and that make it easy to play when you don't want to think to much. It's the LEGO formula.

…

Expand

The game is a good adventure game with a small bit of depth like most LEGO games. Overall i didn't feel disappointed because it has a lot of

The game is a good adventure game with a small bit of depth like most LEGO games. Overall i didn't feel disappointed because it has a lot of replay value. My only issue is sometimes there are small frame drops but on the switch it is kind of expected.

…

Expand

This review contains spoilers

, click expand to view

.

As a new player, the game is pretty solid. I like the concept of fighting styles, but I wish there was a way to see the button combo if you forget the order. the ninjanuety tokens are a cool concept, albeit slightly annoying to get. And the clips from the actual movie look really good for switch, but unskippable. My biggest problem with this game is the character creator is pretty limited. Overall, a good game. Would recommend to see the movie first though. Good for lego fan and ninjago fans.

…

Expand

This game is really fun, and has the fun LEGO charm. The story is another good vs. evil style game, but they are all funny LEGO characters

This game is really fun, and has the fun LEGO charm. The story is another good vs. evil style game, but they are all funny LEGO characters from the LEGO theme and movie. The gameplay is very good, it has a bunch of new attacks, way more than past LEGO games. I also enjoyed the portability, graphics, and animation. This game is very fun, so I recommend it.

…

Expand

The Lego Ninjago Movie Videogame
Almost getting it all the way right
In LEGO Ninjago you play as a variety of Ninjas out to save NinjagoThe Lego Ninjago Movie Videogame
Almost getting it all the way right
In LEGO Ninjago you play as a variety of Ninjas out to save Ninjago form being destroyed be the evil Lord Garmadon
Though the story focuses mostly on the green ninja Lloyd and his connection with Garmadon
The campaign stretches to just a little over 6 hours and is one of the most enjoyable LEGO game campaigns I've played through…
I've only played through a handful of Lego games with Lego city being my favorite…
and Lego ninjago fixes many of the problems I've had with this game series for the most part…
This game is much more combat focused than what you'd be used to from a Lego game
you can do a variety of combos and moves fill up a multiplier to get more studs for golden bricks and complete tasks around the ninjago world and the combat actually feels decently enjoyable...
it feels a bit like a 3d sonic game as you're dashing from one enemy to the next trying to stun them and pull off crazy finishers..
My favorite part about all of this though is that combat for the most part can be completely ignored if you want to…
This game isn't padded out just for the sake of it... finally a Lego game that doesn't feel like a time wasting chore…
level progressing is perfectly paced aside from the final few chapters in the game where things start to slow down a bit..
You'll be activating switches with your different party members, using their different ninjitsu moves to break through walls or freeze waterfalls for example as each ninja is attached to its own element...
and levels here all feel varied and look different…
it feels like a true adventure trying to save ninjago from destruction with the occasional vehicle based missions and bosses to change the gameplay up just a little bit
There is a constant way point on screen so you know where to go, again not wasting your time..
however where things can be better is that things get a little annoying when the game throws more than 2 characters into your party…
when it's time for a certain character to do a move to progress they'll jump up and down, but the quick swap doesn't automatically jump to them… and I just don't like the flow break that is bringing up the quick select menu…
sure at times it would switch to the right character…. But I feel this and again the game's final stretch are the only things that make this game feel a bit chorey at times…
and of course there are collectibles in each level for you to come back to when you unlock other ninjas as you play like golden bricks and character bags, there are mini hub areas with side quests and races.. You can create your own character…
The cut scenes here are charming, there are a few great jokes and touching moments…
though I found the story to ultimately be very forgettable and I did run into a bug where there was no dialog in the final cut scene so I had to watch it on YouTube...
But aside from a few hiccups I found this to be a solid game
I wasn't expecting to enjoy this game as much as I ultimately did…
I'm happy the game focuses more on platforming with its post hopping and wall running than its usual break everything until Legos hop around and then build and move on format like the past…
those moments are still here but not as frequent as they used to be
the game keeps going and I want to see more like this one
I give
The Lego Ninjago Movie Videogame
a 7/10

…

Expand