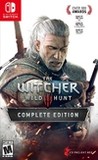 Summary:

AKA "Switcher 3".... A whole world to explore, at home and on the go. The Witcher 3: Wild Hunt is a story-driven, open world adventure set in a dark fantasy universe. You are Geralt of Rivia, mercenary monster slayer. At your disposal is every tool of the trade: razor-sharp swords, lethal

AKA "Switcher 3".... A whole world to explore, at home and on the go. The Witcher 3: Wild Hunt is a story-driven, open world adventure set in a dark fantasy universe. You are Geralt of Rivia, mercenary monster slayer. At your disposal is every tool of the trade: razor-sharp swords, lethal mixtures, stealthy crossbows, and powerful combat magic. Before you stands a war-torn, monster-infested continent you can explore at will. Your current contract? Tracking down the Child of Prophecy, a living weapon that can alter the shape of the world.

The Complete Edition contains every piece of downloadable content released for the game, including two massive story expansions: Hearts of Stone & Blood and Wine. It's the perfect opportunity to enter this world for the first time or relive the adventure on the go!

Features:

* A gigantic open world to explore.
Visit the luxurious and corrupt city of Novigrad, face the frigid cold of the wind-swept Skellige islands, and challenge the dark forces roaming the forlorn, ravaged No Man's Land. Sail through open seas, dive in search of long lost artifacts or gallop your mount into combat the world of the Witcher beckons to be explored.

* Unparalleled novel-like story spanning over 150 hours of gameplay.
With over 100 hours of core and side-quest gameplay and over 50 hours of additional content, The Witcher 3: Wild Hunt combines the intense, plot-driven pull of traditional RPGs with the freedom of choice only open world games can offer. Make choices and face their consequences to unlock endings tailored to how you play.

* Now on Switch play at home and on the go.
Developed to take advantage of everything Nintendo Switch has to offer, the game delivers a truly powerful on-the-go experience.

…

Expand
Developer:

Saber Interactive, CD Projekt Red Studio

Genre(s):

Role-Playing

,

Action RPG

# of players:

No Online Multiplayer

Cheats:

On GameFAQs

Rating:

M
Please enter your birth date to watch this video:
You are not allowed to view this material at this time.
The Witcher 3 Nintendo Switch Handheld Gameplay
As a landmark title that other games have trouble matching even now, The Witcher 3 flourishes on the Nintendo Switch. With an immense amount of absolutely engaging content, a meaningful narrative, and a meticulously designed world to explore, there's no doubt about the quality of the game.

The Witcher 3 on the Switch is a marvel in more ways than one, and if you want a game that you can sink dozens upon dozens of hours into without ever feeling like you're doing the same things over and over again, then look no further because it's right here.

The Witcher 3: Complete Edition does succeed in bringing almost all of the magic present within the game to a platform that didn't seem feasible, and as a result offers an option to many players who might have found the game too daunting otherwise.

This version is just pure witchcraft. It is incredible how such a big game fits in a tiny console. It does have its visual shortcomings, and we wouldn't recommend it if you're planning on playing it on a big TV, but it feels like a miracle on handheld mode.

The mature content and somber approach of The Witcher III: Wild Hunt – Complete Edition may put off some gamers, but it's a can't-miss game for those seeking an RPG with more bite and consequence (not to mention playable characters above the age of 15) than we normally get on Nintendo systems.

Saber Interactive has set a new standard for Switch conversions - now other developers can no longer blame the hardware. It is not a perfect depiction of the earlier versions technically, but that was never really the point. For those who intend to play on the TV, then console or PC versions are preferred. But if you want to carry with you one of the biggest adventures of recent years, there is no doubt. The Witcher 3: Wild Hunt on Switch contains everything we loved about Geralt's latest adventure and is the ultimate proof that the game has unbelievably more substance than just a detailed world.

Should you play The Witcher 3? Absolutely. It's one of a handful of games from the past decade that you simply can't miss. Should you play The Witcher 3 on the Switch? Honestly, probably not.
Şu oyuna reviev yazmaya bile gerek yok adamlar Allah gibi oyun yapmışlar 2015den 2019 a geldik halen yanına yaklaşan oyun yok.

One of the best ports on Nintendo Switch, one of the most legendary games, congrats to Nintendo Fans with another masterpiece on Board.

I love this game on switch !! Great story , gameplay and performance is great on switch

Este producto esta en el techo tecnico de la.consola. mi recomendscion es jugarlo en portatil. Tener esto en una pantalla tan oequeña donde

Este producto esta en el techo tecnico de la.consola. mi recomendscion es jugarlo en portatil. Tener esto en una pantalla tan oequeña donde quieras no tiene precio. Obra maestra. Port maestro. Gracias cd projekt red.

…

Expand

I start with 2 warnings!

1. DO NOT buy it if you have other console and you do not intend to play it in portable mode! 2. If you intend toI start with 2 warnings!

1. DO NOT buy it if you have other console and you do not intend to play it in portable mode!
2. If you intend to play it in portable mode then take charger or huge powerbank with you.


So now short review...
High score because of portability and huge surprise for the fact that this game appeared on Switch.

Switch is a compromise and because of that I did not expect great graphics (in comparison to PS4, XO, PC). I expected smooth and pleasant gameplay and CD Project Red delivered!

+ smoothness
+ portability
+ port of one of the best RPGs of all time

- battery drainer
- poor graphics (though still within the expectations)
- crazy expensive for such old game

I gave 10/10 because I think the game deserves it and I love it, but just to be fair to you all I must say one more time:
If you have other console and you don't intend to play it in portable mode - DO NOT buy it. Buy any other version! You will spare lots of money and the please of playing on on big screen will be MUCH better (mostly because of the graphics).

…

Expand

Deeply absorbing game where the choices you make often have unpredictable consequences in large part due to the fact that you make them with

Deeply absorbing game where the choices you make often have unpredictable consequences in large part due to the fact that you make them with incomplete information. Portrays war better than most. The game's lore, especially the stuff around the Conjunction of Spheres, is fascinating. I'm reading the books now for the first time in advance of a second play-through.

…

Expand

Esta bastante bien , las contras son : el precio elevado para un juego de casi 5 años .. que lo encuentras en pc por 8.Cuesta ver y leer los

Esta bastante bien , las contras son : el precio elevado para un juego de casi 5 años .. que lo encuentras en pc por 8.Cuesta ver y leer los diálogos. Lo único si lo quieres por ser portatil....

…

Expand