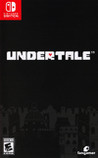 Summary:

Welcome to UNDERTALE. In this RPG, you control a human who falls underground into the world of monsters. Now you must find your way out... or stay trapped forever.

((Healthy Dog's Warning: Game contains imagery that may be harmful to players with photosensitive epilepsy or similarWelcome to UNDERTALE. In this RPG, you control a human who falls underground into the world of monsters. Now you must find your way out... or stay trapped forever.

((Healthy Dog's Warning: Game contains imagery that may be harmful to players with photosensitive epilepsy or similar condition.))

features:

* Killing is unnecessary: negotiate out of danger using the unique battle system.
* Time your attacks for extra damage, then dodge enemy attacks in a style reminiscent of top-down shooters.
* Original art and soundtrack brimming with personality.
* Soulful, character-rich story with an emphasis on humor.
* Created mostly by one person.
* Become friends with all of the bosses!
* At least 5 dogs.
* You can date a skeleton.
* Hmmm... now there are 6 dogs...?
* Maybe you won't want to date the skeleton.
* I thought I found a 7th dog, but it was actually just the 3rd dog.
* If you play this game, can you count the dogs for me...? I'm not good at it.

…

Expand
Genre(s):

Role-Playing

,

Japanese-Style

# of players:

No Online Multiplayer

Cheats:

On GameFAQs

Rating:

E10+
Please enter your birth date to watch this video:
You are not allowed to view this material at this time.
Undertale Switch Teaser Trailer
What else can I say? Undertale is spectacular, even three years later. It's a game that deserves every bit of praise that it receives, and a game that the people who love it are going to remember for a long, long time. I can't express how happy I am to have had the opportunity to experience it again on the Switch.

One of the most original modern JRPGs of all time, and beatable at the fraction of the time. Once you get over its primitive aesthetic, you'll soon realise why everyone else has been so captivated by Toby Fox's creation.

Nintendo Force Magazine

Oct 29, 2018

If you haven't played Undertale before, you will want to pick this Switch version up to experience what everyone's talking about for yourself. [Issue #36 – November/December 2018, p. 17]

Undertale is a brilliant and smartly designed game that understands well what makes a good RPG work; so much so that it can upend expectations and deliver something that's almost a satire of the genre. It's been a long time since we've played a game that manages to surprise so often and in so many unique ways, and even if it doesn't look like much, Undertale has way more going for it under the surface. Excellently written characters, a genre-bending battle system and a solid soundtrack make this one an easy recommendation, especially to RPG lovers. Do yourself a favour and give this one a download.

Going through the experience today, it's easy to see why Undertale was the talk of the town two years ago. It's not an overly long playthrough, but it's an impactful 7+ hours. A slow burn that starts off cute, but builds up to an absolutely thrilling last couple hours. I'm not sure if the Pope has gotten around to playing it yet, but he would be doing himself a disservice if he hasn't.

Toby Fox's work is not just an anecdote: it is perfectly well-thought out. It hides something that connects directly or indirectly to anyone who has spent too much time with a gamepad in his hands.

The game is every bit as charming, challenging, and harrowing as it was the first time around.
Undertale has everything to be a good game, people are endearing and funny, the atmosphere is nice, the music is beautiful in short the game

Undertale has everything to be a good game, people are endearing and funny, the atmosphere is nice, the music is beautiful in short the game is a masterpiece if you are a fan of RPG or not I advise you strongly to try it

…

Expand

It is a really good game, I like everything of it, except by the final battle, because the explanation of why shulk is able to see the future

It is a really good game, I like everything of it, except by the final battle, because the explanation of why shulk is able to see the future and shulk gets a monado just because the power of friendship. Apart from iOther than that this the game is pretty good, the soundtracks are really beautiful.

…

Expand

Undertale is the perfect game it has everything a good story nice characters. The art style looks very good and the game is working well on

Undertale is the perfect game it has everything a good story nice characters. The art style looks very good and the game is working well on Nintendo switch!

…

Expand

I DO NOT often give games a 10/10 score, unless they absolutely deserve it, and it is for that exact reason Undertale has earned its 10/10

I DO NOT often give games a 10/10 score, unless they absolutely deserve it, and it is for that exact reason Undertale has earned its 10/10 ranking. This game has so many bright points that its flaws are often overshadowed all the way up to the, potentially, 6th playthrough!

Pros: The story is amazing when fully understood and some time is invested into the game. It;'s an experience that stays with you, and this is coming from someone that owns all three versions of Undertale

The characters are still amazing and funny 3 years later! Not many games can pull this off and it's a testament to the character design of Undertale. That, along with its character-based storytelling, can sell the game alone.

The battle system is simplistic, but innovative in its pacifist/genocide approaches and bullet hell ideas. While it can be annoying and tedious after long enough.

The soundtrack is AMAZING. Every single area's atmosphere is accentuated by the theme and each boss theme tells you a little about who the character is, which i feel is very useful for character development in a game as short as Undertale is.

The game is also only about 6 hours long at the longest! 2 and a half if you're fast and even under 2 hours if you're just doing the bare minimum.

Finally, the multiple endings and ramifications of each. The ingenious code manipulation Toby managed to create 3 years ago is still present here, and is as terrifying as ever. Undertale's multiple endings and ways to abuse certain systems, usually the naming system, lend comedic value to the game.

The cons: At the start of the game, it's very light regarding story but after passing the 3rd boss the story ramps up, and especially towards the finale in one playthrough, the story REALLY ramps up, but takes some time to begin.

Despite its charm, Undertale's opening section is extremely tedious. Since it's so linear, it'll only take one try before you know everything, further playthroughs turn that area into a slog and all the adorable memes are only funny for so long, but the rest of the game literally spews relay value.

Now, i have owned all three versions of Undertale, have played the game countless times and i can tell you without a doubt it is still fun, even after playing for 2 years. The Switch version even comes with two new bits of content not seen in any other version that i won't spoil. Then for the price tag, to get this masterpiece? It beat out SSBU for God's sake.

In short. Amazing game, amazing soundtrack, amazing characters, amazing environments, even if they can get somewhat tedious f you like a good RPG and adorable characters + are looking for something semi-simplistic to play for fun (or for tears because this game will do that to you) Then pick up Undertale. It's an enjoyable adventure that's just long enough for people to get into but not long enough to be a black hole for your time.

…

Expand

I love this game , the characters a unique and strange and I love it. Music is a little repetitive in a water area. If you aren't a fan of

I love this game , the characters a unique and strange and I love it. Music is a little repetitive in a water area. If you aren't a fan of rpgs , timing games or others I wouldn't recommend. This is not a first person shooter with heavily complex and dynamic combat. I really think you could enjoy this game but it's less likely

…

Expand

This game is an outstandingly unique experience. Unbelieveable one man alone came up with the story, programmed all of it and made this

This game is an outstandingly unique experience. Unbelieveable one man alone came up with the story, programmed all of it and made this legendary soundtrack.

…

Expand

Tedious, repetitive, stupidly punishing,capriciously incomprehensible, filled with ludicrously violent action and trite humour. Overrated.

Tedious, repetitive, stupidly punishing,capriciously incomprehensible, filled with ludicrously violent action and trite humour. Overrated. Overpriced. Unemotional. The game tries too hard to be special. You die and die and die and die incessantly in this game for no reason. 0/10.

…

Expand