Publisher:

Nintendo

Release Date:

Mar 28, 2019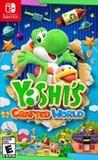 Summary:

Discover the flip side of Yoshis world. Lead Yoshi on a brand new adventure that will turn everything youve come to expect from side-scrolling games upside down! Explore a great, big world decorated like a miniature diorama in a new art style for the franchise, where each side-scrolling

Discover the flip side of Yoshis world. Lead Yoshi on a brand new adventure that will turn everything youve come to expect from side-scrolling games upside down! Explore a great, big world decorated like a miniature diorama in a new art style for the franchise, where each side-scrolling stage has the traditional front side as well as a flip side with different views and surprises. Look for items throughout the stage as Yoshi makes his way to the goal. You can even join up with a friend.

Features:

* Join Yoshi in this new action platforming game
* Each course offers both a main path and a hidden path that offers different views and surprises
* The lively art style looks like a minature diorama
* Enjoy simultaneous 2-player action

…

Expand
Developer:

Good-Feel

Genre(s):

Action

,

Platformer

,

3D

# of players:

No Online Multiplayer

Cheats:

On GameFAQs

Rating:

E
Please enter your birth date to watch this video:
You are not allowed to view this material at this time.
Yoshi's Crafted World - Story Trailer
Easy doesn't mean a lack of fun, and if Yoshi's Crafted World is anything, it's fun. Good Feel has very nearly perfected its quirky practice of hyper-stylized visuals fused with quality gameplay. As ever, the pure joy of hurling eggs at encroaching Shy Guys and Piranha Plants remains one of the biggest draws in all of video games. The new, multilayered stages composed from bric a brac are charming to the max. There's also a bevy of unlockable goodies, including a multitude of cute costumes to dress Yoshi in, and that will keep players busy returning to Crafted World's numerous stages for a good, long time.

Yoshi's Crafted World is a real joy to play. While it's monotonous during the flip side levels, its masterful platform design makes up for it in droves.

Yoshi's Crafted World is a really fun title with a great design, perfect for fans of platform games and of course Yoshi fans. This makes us recommend the game to all players looking for an entertaining adventure starring their favorite dinosaur.

Yoshi's Crafted World was a delight to play through, especially thanks to the stunning paper craft scenery. In terms of presentation, this as good as anything Nintendo has produced, which is an incredible accomplishment. Does Crafted World rank as one of the Switch's best platformers? Not quite. This is a simple collectathon at heart that never really attempts to strive to be anything more. Children and those craving a cutesy cathartic adventure will love this new Yoshi entry, but those looking for a challenge are better off looking elsewhere.

Yoshi's Crafted World is another successful main game Switch debut for one of Nintendo's favourite characters and is wonderfully accessible for every kind of gamer. The games adorable art style is a joy to behold, and it's always fun to play with a friend in co-op. It may not be perfect, but it's a lovely little adventure that should be experienced by all fans.

Nintendo Force Magazine

Aug 28, 2019

The soundtrack of Yoshi's Crafted World is abysmal. [Issue #39 – May/June 2019, p. 68]

It's charming, it's sweet, it's peddling a message of kinship and harmony… but it does it all so dryly...Sorry, Yoshi – you're a good boy, but you've got to learn some new tricks.
This game is the logical evolution of this saga. It shows a perfect combination of precious graphics and new interesting game mechanics that

This game is the logical evolution of this saga. It shows a perfect combination of precious graphics and new interesting game mechanics that provide freshness and multiple varied situations. The soundtrack may be scarce at first, but it perfectly fuses with the gameplay so that you are not aware of the repetition of some themes. This game is the perfect opportunity to experience a relaxed trip through the crafted worlds with one of our favourite characters.

…

Expand

This review contains spoilers

, click expand to view

.

This Game makes a lot of fun! And is my favourite Game for the Nintendo Switch.

…

Expand

Yoshi's Crafted World - un juego muy entretenido, lleno de ternura y un gran cuidado en el apartado artístico; cada detalle está bien pensado.

Yoshi's Crafted World - un juego muy entretenido, lleno de ternura y un gran cuidado en el apartado artístico; cada detalle está bien pensado. Es de los mejores juegos del dinosaurio compañero de Mario.

…

Expand

Soy muy fan de Yoshi, el juego es un excelente plataformero pero no le llega a lo que fue wooly world con respecto a su asombrosa banda

Soy muy fan de Yoshi, el juego es un excelente plataformero pero no le llega a lo que fue wooly world con respecto a su asombrosa banda sonora, la de crafted en muy repetitiva hasta llegar al cansancio. Luego de de eso esta muy bueno en los demas apartados ya sea en grafico, tecnico o en cuanto a jugabilidad que es muy importante.

…

Expand

Short story - Super cute and fun. While I will say Woolly World was definitely the better of the two Good-Smile games, Crafted World is an

Short story - Super cute and fun. While I will say Woolly World was definitely the better of the two Good-Smile games, Crafted World is an absolute delight from beginning to end. The adorable setting that felt like a child's craft project was an absolute delight to play through, with so many interesting sights to see and hidden secrets to find along the way. The game even has a cute and charming story with some funny antics from our baddies, complimenting the super fun boss fights that come with them. The best part of the game are the event levels that don't play like traditional side-scrollers and often have a cool or fun challenge to them. I have a few minor complaints about the reuse of music or the odd two player mode, but they're drops in the bucket of an otherwise fantastic product.

…

Expand

Very chill game. it's adorable but it's not Yoshi's best adventure yet. it's not a bad game I just wish for some more depth

I bought this game to play co op. Due to them changing the mechanic so that you can't walk through each other and are constantly jumping onto

I bought this game to play co op. Due to them changing the mechanic so that you can't walk through each other and are constantly jumping onto each other, the game is unplayable in co op. Thus a 0, maybe they will patch it so it works.

…

Expand