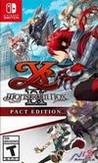 Summary:

While imprisoned in Balduq, Adol is cursed and becomes a Monstrum. With his newfound powers, he must stop the Grimwald Nox from consuming the city.

Feared Protectors: Play as any of the six notorious Monstrum, each with their own unique Gifts that grant abilities such as scaling sheerWhile imprisoned in Balduq, Adol is cursed and becomes a Monstrum. With his newfound powers, he must stop the Grimwald Nox from consuming the city.

Feared Protectors: Play as any of the six notorious Monstrum, each with their own unique Gifts that grant abilities such as scaling sheer walls or detecting hidden objects to protect the city from shadowy creatures.

The World Within the Walls: Explore the massive city, accept quests to aid the townsfolk, and enter the Grimwald Nox to vanquish the threats to Balduq.

Strength of the Night: Familiar mechanics such as Flash Dodge and Flash Guard allow you to outmaneuver your foes, while new additions such as Gifts and Boost Mode further augment your ability to fight.

Story
"What is real is defined by what is not.Who one is defined by who one isn't."
To move forward, one must accept these truths.
"Yes, in this prisonthis cradle
my dreams and reality became one."

Renowned adventurer Adol "the Red" Christin and his companion Dogi arrive at Balduq, a city annexed by the Romun Empire, only for Adol to be detained before setting foot inside. While imprisoned, he meets a mysterious woman named Aprilis who turns him into a Monstrum, a being with supernatural Gifts and the power to exorcise monsters. Now, Adol must ally with his fellow Monstrum to fend off the fearsome threats emerging from a shadowy dimension called the Grimwald Nox, as well as unravel the mysteries of the Monstrum curse, and the truth behind the unrest within Balduq.

…

Expand
Developer:

Falcom

Genre(s):

Role-Playing

,

General

,

Action RPG

# of players:

No Online Multiplayer

Cheats:

On GameFAQs

Available On:

Stadia

Rating:

T
Please enter your birth date to watch this video:
You are not allowed to view this material at this time.
Ys IX: Monstrum Nox - Accolades Trailer
Nintendo Force Magazine

Oct 7, 2021

Ys IX is a great game and a worthy follow-up to VIII. I'd recommend playing VIII first, but if you like that one, play this! [Issue #55 – October 2021, p. 74]

Despite the performance issues there is plenty to like here. The story is engaging and the characters are likeable. Using the Monstrum abilities adds a genuinely new layer to the core Ys gameplay and combat remains a blast to play through. The Switch may crumble a little under the weight of the game, but Ys IX: Monstrum Nox is still highly recommended.

Overall, I quite enjoyed my time with Ys IX. It is a generally fun and entertaining game, with action elements that are wonderfully honed. It is a shame that the graphics in the Switch port diminish the experience as much as they do, because otherwise the title fits rather nicely on a handheld system thanks to its polished control scheme and wealth of content. What could have easily been one of the best action RPGs on the Switch is held back by the visuals, though it is a testament to just how strong of a game Ys IX: Monstrum Nox is that I view it so fondly despite this port's obvious flaws. I certainly hope that Adol the Red's adventures will continue if they persist with Ys IX's entertaining gameplay.

Ys IX: Monstrum Nox on Nintendo Switch has noticeable performance and visual issues in some key areas, but is still worth your time and a fantastic action RPG if you only play on the go and enjoyed Ys VIII: Lacrimosa of Dana on the system.

Ys IX: Monstrum Nox has the type of performance issues we shouldn't be seeing on consoles these days. When it's cooking, however, it provides a fully satisfying JRPG adventure for those seeking unique monsters to fight, vast environments to explore, and intriguing mysteries to unravel.

Ys IX: Monstrum Nox is a successful and must-have Japanese RPG for Adol fans, but it's not the decisive step forward that a legendary series like Ys deserves. The Switch version is plagued by too many technical uncertainties.

Ys IX: Monstrum Nox is the latest addition to the Ys series and at its core, this is a fine game that brings with it a marvelous combat system and good exploration mechanics. Unfortunately its poor performance on the Nintendo Switch, whether on a television screen or on the console's screen, makes the experience very frustrating, to say the least, and when situations with more than two enemies on the screen become extremely difficult to handle due to a loss of fluidity, it makes it a hard game to recommend.
A very Good Ys game. at first I was getting a little bored the city has no life, all grey, making missions around the city feels like a chore

A very Good Ys game. at first I was getting a little bored the city has no life, all grey, making missions around the city feels like a chore but thankfully I endured all of it because the story gets better at the later parts. Its almost in the end where they stitch up fragments of the story and you finally enjoy the story as a whole. I think ys 8 is a little bit better ecperience overall. Ys 9 has better battle gameplay, i think. Ys 8 is 10 for me and ys 9... is well 9 :)

…

Expand

I loved Ys VIII on Switch, so I was excited to try Ys IX! My sense is that it wouldn't matter if you have played this series before--you are

I loved Ys VIII on Switch, so I was excited to try Ys IX! My sense is that it wouldn't matter if you have played this series before--you are introduced to the two main characters, Adol and Dogi, and the new characters would be new to everyone else anyway. The negative reviews you see here are not about the game, but rather on how the game performs on the Switch. So let's get that simple stuff out of the way: the graphics are limited by the Switch hardware (what game doesn't?), and I experienced some annoying glitches where the game would crash from time to time for no apparent reason. (This occurred at least 3 times for me.) If you can move on from these flaws, the game is amazing! It starts a bit slow, but as you gain abilities and gear, it really comes in to its own. I remember when I was first able to zip around on the rooftops of Balduq, and I wanted to explore every single part of the city. The game is a blast from that point forward. 9.4/10, I would definitely recommend this game for fans of RPGs or JRPGs.

…

Expand

The Switch port of YS IX has received special care. The game is smooth and although some technical concessions have been made, it doesn't have

The Switch port of YS IX has received special care. The game is smooth and although some technical concessions have been made, it doesn't have to be ashamed of the comparison with the PS4 version. This new opus is a continuation of its predecessor by doing better in certain aspects such as storytelling, characters and travel, but does less well in others. Its linear side, which somewhat restricts exploration contributions, and its overall too austere artistic direction are undoubtedly the most obvious flaws. However, its ultra dynamic gameplay, its narration, its soundtrack, and the audacity of this prison atmosphere still place it in pole position of the best opus of the series. A real success and a Switch port that offers us one of the best action-Rpg of the year.

Full review, in french, on my blog Nintendo Legacy. You can follow me on Twitter @NintendoLegacy1

…

Expand

NIS America managed to successfully implement another game-like title with the implementation of "YS IX: Monstrum Nox" on the Nintendo Switch.

NIS America managed to successfully implement another game-like title with the implementation of "YS IX: Monstrum Nox" on the Nintendo Switch. Thus, the storyline is a good 25 hours of fun and gets you into many tasks and exciting battles. At the same time, the game's story makes up for a lot. Thus, you will also find the New Game Plus mode in the new version and many secrets and forgotten items with it. Unfortunately, the technology can't keep up and looks outdated in places. If you still want to experience an interesting story and can overlook the technical deficits, you'll get a fun title for your Nintendo console with "YS IX: Monstrum Nox".

…

Expand

The game is a solid "okay" game. The story is interesting and mostly engaging. The gameplay is great (although a little too easy compared to

The game is a solid "okay" game. The story is interesting and mostly engaging. The gameplay is great (although a little too easy compared to YS VIII). The rare voice acting is pretty good and nothing is too cringy (a problem in many JRPGs that are dubbed). But the biggest issues, especially on the Switch version, is the graphics and performance. This is not optimized for Switch, there's no other way to describe the performance. This game looks like another port of a Vita game, except it's not and it runs worse than the previous game in the series. I'm honestly a little baffled how they made a game that looks like a GameCube or PS2 game run considerably worse than a Vita port that was already running pretty bad on Switch hardware. If the Switch can handle Xenoblade 2 (probably the most graphically impressive looking game on the Switch), it should be more than able to handle a game that looks like it was built for the Wii at best. I'm not ripping on the art style or last-gen graphics to be clear. I actually like the art style. I'm ripping on the optimization. I mean, even the PS4 version has some performance issues (you know, the console that is basically a generation ahead in terms of power compared to the Switch). If I wasn't a fan of the story and some of the characters, I doubt I would have been able to handle the maybe 5 FPS this game drops to during many of the battles.

I know I'm being hard on the performance, but when the battles are suppose to be fast and engaging, seeing the game drop to the speed of a chess match is infuriating. It honestly feels like there was no optimization at all. The previous game (Ys VIII) was also poorly optimized, but at least it ran at a pretty stable 30 fps. That game was a playable and is one of my favorite JRPGs on the Switch. It just happened to play at a low resolution. It seems like the developers of this game wanted to prioritize visuals over performance (not sure why since the game visually looks kind of boring and monotone, especially compared to the previous entries).

By no means is this a "bad" game in terms of story and gameplay. In fact, I'd argue this has a fantastic story and gameplay style that is unmatched in the RPG world. However, this is a badly optimized game and it dragged the experience down the drain to the point I have no reason to replay it. If I want to reply it, I'll borrow my friend's PS4 copy.

…

Expand

Note the game itself is great. The problem lies in the horrible performance on Switch. Bad framerate, textures, and resolution. The game is

Note the game itself is great. The problem lies in the horrible performance on Switch. Bad framerate, textures, and resolution. The game is very chunky in framerate. The resolution is very low even docked. Leading to a lot of shimmering effects. Very blurry textures. The combat is great. The music is great as always. I just cannot recommend playing this on Switch. Either get it on PS4 or wait for a patch if there is one.

…

Expand

Terible performance on switch, ugly and chopy.....Even worse, To much dialogue and reading, ended up giving up on the story and just enjoyed

Terible performance on switch, ugly and chopy.....Even worse, To much dialogue and reading, ended up giving up on the story and just enjoyed the stock Ys combat. Ys games have always had great stories told in a way that dosent detract from the gameplay. Ys 9 fails in this completely, there hours of mind numbing dialogue mixed with Dull quests that simply have you running from one npc and back again..Easily the weakest Ys game I've ever played. How did they go from a Masterpiece like Ys 8 to this????.Even though the combat is still good it's not as good as Ys 8 either.. Please get a smarter writer for the next game.

…

Expand