| Dungeons & Dragons: Dark Alliance | Ratchet & Clank: Rift Apart | Guilty Gear -Strive- |
| --- | --- | --- |
| | | |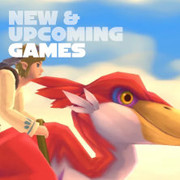 Find release dates, trailers, and scores for major upcoming and recent videogame releases for all platforms, updated weekly.
1.

The House in Fata Morgana - Dreams of the Revenants Edition -

A gothic suspense tale set in a cursed mansion. 'The House in Fata Morgana' is a full-length visual novel spanning nearly a millennium that deals in tragedy, human nature, and insanity. This version includes three games and more: 1: The House in Fata Morgana: the main storyline. 2: A Requiem for Innocence: a prequel shedding light on the origins of Fata Morgana's terrible curse. 3: Reincarnation: a sequel featuring the central cast members reincarnated in the present day. *The part including voices 4: Other additional short stories.

2.

Disco Elysium: The Final Cut

Disco Elysium - The Final Cut is the definitive edition of the smash-hit RPG. Pursue your political dreams in new quests, meet and question more of the city's locals, and explore a whole extra area. Full voice-acting, controller support, and expanded language options also included. Get even more out of this award-winning open world. You're a detective with a unique skill system at your disposal and a whole city block to carve your path across. Interrogate unforgettable characters, crack murders, or take bribes. Become a hero or an absolute disaster of a human being.

3.

Mass Effect Legendary Edition

For many months now, our team at BioWare has been hard at work updating the textures, shaders, models, effects and technical features of three enormous games. Our goal was not to remake or reimagine the original games, but to modernize the experience so that fans and new players can experience the original work in its best possible form. It's been amazing to see the adventures of Commander Shepard take on new life in super-sharp resolution, faster framerates, and beautiful visual enhancements. Mass Effect Legendary Edition will include single-player base content and DLC from Mass Effect, Mass Effect 2, and Mass Effect 3, plus promo weapons, armors, and packs - all remastered and optimized for 4k Ultra HD. It will be available in Spring 2021 for Xbox One, PlayStation 4, and PC, with forward compatibility and targeted enhancements on Xbox Series X and PlayStation 5.

4.

Tony Hawk's Pro Skater 1 + 2

Drop back in with the most iconic skateboarding games ever made. Play Tony Hawk's Pro Skater & Tony Hawk's Pro Skater 2 in one epic collection, rebuilt from the ground up in incredible HD. All the pro skaters, levels and tricks are back and fully-remastered, plus more. Skate in super crisp 120 FPS at 1080P or 60 FPS in native 4K. Watch the levels come to life using sharper dynamic shadows, reflections, and lens flare, plus enhanced skater textures. The PS5 enhancements don't stop at audio and visual upgrades, either. Major features include: 120 FPS @1080p Native 4k @60FPS SSD & Immediacy Haptic feedback via the DualSense wireless controller Spatialized Audio High Fidelity Atmospherics Activities and Game Help Cross-Gen Progression

5.

It Takes Two

From Hazelight comes It Takes Two an innovative co-op adventure where uniquely varied gameplay and emotional storytelling intertwine in a fantastical journey. Founded to push the creative boundaries of what's possible in games, Hazelight is the award-winning studio behind the critically acclaimed A Way Out and Brothers: A Tale of Two Sons. Something out of the ordinary Bring your favorite co-op partner and together step into the shoes of May and Cody. As the couple is going through a divorce, through unknown means their minds are transported into two dolls which their daughter, Rose, made to represent them. Now they must reluctantly find a way to get back into their bodies, a quest which takes them through the most wild, unexpected and fantastical journey imaginable.

6.

Manifold Garden

Rediscover gravity and explore a beautiful Escher-esque world of impossible architecture. Geometry repeats infinitely in every direction, and falling down leads you back to where you started. Manipulate gravity to change your perspective and see the world in new ways. Master the rules of the universe and restore a barren world with vegetation and life.

7.

Dark Deity

Command legendary heroes to reshape a land fractured by broken oaths, reckless wars, and secret arcane powers. The technological and cultural achievements of a once-great civilization now lie locked inside the ruins of ancient temples throughout the world of Terrazael. Long after society's mighty history is snuffed out by a powerful and mysterious "Calamity", the people of Etlan teeter on the brink of total war. In a desperate attempt to bolster his recruit ranks, King Varic of the Kingdom of Delia expedites the graduation of all students at the Brookstead Military Academy, severing a pact that has stood for a thousand years. With the course of their future undemocratically derailed, these four "graduates" of the Brookstead Academy set out to leave their mark on this world. This is their story.

8.

Fez

Gomez is a 2D man on a voyage of discovery into the mysterious 3rd dimension. Change your perspective and look at the world in a different way.

9.

Tony Hawk's Pro Skater 1 + 2

Drop back in with the most iconic skateboarding games ever made. Play Tony Hawk's Pro Skater & Tony Hawk's Pro Skater 2 in one epic collection, rebuilt from the ground up in incredible HD. All the pro skaters, levels and tricks are back and fully-remastered, plus more.

10.

Chicory: A Colorful Tale

Something terrible happened. Chicory, superstar artist and wielder of the Brush, is missing, and all the color in the land vanished with her. It's up to you, Chicory's number one fan, to pick up the Brush and fill in for her. It's a big job but you're ready for it! Probably! Chicory: A Colorful Tale is a top-down adventure game in a coloring book world where you can draw on anything. Use your painting powers to explore new places, solve puzzles, help your friends, and change the world!