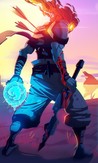 Summary:

Dead Cells is a rogue-lite, metroidvania action-platformer. You'll explore a sprawling, ever-changing castle... assuming you're able to fight your way past its keepers in 2D souls-lite combat. No checkpoints. Kill, die, learn, repeat.
Developer:

Motion Twin

Genre(s):

Action

,

Platformer

,

2D

# of players:

No Online Multiplayer

Cheats:

On GameFAQs
Please enter your birth date to watch this video:
You are not allowed to view this material at this time.
Dead Cells: The Bad Seed - DLC Gameplay Reveal Trailer
LEVEL (Czech Republic)

Dec 31, 2018

Dead Cells is an adrenaline duty for every player. It gets you not only with a beautifully crafted dark world and countless weapons, but mostly with elaborated gameplay. [Issue#288]

Dead Cells is rewarding in its flexibility in a way few games are. Each easily digestible run through its beautifully detailed and shifting levels instills a feeling of discovery and familiarity. It goads you to push the limits of your ability, and mercilessly crushes you when you get too comfortable. There are layers of strategy and tactics buried not only in the immediate choices you make, but in the grander metagame each run builds toward.

A stellar action platformer with gorgeous presentation and excellent combat. Punishing but worth it.

A beautiful, challenging game that is supremely polished in every area. A fantastic blend of tactical combat mixed with metroidvania style progression. Combined with an interesting and very quirky setting makes it a compelling package overall.

Games Master UK

Sep 6, 2018

Smashes some of the best concepts of recent years into something new, brutal, and beautiful. [Oct 2018, p.74]

Dead Cells, despite its hardcore leanings, is not game that makes you slam your keyboard with a fist or throw your gamepad at a wall when you miss a jump or die. Combat and platforming elements are top-notch, and mistakes is the best possible experience you'll get here. Don't worry, you'll get back whatever stuff you lost in 30 minutes or less.

Dead Cells is an absolute blast when the stars align, but that only happens every four or five runs. Everything else feels like a waste of time. I truly don't understand the phenomenon behind this game. Compared to its ilk, Dead Cells is just less.
If you're an oldschool gamer whose like pixel art, you will become completely passionate for Dead Cells! It's a metroidvania-like game, with

If you're an oldschool gamer whose like pixel art, you will become completely passionate for Dead Cells! It's a metroidvania-like game, with randomized levels! (which is somekind innovative). The soudtrack is gorgeous as well for the graphics!

Progression - 11 Impeccable level design.
Soundtrack - 11 Really superb the amount of depth nuances of the soundtracks.
Gameplay - 9 Such variety and nice mechanics like parry, evade and throwables.
Graphics - 10 Retro pixel graphics very detailed, both landscapes and sprites.
FunFactor - 8 Slow progression but it's fun and rewarding to play, each upgrade on the same criteria diminish the HP potential whose incourage the use of mixed set progression

Final Score: 9.8/10
One of the best games of 2018 for sure!

…

Expand

The adrenaline I get from this game is the best. The storyline, difficulties, monsters, bosses, music, background art, everything keeps me on

The adrenaline I get from this game is the best. The storyline, difficulties, monsters, bosses, music, background art, everything keeps me on the edge of my seat. Controls are intuitive. At first, you may feel that the concept of dying and starting all over is a huge waste of time and might feel like rage quitting the game but once you get the hang of it, you will be hooked. This is basically what I went through. However I would still give a disclaimer that you could get addicted. But I don't see anything wrong in getting addicted on Dead Cells. It is one hell of a game.

…

Expand

Para un juego como este hay que ser corto y directo, JUEGAZO DIVERTIDO, FRENETICO Y MUY, MUY HERMOSO

Почему же я всё-таки решил сыграть: 1) Что заставило сыграть так это графика и механика игры схожая с dark souls (хардкор).
2)После 10Почему же я всё-таки решил сыграть: 1) Что заставило сыграть так это графика и механика игры схожая с dark souls (хардкор).
2)После 10 минутной игры хотелось узнать больше о сюжете .Это добавляло интриги и желания играть.
3)Ну и естественно стать сильнее

Про все остальное умолчу так как это есть во всех rpg.

Мне не особо нравится данный сейтинг игр, но эта игра смогла мной овладеть в хорошем смысле. Впечатляющие саундтреки которые всегда были в тему с локацией, графика,сюжет .(хоть кому-то и может показаться что сюжета там небыло,но для меня бегать по локации и искать разбитый пазл сюжета , а затем собирать его в едино было очень приятно и интересно.) Также в микро кат сценах есть свой шарм (анимация как самого гг так и мобов)

Моя оценка субъективная и в данном жанре я мало что понимаю. Мог не заметить или пропустить что то.Для меня игра отличная !

…

Expand

Haiku Review: With such great combat / Procedural is a shame / Wash, rinse, repeat gets old
Favorite Thing: The combat is fun. There's aHaiku Review: With such great combat / Procedural is a shame / Wash, rinse, repeat gets old
Favorite Thing: The combat is fun. There's a decent selection of weapons and equipment to allow a lot of tinkering.
Least Favorite Thing: Dead Cells has not changed my mind about the rouge-like genre. Replaying levels over and over got boring fast and after 16 hours I was more than ready for it to be over.

Date Completed: 2018-08-26
Playtime: 16h
Enjoyment: 8/10 (for the first dozen hours, at least)
Recommendation: Whether or not you're a fan of rogue-likes I think you'll still find a lot of enjoyment here.

…

Expand





Honestly, ROGUELITE is the best representative of the games with Hades. After 36 hours, I never got bored and I continue, just the Hand of the

Honestly, ROGUELITE is the best representative of the games with Hades. After 36 hours, I never got bored and I continue, just the Hand of the King is a bit too difficult, other than that, the number ten game

…

Expand