| The Last of Us Part II | Maneater | Skelattack |
| --- | --- | --- |
| | | |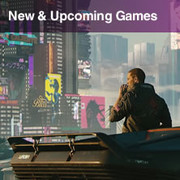 Find release dates, trailers, and scores for major upcoming and recent videogame releases for all platforms, updated weekly.
1.

Persona 5 Royal

Prepare for an all-new RPG experience in Persona 5 Royal based in the universe of the award-winning series, Persona! Don the mask of Joker and join the Phantom Thieves of Hearts. Break free from the chains of modern society and stage grand heists to infiltrate the minds of the corrupt and make them change their ways! Persona 5 Royal is packed with new characters, confidants, story depth, new locations to explore, and a new grappling hook mechanic for stealthy access to new areas. With a new semester at Shujin Academy, get ready to strengthen your abilities in the metaverse and in your daily life. Persona 5 Royal presents a unique visual style and award nominated composer Shoji Meguro returns with an all-new soundtrack. Explore Tokyo, unlock new Personas, customize your own personal Thieves Den, discover a never-before-seen story arc, cutscenes, alternate endings, and more! Even for the most seasoned Phantom Thieves among us, Persona 5 Royal is a new challenge to defy conventions, discover the power within, and fight for justice. Wear the mask. Reveal your truth.

2.

Final Fantasy VII Remake

Long ago, we looked upon a foreboding sky. The memory of the star that threatened all burns eternal in our hearts. In its wake came an age of silence. Yet with each fond remembrance, we knew those encountered were not forgotten, that some day we would see them again. Perhaps it was no more than wishful thinking. But after the long calm, there are the beginnings of a stir. The reunion at hand may bring joy, it may bring fear, but let us embrace whatever it brings. For they are coming back. At last the promise has been made.

3.

DOOM Eternal

DOOM Eternal is the direct sequel to 2016's DOOM. Developed by id Software, DOOM Eternal delivers the ultimate combination of speed and power, along with the next leap in push-forward, first-person combat. As the DOOM Slayer, you'll return to take your vengeance against the forces of Hell. Set to an all-new pulse-pounding soundtrack composed by Mick Gordon, you fight across dimensions as you slay new and classic demons with powerful new weapons and abilities. [Bethesda]

4.

Nioh 2

Master the lethal arts of the samurai as a mysterious half-human, half-supernatural Yokai warrior, in this challenging action RPG sequel. Explore violent Sengoku-era Japan and the deadly Dark Realm, both plagued with grotesque, merciless demons. Unsheathe your deadly weapons and cut down all enemies in your path using a revamped combat system and the ability to transform into a full Yokai to unleash devastating paranormal powers.

5.

MLB The Show 20

Run the table and rake in rewards with brand new mode "Showdown". A new experience and updates throughout DD make Diamond Dynasty the best version yet.

6.

Pixel Ripped 1995

Pixel Ripped is back with a brand new nostalgia-fueled virtual reality game-within-a-game, this time in the year 1995! To restore balance to multiple dimensions, our videogame hero Dot recruits the help of the best gamer from 1995, an unassuming 9-year-old boy named David. Join this unlikely duo through challenging throwbacks to all your favorite classics from the late 16-bit and early 32-bit era of games inside a virtual reality world.

7.

Freedom Finger

Freedom Finger is a music driven, side-scrolling shooter that sends you blasting through 40 levels of crazy cartoon action. Whether you want to chill and enjoy the story or crank the difficulty for a butt-blasting ridiculous challenge, we've got you covered.

8.

Huntdown

Challenge yourselves in this hard-boiled co-op arcade shooter! Run, jump, and take cover in the mayhem-filled streets of the future. Kill the henchmen, take their guns, and Huntdown the leaders! Collect the bounty, level by level, and make a healthy living by making living unhealthy.

9.

Streets of Rage 4

Publisher Dotemu (Wonder Boy, Windjammers 1/2) and developers Lizardcube (Wonder Boy) and Guard Crush Games today revealed Streets of Rage 4, an all-new continuation of SEGA's iconic arcade brawler series known for its radical fights, jammin' '90s beats and dashing sparring gloves and bandanas. Streets of Rage, known as Bare Knuckle (Bea Nakkuru) in Japan, is a trilogy of beat 'em up games developed and published by SEGA in the 1990s. Famously known for its non stop action and electronic dance influenced music - scored by Yuzo Koshiro and Motohiro Kawashima - the series has gained the status of cult classic throughout the years. It is considered one of the best beat 'em up series of all time. After many years, Axel and Blaze are finally picking up the fight where they left. Featuring hand-drawn visuals from the team behind 2017's gorgeous Wonder Boy: The Dragon's Trap remake, Streets of Rage 4 builds upon the classic trilogy's gameplay with new mechanics, a fresh story and a gauntlet of dangerous stages with a serious crime problem. Streets of Rage 4 recalls classic gameplay but it stands as an entirely original arcade-style romp thanks to the expertise of Guard Crush Games and Dotemu. Whether players gang up with a friend or clean up the city solo, Streets of Rage 4 is a skull-bashing, chicken-chomping delight all set to a thumping soundtrack sure to get your blood pumping. Features: * The comeback of the legendary Streets of Rage series. * Beautiful graphics fully hand-drawn animated by the studio behind Wonder Boy: The Dragon's Trap. * Classic gameplay enhanced with brand new mechanics. * Soundtrack by a wide line-up of world-class musicians. * Braised chicken served on a pristine plate.

10.

Telling Lies

An investigative thriller game with non-linear storytelling, Telling Lies revolves around a cache of secretly recorded video conversations. Starring Logan Marshall-Green, Alexandra Shipp, Kerry Bishé, Angela Sarafyan and directed by Sam Barlow, creator of Her Story and Silent Hill: Shattered Memories.