| Elden Ring | Capcom Arcade 2nd Stadium | Voice of Cards: The Beasts of Burden |
| --- | --- | --- |
| | | |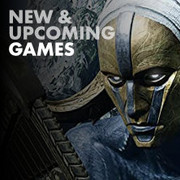 Find release dates, trailers, and scores for major upcoming and recent videogame releases for all platforms, updated weekly.
1.

Endling - Extinction is Forever

Will the last mother fox on Earth be able to save its three little cubs? Experience how life would be in a world ravaged by mankind through the eyes of the last fox on Earth in this eco-conscious adventure. Discover the destructive eect of the human race, which corrupts day after day the most precious and needed resources of the natural environments. Explore Endling's 3D side-scrolling world and defend your cubs, three tiny and defenseless fur balls, feed them, see how they grow up level after level, notice their unique personalities and fears, and most importantly, make them survive. Use the cover of night to sneak with your litter towards a safer place. Spend the day resting in an improvised shelter and plan for your next movement carefully since it could be the last one for you or your cubs.

2.

The Tomorrow Children: Phoenix Edition

The Tomorrow Children: Phoenix Edition takes place within an alternate future following a failed experiment to unite the minds of all humanity. The return of civilisation now lies in the hands of Projection Clones; life forms capable of venturing deep into the Void in search of preserved human survivors. That's where you come in...

3.

Cuphead in the Delicious Last Course

Another helping of classic Cuphead action awaits you in Cuphead - The Delicious Last Course! Brothers Cuphead and Mugman are joined by the clever, adventurous Ms. Chalice for a rollicking adventure on a previously undiscovered Inkwell Isle! With the aid of new weapons, magical charms, and Ms. Chalice's unique abilities, players will take on a new cast of fearsome, larger than life bosses to assist the jolly Chef Saltbaker in Cuphead's final challenging quest!

4.

Digimon Survive

Digimon Survive presents a hybrid visual novel and tactical RPG set in a mysterious world filled with dangerous monsters and deadly battles that will test your ability to survive. After getting lost on a school trip, Takuma Momozuka finds himself transported to a world inhabited by ferocious foes and new allies. Join Takuma and his friends as they fight their way back home. Craft your story in this thrilling visual novel with turn-based combat. Key Features: Rich Visual Novel Experience – Unfold a dark tale about friendship and survival that is jam-packed with exciting drama, a unique cast of characters, and potentially grim choices. A Mysterious World – Explore otherworldly areas filled with hidden secrets and Digimon to recruit. The Power Is Yours – Your choices affect gameplay: your bond with other NPCs, your Digimon's evolution, and the outcome of your adventure. Thrilling & Strategic Gameplay – Persuade your opponents to join your team and evolve them to fight alongside you in battles thrilling turn-based battles.

5.

Soul Hackers 2

In the Soul Hackers 2 trailer, 2 characters--Ringo and Figue--awaken in order to prevent the destruction of the world by "The Great One." The game features a new storyline and roster of characters, so it's not necessary to have played its predecessor.

6.

Made in Abyss: Binary Star Falling into Darkness

Take the Dive of Your Life! Made in Abyss, the breathtaking manga and anime series by Akihito Tsukushi, is getting its first ever video game adaptation! Experience the Anime's Story - The story begins with Riko and Reg's meeting in the first episode of season one. This marks the start of their great adventure, and together they travel to Seeker Camp in the second layer of the Abyss. Experience the awesome power of the Curse of the Abyss, as well as the astonishing, legendary entities known as primeval creatures. Prepare to glimpse the world of Riko and her friends. Experience a Brand-New Story - Another story takes place many days after Riko and Reg depart for the Abyss. The world's sole remaining, unconquered chasm, the Abyss, is the stage where many adventures are born...and disappear. Those who appear in these stories are mesmerized by the power of the Abyss and aim for the bottom of the netherworld. The story about to be told is of the adventures of a nameless Cave Raider in the Abyss.