Publisher:

SCEA

Release Date:

Nov 6, 2007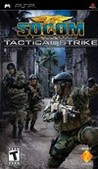 Summary:

In the midst of rising instability, insurgents have abducted the U.S. ambassador. Sanctioned by the Panamanian government, America's elite fighting force has been deployed to rescue and extract the ambassador. Take control of an entire SEAL team and engage in real-time tactical combat, where

In the midst of rising instability, insurgents have abducted the U.S. ambassador. Sanctioned by the Panamanian government, America's elite fighting force has been deployed to rescue and extract the ambassador. Take control of an entire SEAL team and engage in real-time tactical combat, where you evaluate each situation, determine a plan of action, and then execute on your command. [Sony]

…

Expand
Developer:

Slant Six

Genre(s):

Action

,

Shooter

,

Shooter

,

Third-Person

,

Tactical

,

Modern

,

Modern

# of players:

Up to 4

Cheats:

On GameFAQs

Rating:

T
Like a sniper taking aim from out of nowhere, SOCOM: Tactical Strike sets sights on PSP and emerges as one of the year's best. Phenomenal visuals, tight tactical gameplay, and unparalleled multiplayer make this a must-have title.

Playstation Official Magazine UK

Cold, brutal, clinical...the real face of modern warfare. [Christmas 2007, p.110]

It's a tactical treat and a rather more accessible experience than previous games. [Christmas 2007, p.82]

A good addition to the series, albeit one that needs some special consideration. It's the black sheep of the SOCOM family and is in need of some refinement. It's close to greatness, but close only counts in horseshoes and hand grenades.

Think what you will about SOCOM's change from a straight shooter to a tactical shooter on the PSP, but Tactical Strike manages the transition quite nicely.

A finely-poised slice of real-time tactical action. Tactical Strike won't pry you away from the likes of Company of Heroes, and series purists may lament the loss of direct control, but it stands foremost of its genre in the handheld arena.

SOCOM: US Navy SEALs Tactical Strike is tactically unsound and just not very fun to play overall.
Wow, I just adore the gameplay, just stellar. Wooo!

This comment is based on my demo impressions.

I have absolutely no clue whe the reviewers listed so far dislikes the game (5.0-7.5 range).This comment is based on my demo impressions.

I have absolutely no clue whe the reviewers listed so far dislikes the game (5.0-7.5 range). I like it a lot more than the syphon filter demo. Besides the reviews not listed here scores the game between 8 and 9.5. I will definately buy this game when it is released in Europe.

…

Expand

A very nice package for us older gamers. It's still real time, but no twitchy aiming - you just give order to your team. Great game. The

A very nice package for us older gamers. It's still real time, but no twitchy aiming - you just give order to your team. Great game. The multiplayer is a bit deserted and the few matches I tried were over a bit too quickly.

…

Expand

Podria ser un juego bastante divertido si no fuera porque los niveles se hacen demasiado largos (considerando que si perdes tenes que volver a

Podria ser un juego bastante divertido si no fuera porque los niveles se hacen demasiado largos (considerando que si perdes tenes que volver a empezar y solo salio para PSP), sumado a que a pesar de ser un juego "realista" algunos enemigos aguantan muchos tiros. Me parece ridículo que si disparas a un enemigo que no te preste atención haces como 10 veces mas daño que si le disparas al haberte descubierto. Si vas a hacer un juego realista, procura que TODOS se sometan a las mismas reglas. También es muy lento, repetitivo y aburrido. Los personajes van muy lento y no ayuda en nada la dificultad del juego mas los bugs de la IA. Gráficamente se ve muy bien para la PSP y la música esta bastante bien. Mediocre.

…

Expand

Worst socom ever made,i was expecting a new socom then it turns out to be real-time gameplay,do not buy or you will regret buying that

Worst socom ever made,i was expecting a new socom then it turns out to be real-time gameplay,do not buy or you will regret buying that game!!!!!!!!!!!!

…

Expand
| | |
| --- | --- |
| 37 | |
| 50 | #50 Most Discussed PSP Game of 2007 |
| 63 | #63 Most Shared PSP Game of 2007 |