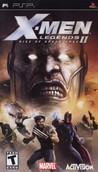 Summary:

X-Men Legends II: Rise of Apocalypse introduces the epic storyline of an uneasy alliance between the X-Men and the hated Brotherhood in a fight to reclaim Earth from Apocalypse's grasp. Gameplay enhancements include more than double the superpowers and customization capabilities, the debut

X-Men Legends II: Rise of Apocalypse introduces the epic storyline of an uneasy alliance between the X-Men and the hated Brotherhood in a fight to reclaim Earth from Apocalypse's grasp. Gameplay enhancements include more than double the superpowers and customization capabilities, the debut of several new playable characters, over 100 diverse types of enemies, and a breathtaking range of exotic and real-world environments—from the Madri Temple to Egypt. [Activision]

…

Expand
Developer:

Vicarious Visions

Genre(s):

Role-Playing

,

Action RPG

,

Action RPG

# of players:

4 Online

Cheats:

On GameFAQs

Rating:

T
Please enter your birth date to watch this video:
You are not allowed to view this material at this time.
X-Men Legends II: Rise of Apocalypse Official Movie 13
Vicarious Visions have once again done an exceptional job in adapting a console game to a handheld system, yet for the first time ever, have made it virtually indistinguishable.

On the PSP, it really shines, offering up a portable dungeon hack that matches its consoles counterparts in just about everyway -- something you can rarely say for a PSP port.

The gameplay is great, and feels right at home on the PSP. The controls are quite comfortable, and (expect for the lack of camera control on a second analog stick) work just as well as the console iterations.

X-Men Legends 2 feels like it was made for the PSP. This style of dungeon crawler is ideal for quick bursts of action on a handheld and the addition of four player co-op sweetens the pot.

While some of the game exceeds that of the console counterparts, problems with load times, camera angles, and some unstable frame rates hold it back.

Graphically, it can be too impressive for its own good at times, and the online experience doesn't quite measure up to that of the consoles, but it does more than enough things right to make it worth a look.

It should go without saying that if you already own one of the home console versions of X-Men Legends II: Rise Of Apocalypse, then you can almost certainly live without the PSP version.
It's the best multiplayer game in the history!!

Wow, what a great game. This is an almost PERFECT translation of X-Men Legends 2 from the console versions (YES, even the graphics) with some

Wow, what a great game. This is an almost PERFECT translation of X-Men Legends 2 from the console versions (YES, even the graphics) with some more cool additions like new missions and characters. There is some lag in the framerate when loading, and the load times can be pretty long, but those are tiny problems when looking at the rest of the game. With its massive assortment of characters and its great story, this game gets my highest recommendation.

…

Expand

Because of this game, I don't sleep at night, wanting to play as much as i can, to beat the game! It's killing me to know

Because of this game, I don't sleep at night, wanting to play as much as i can, to beat the game! It's killing me to know what's going to happen! Storm is the best character in the game!

…

Expand

A thrilling, large-scale adventure ported onto the PSP, Rise of Apocalypse shows what can be achieved with portable hardware. The variety of

A thrilling, large-scale adventure ported onto the PSP, Rise of Apocalypse shows what can be achieved with portable hardware. The variety of characters, abilities and side missions are incredible as is how faithful the game remains to its characters and their world. The story is meaty and well-told and the game has just enough length so that you get your money's worth but not so much that it becomes tedious. The one negative thing I can say about this game is that combat can become repetitive over time. Still, this is a great purchase for any PSP owner.

…

Expand

I love the game. I now know how to overcome all the glitches. Definitely the best game Ive played in a while.

**** me do I feel bad about this but i'm going to review it as I feel fit. Its a good game, a really good game, but one I personally found

**** me do I feel bad about this but i'm going to review it as I feel fit. Its a good game, a really good game, but one I personally found quite boring in places and when compared to games like Marvel Ultimate Alliance it feels inferior. For a X-men fan this is one god of a game. But, when I played it I occasionally felt bored and just un-inspired. That said, this is a very small percentage of the game. Very small. For the rest I was pulled into this thrilling game and especially in-love with the cutscenes. Which it has to be said, are amazing and really capture what's happening. Gameplay is pretty awesome because of the powers/mutations at your disposal. Characters are also very well built and captures all of their different characteristics. So yeah, I did enjoy it. Also the top down view is perfect for this game. I do recommend this game, even with its flaws, and hope you buy it.

…

Expand
| | |
| --- | --- |
| 7 | |
| 20 | #20 Most Discussed PSP Game of 2005 |
| 18 | #18 Most Shared PSP Game of 2005 |