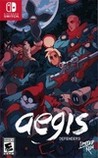 Summary:

Take on wild beasts, ruthless soldiers, and ancient gods in this 2D Action-Platformer inspired by Tower-Defense combat.
Please enter your birth date to watch this video:
You are not allowed to view this material at this time.
Aegis Defenders Gameplay - 1st Stage
Aegis Defenders is a fantastic game, brilliantly blending the tower defense and platforming genres in a unique way to produce a memorable and enjoyable experience. Lovable characters, interesting lore, plenty of secrets, engaging gameplay, and gorgeous presentation combine to make this a must-have title for your Switch. We would recommend this to anybody looking for a detailed world to immerse themselves in, or to somebody looking for that next game to play through with a friend. Aegis Defenders is a real gem on the eShop; don't miss out on this one.

Dripping with a fanciful charm, Aegis Defenders is a joyous blend of puzzle platforming and tower defense. While it starts slow, it's an artful fusion of two somewhat disparate genres that comes together as a beautiful whole near the end, making it well worth a look in the crowded Switch eShop.

Aegis Defenders is a unique and literal mix of platform action and tower defense. The game challenges you with puzzles and ends each level with an attack you have to repel. This makes the game great and entertaining, though it's not perfect.

A charming set of characters in a post apocalyptic world help to keep the player interested in this fascinating combination of action platformer and tower defence game. While the pace can feel a little off in places overall the game is a lot of fun and the splitscreen co op is a brilliant inclusion to keep you playing through,

Aegis Defenders is out now on just about everything, but it plays really well on the Switch which is where I tested it. For $20, I'd say it's recommended if you're into Tower Defense or action platforming games even mildly. If they can frustrate you or turn you away, don't bother. This isn't up your alley.

Aegis Defenders is a very fun experience especially if you are playing cooperatively, but the action platforming segments felt too short and the game was a bit slow at the beginning.

Aegis Defenders is disappointing because it had potential, and I still think that potential exists. There is satisfaction to be found in setting up its towers and combining them in interesting ways to make bigger and better turrets. And its loop of exploring, defending, and upgrading is alluring. But the game never meets your expectations. Whether it's the nonsensical narrative, the frustrating combat, the numerous bugs, or the simplistic platforming, Aegis Defenders stumbles more often than it excels.
Aegis Defenders is a pretty good game that deserved to get a bit more attention than it did. In some ways it succeeds and in others it fails,

Aegis Defenders is a pretty good game that deserved to get a bit more attention than it did. In some ways it succeeds and in others it fails, but I would still recommend it to most people interested in Tower Defense/indie games with a good art style. The game is a mix between a TD and an action platformer, with 1 or 2 players controlling 2-4 characters (the number increases the farther you get into the game). Each character has specific structures that can be built (some of which require ingredients from 2 or more players), unique weapons, and a special ability. Every element can be upgraded. Personally, I challenged myself by finishing the game on 1P mode and insane difficulty without backtracking to previous levels. I suggest others do the same if they don't have a friend to play with.

The game succeeds in being engaging, even if not always extremely fun. You quickly get thrown into this gameplay loop of challenge rewarded by extra story and your own choice of upgrades. In terms of story, the game is pretty good but not excellent, though it hits high notes from time to time. The characters are only decent. Outside of the story, the game has enough variance to where it hardly ever feels boring. Over time, certain structures start to be unlocked and some structures lose value as you generally have more resources available. At some point, I felt I had reason to use almost every structure, weapon, and character at least a few times.

The flaws that this game does have are pretty huge. For one, there were a few minor glitches I encountered. Besides that, most levels have an exploratory phase before the tower defense phase. These are used for tutorials and puzzles (of which only a few are excellent), but hardly ever for platforming. Even the tower defense has more platforming because it requires you to collect and manage resources with a time limit. While juggling between characters to accomplish this is fun to some extent, the AI is too incompetent when you're not controlling a character. It's always rooted in once place and doesn't attack unless an enemy is very close, and when it does it's at a low firing rate. While the character combat is made more engaging by having to stay on your toes and adapt, fighting enemies usually means staying in one place and shooting. Some of the systems in place are easy to forget about. The game gives you a limited number of player hearts, but they are easily replenished so they're mostly easy to forget about. On occasion, I even forgot some of my characters had special abilities because I hardly used them.

That being said, adapting around some of the game's flaws is much of what makes it so special. You have to see what works and what doesn't with your limitations and understand how to manage characters most efficiently. For example, it might be necessary to bring a character somewhere to repair buildings, another to work on a resource generator, another to stand by an enemy spawn where the enemies are of the same color so they take extra damage, and another to be controlled to extract resources. Then you can use one of the same characters as an anchor, using the "follow" command to bring the resource miner back more quickly. It's stressful at first, but once you get used to it it's all good, strategic fun with a huge level of depth and variety.

Overall score: 7.5 out of 10

…

Expand

The idea and art style is great. Overall the game is ok, it has 4 main characters that you will be unlocking while you do missions. Each

The idea and art style is great. Overall the game is ok, it has 4 main characters that you will be unlocking while you do missions. Each character has their own abilities and weapons, it makes them have an important and specific role during combat. The problem is that the game lacks of extension, i tought this game would be more of a platform game with huge amount of puzzles, bosses, diversity on materials to build stuff, but no. The game is not even a 50/50 of platform/tower defense, tower defense is the last thing you will do in every mission and it won't last that much. The platform side, its' also too short and not that great to what it could be. Also, the controllers are a mess its hard to manipulate everything in SOLO mode, buttons don't respond that smooth in some cases making it frustrating to play. The friendly AI is very dumb, you literally have to do everything to survive. I started playing on hard mode by my own but damn, its nearly impossible to do that alone so i changed to Normal (i would remained on Hard if i was playing coop).

In general, this game should cost 10-15 dlls at most from what is now. Hope they solve the controllers issues and add more content, at least more tower defense mode with better rewards.

…

Expand

I had some fun with this game, even though some levels were a little bit confusing, and it may be boring after some time of gameplay. But the

I had some fun with this game, even though some levels were a little bit confusing, and it may be boring after some time of gameplay. But the main problem is that it's poor designed for solo playing, you should try it only if you are going to play with a friend.

…

Expand

Never quite finished Aegis Defenders. It seemed like a game I'd enjoy but I set it aside for a while and could not get back in it.

Game(s)Never quite finished Aegis Defenders. It seemed like a game I'd enjoy but I set it aside for a while and could not get back in it.

Game(s) like: Plants vs Zombies Garden Warfare (real time tower defense) maybe mixed in with some simple 2D platforming

Pros:
- Awesome concept

Cons:
- Both the platforming and the tower defense were just ok
- The tower defense especially was not enjoyable. I could put a defense down and the layout made it unclear if it would actually hit certain entry points
- I personally did not like the graphics
- Gather resources between waves felt unnecessary

…

Expand

This game is a lot of wasted potential. There is some good gameplay and a lot of fun ideas, great character and world design, but it just

This game is a lot of wasted potential. There is some good gameplay and a lot of fun ideas, great character and world design, but it just never gets past the fun you have in the first few levels. Not only does it never surpass the first few levels, it actually gets much much worse.

I hate myself for bashing an indie title but on the Switch this game controls really badly. The number of times I died because the dash or jump button failed to register is shameful. Commig to this after Celeste just feels bad, it feels like my controller went back to NES days and can't handle two simultaneous button presses.

As you progress what was fun tower defense in the first few levels slowly transforms into gimmicky levels with a redundant difficulty curve.

By level 5.1 I realized that despite my desire to finish this game, I am not having any fun. Maybe it's cos I'm not playing co-op, maybe it's cos I want this game to be a tower defense and it isn't (you don't get enough resources to play it TD style, you need to spend most of your time shooting) and maybe it's cos this game tries to be a platformer but doesn't have the control,s for it. Either way, I am not having fun, which is a shame since the potential is there and the game is interesting, just amateurishly made.

I will come back and revise my review if the game gets the fun patched back in, they did fix some of the **** difficulty issues, but I doubt it.

TL;DR Don't bother. It just isn't good enough.

…

Expand

Game crashes when loading between levels. It is also not a very fun play in single player mode, as the controls are obtuse, and unresponsive.

Game crashes when loading between levels. It is also not a very fun play in single player mode, as the controls are obtuse, and unresponsive. I unfortunately wasted a good amount of time playing this before quiting, don't make the same mistake.

…

Expand