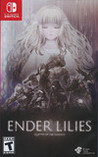 Summary:

Long ago, in the distant reaches of Land's End, an unforeseen rainfall transformed all living things into frenzied undead monstrosities known as the Blighted. Faced with a calamity far beyond their understanding, the kingdom fell into ruin with no end to the accursed rain in sight.

Long ago, in the distant reaches of Land's End, an unforeseen rainfall transformed all living things into frenzied undead monstrosities known as the Blighted. Faced with a calamity far beyond their understanding, the kingdom fell into ruin with no end to the accursed rain in sight.

Meanwhile in the remnants of this devastated land, a young woman named Lily awakens in the depths of a church

Unravel the mystery of the kingdom destroyed by the Rain of Death. Journey through the sprawling and hauntingly beautiful Land's End, traversing a submerged forest, a sealed-off contaminated underground cavern, and a grand castle.

Formidable bosses await that will gladly claim your life given even the slightest chance. Defeat these powerful foes and release them from their unending curse to recruit them as allies. Overcome the challenges before you and search for the truth with powerful knights at your side.

…

Expand
Developer:

Live Wire Films, Live Wire

Genre(s):

Action

,

Action Adventure

,

Platformer

,

Open-World

, ,

Metroidvania

# of players:

No Online Multiplayer

Cheats:

On GameFAQs

Rating:

T
This is a beautiful 'soulsvania' whose strengths are a fantastic combat, a solid map design and a very interesting story.

As orthodox as it is in terms of gameplay, it does everything it's doing so well that I can't imagine any fan of the genre coming away disappointed. Add in the stellar visuals and excellent music, and you have a well-balanced experience that is more than worth your time and money.

Ender Lilies artfully weaves the Metroidvanias and Soulslikes genres in a dark fantasy setting, inviting the player to fully explore all of the secrets (and endings) of Land's End.

Despite the performance issues and some difficulty spikes, Ender Lilies: Quietus of the Knights is one of the best games you can play on Nintendo Switch this year with its superlative soundtrack and gorgeous aesthetic.

While looking gorgeous and dripping with atmosphere, Ender Lilies may not be the greatest metroidvania when it comes to level design and combat. Thankfully, it is easy to overlook if you are not of the nitpicking kind. But still, make sure to use the game's momentum while it lasts, since a number of its bumps may spoil the ride for some players out there.

I haven't played a Metroidvania as immersive and rewarding as Ender Lilies: Quietus of the Knights in a long time; it's great stuff.

ENDER LILLIES: Quietus of the Knights is the definition of sky-high potential gone to waste. At first it will seem like this is a flawless diamond. It is beautiful, it controls like a charm, and the story behind it all is mysterious and dark. The more you play, however, the more you realise that, under the wallpaper-worthy vistas lies something that leans more towards generic than awesome, with combat in particular slowly turning into a repetitive slog. Sadly, this is nothing more an 'okay' metroidvania.
This game isn't a revolution in its gameplay style but it masters the metroidvania style perfectly, and mastering such a genre isn't an easy

This game isn't a revolution in its gameplay style but it masters the metroidvania style perfectly, and mastering such a genre isn't an easy task. The combat system itself is fluid and flexible, and let's not speak about the art and music, both are gorgeous and incredibly addictive. I wasn't expecting a game of this size when I started playing, and feared it would be short. Well I was wrong. This is exactly the kind of game I adore, the story is deeper than it seems at first and gets quite emotional, the secrets are well hidden, the difficulty is well balanced and the quality of life is amazing.
This game reminds me a lot of Salt And Sanctuary which is, to me, one of the references of the genre.

…

Expand

This is the best metroidvania you've never played. Amazing story, beautiful visuals, and an amazing soundtrack. Honestly, I cannot recommend

This is the best metroidvania you've never played. Amazing story, beautiful visuals, and an amazing soundtrack. Honestly, I cannot recommend this enough!

…

Expand

Yeap all the fun and splendid did not take a hit with this Switch version. Love playing this on my HDTV and on the go.

Nice game to tide me over until Hallow Knight Silk Song releases. Wonderful art style, pretty fun combat, great world exploration

very good game and ost i also like souls and hollow knight game but Holding R to change the set sucks.

When you've played enough indie titles over time it's hard not to get a bit cynical when you see certain elements in games. For whatever

When you've played enough indie titles over time it's hard not to get a bit cynical when you see certain elements in games. For whatever reason the more hand-drawn black and white style that Ender Lilies uses is one that I've been burned on before so I approached it with some hesitation. I'm happy to say that it pretty quickly shattered my concerns with well-worn platforming and slashing, some smart level design, and a story that caught my attention a bit more than usual. Throw in progression with new weapon choices, skills, and growth and it's much more than a pretty face. Even the games enemy bosses, which often can end up feeling generic or unfair or flawed in some way and bring games like this down feel well-designed and tough but beatable, giving the game a great middle-of-the-road difficulty rather than trending in the direction many have chosen of late of shooting for a "Souls-like" experience by setting up a damage sponge with lackluster design and calling it a day. Mixing together a unique and generally gorgeous art style, classic Metroidvania play, and a story that manages to at least be a bit of a surprise, Ender Lilies arrived on the Switch without much fanfare to announce it, but leaves you with a memorable experience.

https://www.nindiespotlight.com/2021/06/mini-reviews-june-25th-edition-nintendo.html

…

Expand

재미없고 짜증만 나는 게임
중고로 되팔기를 추천한다
밑에 있는 한국인은 이런 게임만 하나 사람마다 취향은 다른 법 자기 취향이 아니면 손절하는게 맞다재미없고 짜증만 나는 게임
중고로 되팔기를 추천한다
밑에 있는 한국인은 이런 게임만 하나
사람마다 취향은 다른 법
자기 취향이 아니면 손절하는게 맞다