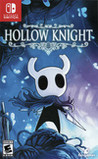 Summary:

Hollow Knight is a 2D action-adventure game with an emphasis on traditional 2D animation and skillful gameplay. Journey to Hallownest, a vast and ancient underground kingdom inhabited by a bizarre collection of insects and monsters. Players will forge their own path as they explore ruined

Hollow Knight is a 2D action-adventure game with an emphasis on traditional 2D animation and skillful gameplay. Journey to Hallownest, a vast and ancient underground kingdom inhabited by a bizarre collection of insects and monsters. Players will forge their own path as they explore ruined cities, forests of fungus, temples of bone and other fantastic lands, all on their way to uncovering an ancient mystery.

…

Expand
Developer:

Team Cherry

Genre(s):

Action

,

Action Adventure

,

General

,

Platformer

, ,

Metroidvania

# of players:

No Online Multiplayer

Cheats:

On GameFAQs

Rating:

E10+
Please enter your birth date to watch this video:
You are not allowed to view this material at this time.
Hollow Knight - Nintendo Switch Launch Trailer
Nintendo Force Magazine

Sep 5, 2018

There's never a low point. Only the desire for more. [Issue #35 – September/October 2018, p. 17]

Hollow Knight's cryptic lore doled out in pieces leads me to believe I saved Hollownest in my ending, but an after-credits screen shows a 73% completion in 27 hours of play. I may have finished, but I'm far from done. I still have tons of upgrades, optional bosses, a true ending and a mantis to overcome. And I'm itching to jump back in.

Hollow Knight won't leave you hollow; quite the opposite. This incredible 'metroidvania', most likely the best example the genre has met in over 20 years, will leave you full with a feeling only a few games have achieved: the feeling of having played a masterpiece.

Hollow Knight is a big, beautiful, forbidding Metroidvania that's absolutely thick with detail. From its punchy combat system to its charming art and sound design, this is one of the finest adventures you can have on Nintendo Switch.

Hollow Knight is absolutely a masterpiece. The art style is fantastic, the level designs are outstanding, and battles are challenging and fun. If you enjoy Metroidvania games, don't hesitate trying it.

Hollow Knight confirms on Switch all the good it displayed in its PC version: we're talking about one of the best (if not the best) metroidvania of recent years, graced by gorgeous art direction and a fantastic level of challenge. A must buy if you're not afraid of difficult titles.

Dark and beautiful, you'll come for Hollow Knight's visual appeal, but you'll stay for the challenge and responsive combat.
Español ;) Una joya que debía estar en la consola híbrida de Nintendo, port perfecto.

I'm about 10 hrs in and feel like I haven't even scratched the surface of this game. My gaming life started with watching my dad play Metroid

I'm about 10 hrs in and feel like I haven't even scratched the surface of this game. My gaming life started with watching my dad play Metroid on the NES while my mom drew the maps by hand, and the then eventually playing Super Metroid SNES. This game expands on every metroidvania experience there has ever been. Great game, worth the wait.

…

Expand

Hollow Knight is one of the best games ever created. I finished the game with the "true" ending yesterday (which took about 40 hours for me).

Hollow Knight is one of the best games ever created. I finished the game with the "true" ending yesterday (which took about 40 hours for me). Hollow Knight has an amazing atmosphere around every corner, a story that made me want to learn everything I could about the world. Combat is fast-paced and satisfying, with each boss fight feeling different but still great. The world was expertly crafted in a sense where no matter what I was doing, or where I was going, I always found something interesting. Whether it was an exciting boss fight, more health, or a bit of lore, there always something to see. The only thing that I think was a problem is how some bosses are located far away from benches (save spots) so every time you die you have to take a long trek back. This is especially bad if the route to the boss is populated with enemies. However, the few instances of that were not enough to sour this game for me and was small enough that the game is still a 10/10.

…

Expand

An absolutely beautiful game with great visuals, music, sound effects and overall atmosphere. Took me about 30 hours to achieve the first of

An absolutely beautiful game with great visuals, music, sound effects and overall atmosphere. Took me about 30 hours to achieve the first of many endings and without touching any of the three free dlc's. A ridiculous amount of content for the low price tag.

…

Expand

A glorious Metroidvania. The hand-drawn aesthetic is beautiful.

Very hard, sometimes too hard.

In this game when you die you loose all your money and have to make it back to where you died to get it back. This mechanic is AWFUL. It's

In this game when you die you loose all your money and have to make it back to where you died to get it back. This mechanic is AWFUL. It's incredibly frustrating and I'm debating quitting the game just because of how terrible this mechanic is.

…

Expand