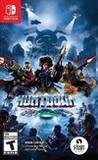 Summary:

Challenge yourselves in this hard-boiled co-op arcade shooter! Run, jump, and take cover in the mayhem-filled streets of the future. Kill the henchmen, take their guns, and Huntdown the leaders! Collect the bounty, level by level, and make a healthy living by making living unhealthy.
Please enter your birth date to watch this video:
You are not allowed to view this material at this time.
Huntdown - PAX East 2017 Trailer
Huntdown stands as a neon-drenched monument on how to make a contemporary retro game. You might come for its highly stylised 16-bit aesthetic, but you'll certainly stay for its authentic arcadey mechanics, amusing comedic overtones and unique boss battles. Despite being released long after its ancestors, Huntdown can stand tall within its genre, knowing that in reality, it probably holds more true to your nostalgic memories than what you actually played back in the day.

Huntdown is a delightfully detailed and expertly crafted throwback to old-school run n' gun arcade shooters. The 16-bit graphical style is immaculately recreated whilst adding lots of modern bells and whistles to proceedings, including a fantastic soundtrack and audio design, optional CRT filter and an arsenal of heavy-duty weapons that chew scenery and enemies to pieces as your bounty hunter makes their way from boss fight to excellent boss fight. The flow of levels may be quite repetitive but the moment-to-moment gameplay, overall sense of fun that comes from the level of carnage you can dish out, surprising amount of hammy spoken dialogue and constant pop-culture references all combine to make this one an easy recommendation, and another excellent addition to the Switch's action catalogue.

Huntdown is a 2D shoot'em up that balances challenge and fun, with precise gameplay, a captivating soundtrack, and impeccable 16-bit art. Despite the short duration, the game brings an incredible experience being a mandatory title for lovers of 2D action games.

Huntdown is a fun homage the 80's that enjoys a great soundtrack and well-designed levels with challenging and intriguing boss fights.

It doesn't quite stand out for its originality, but the gameplay experience is more than satisfying, with frantic action, a good visual world, enjoyable soundtrack and plenty of cheesy dialogue lines. With an additional layer of fun if played with two players, Huntdown on the Nintendo Switch is a recommended game for anyone looking for a fun and action-packed arcade experience.

Huntdown is a very good game. Its frenetic and modernized action, its beautifully created setting and its design full of details, makes it one of the best run & gun games on Nintendo Switch and will delight veteran and new players.

Huntdown is a cool, crass and challenging game that manages to do just enough to stand out above the static of analogue signals. Its strength is in how it never takes itself seriously, while the tried-and-tested gameplay and the clear attention to detail is a prime example of how to carve in quality presentation with a First Blood Survival Knife.
10/10
Once you get used to the gameplay, you'll have a lot of fun with this one.
If you're a fan of the 80's, get this.

This game, for its genre is as close to perfection as it gets. Really what does it do wrong:

Positives: + Some of the best pixel art I haveThis game, for its genre is as close to perfection as it gets. Really what does it do wrong:

Positives:
+ Some of the best pixel art I have seen
+ Awesome soundtrack pumping throughout
+ entire game audio spoken instead of just written like most other indie games
+ really fun gameplay + fun two player coop mode
+ plenty of different weapons to collect
+ lots of variety in gameplay
+ no bugs or long load times

Negatives
- would have been good to have had some more character variety based on skills (not just aesthetic)
- no power up or grading system

…

Expand

Very good!!!!dfbttrbdwkmjdjfdnfjnndfjbnnnbhtnndjfnbfdsjfdnnbnbnfbnjdnfnbnhndnvnhunwunfhnbjnhusnfhbnsnfbnnbynsynrybcuxnvunndsunfnubnbrntrgn

This review contains spoilers

, click expand to view

.

Too short but, the scent of old school is present. I love it. I would like to see a secuel.

…

Expand

Excellent run n gun! Nice surprise, flying under the mainstream radar! Great gameplay, scenarios and boss fights!

A must play for anyone who grew up playing the SNES or watching 80's movies. The gameplay isn't very deep, but it's technical and challenging,

A must play for anyone who grew up playing the SNES or watching 80's movies. The gameplay isn't very deep, but it's technical and challenging, which makes it very entertaining and rewarding. The simplicity and challenge really brings me back the same feelings I experienced playing games from the 8 and 16bit era. Obviously it's impossible to ignore the incredible pixel graphics and 80's art design. The aesthetics found that perfect sweet spot between still feeling like this is a game from the 90's, while going the extra mile to make it look REALLY good. It doesn't try to modernize the graphics too much so that it takes away from the old school aesthetics. I really appreciate the efforts they made to preserve the feeling like you're playing a game from 25 years ago without improving the graphics to the point where it feels like a modern game. The music, the sound design, the art, everything is awesome. Truly a game that has not received the mainstream attention it deserves. I just wish the levels were longer, and a little less time spent on boss fights.

…

Expand

Look, this game isn't deep. Retro run-and-gun with moderate difficulty and gorgeous pixel art. If you're into 80s sci-if action flicks,

Look, this game isn't deep. Retro run-and-gun with moderate difficulty and gorgeous pixel art. If you're into 80s sci-if action flicks, there's plenty here for you. Great voice acting. Nice cameo by Gizmo!

…

Expand