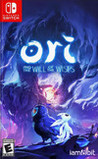 Summary:

From the creators of Ori and the Blind Forest comes the highly-anticipated sequel, Ori and the Will of the Wisps. Embark on an all-new adventure in a vast and exotic world where you'll encounter towering enemies and challenging puzzles on your quest to discover Ori's true destiny. Immerse

From the creators of Ori and the Blind Forest comes the highly-anticipated sequel, Ori and the Will of the Wisps. Embark on an all-new adventure in a vast and exotic world where you'll encounter towering enemies and challenging puzzles on your quest to discover Ori's true destiny. Immerse yourself in a hand-crafted narrative experience with deeply emotional storytelling, strikingly beautiful environments, and a stunning soundtrack. Master new skills to guide Ori through a journey of untold danger using newly acquired spirit weapons, spells, and attacks. Utilize an all-new shard system to power-up Ori's newfound abilities. Face larger-than-life bosses and seek help from an expansive cast of new characters who will help you uncover Ori's mysterious fate. Race to the top of the leaderboards in the all-new Spirit Trials mode where players dash, burrow, grapple, and leap to high scores in unique speed-run challenges throughout the game.

…

Expand
Developer:

Moon Studios

Genre(s):

Action

,

Platformer

,

2D

, ,

Metroidvania

# of players:

No Online Multiplayer

Cheats:

On GameFAQs

Rating:

E
While the Nintendo Switch has seen its fair share of Metroidvania titles over its four-year run, Ori and the Will of the Wisps stands strong as one of its best. While the original was already a memorable adventure, Ori and the Will of the Wisps manages to make improvements whilst dazzling with a visual look that somehow manages to be even more eye-catching than before.

Ori and the Will of the Wisps arrives on the Switch in exceptional form. Though there have been a few nips and tucks here and there in order to squeeze it into a considerably more modest form factor, it still showcases Moon Studio's incredible vision from the moment it starts to the tear-jerking finale.

Ori and the Will of the Wisps is a gorgeous game with fast-paced action, an enormous, beautiful world to explore and a solemn story crafted very well.

I will say that the best way to play this would still be on a PC or Xbox One, as you'll get a better graphical and technical performance. But, most of us Switch owners know that there's usually some kind of price to pay for the opportunity to take games wherever we want on a handheld system. In this case, very little was sacrificed. If you were waiting for this port to happen, then you can whip that wallet out and make this purchase without fear, as Ori And The Will Of The Wisps is a great new addition to the Switch's ever-growing digital library.

The pleasure of the game is therefore intact and we can now enjoy, wherever we are, one of the best Metroidvanias of recent years.

It's incredible how moving this game is. The boss fights in particular, both with the people you face and how they are handled, are extraordinary.
Grafik , Atmosphäre,Musik, Steuerung alles perfekt ich liebe es einer meiner Lieblingsspiele geworden

玩法和指引比前作好了很多,不再会出现前期因为不知道如何加点一直死打不走,后期随便飞的情况。对新人友好度高了很多,关卡设计也一看就懂。
技能可以买,因为手柄只有几个按钮所以常用的技能一般只有3-4个,pc版本估计这一点会爽快很多?玩法和指引比前作好了很多,不再会出现前期因为不知道如何加点一直死打不走,后期随便飞的情况。对新人友好度高了很多,关卡设计也一看就懂。
技能可以买,因为手柄只有几个按钮所以常用的技能一般只有3-4个,pc版本估计这一点会爽快很多?
取消了加点和用能量存档的设计,改成了找商人升级和自动存档,这两个方面优化了很多。
剧情上相比前作不知所这一代的剧情云直白了不少,而且流程也长了一点,通关大概在15小时不到。
配乐和美术依旧是顶级的。
从结局来看似乎还会有下一部?

…

Expand

un juego que cunmple bastante bien, si lo jugaste en sobremesa que esperas para provarlo de forma portartil, si eres nuevo es altamente

un juego que cunmple bastante bien, si lo jugaste en sobremesa que esperas para provarlo de forma portartil, si eres nuevo es altamente recomendable tiene una gran jugabilidad y unos graficos bastante agradables

…

Expand

I have not been this engaged and immersed to a video game from the start in quite a long time. I never been a fan of metroidvania type

I have not been this engaged and immersed to a video game from the start in quite a long time. I never been a fan of metroidvania type sidescrollers, however the beautiful way Ori maneuvers within his environment makes the combat and exploration so addicting. I found myself mindlessly visiting old areas whenever I picked up a new power to see what hidden areas I could unlock, seriously one of the most beautiful games I have played on the Switch Lite. A must have in any collection even if you are not a fan of metroidvania like platformers.

…

Expand

Beautiful art and animation, smart level design, wonderful music, and tight controls make this one of the best metroidvanias out there - IMO

Beautiful art and animation, smart level design, wonderful music, and tight controls make this one of the best metroidvanias out there - IMO second only to Hollow Knight. Better than the original Ori and the Blind Forest in every aspect and I would recommend playing this one if you're debating which instalment to pick up first (you lose a bit of backstory, but truly nothing consequential).

…

Expand

Doesn't do enough to stand out from the outstanding first game, but still a good game nevertheless.

I don't like the graphics os this game, the gameplay is really boring and not very attractive