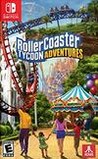 Summary:

RollerCoaster Tycoon Adventures brings the legendary RollerCoaster Tycoon series into the next generation -- combining classic RCT gameplay with the modernized user experience of the critically acclaimed mobile title RollerCoaster Tycoon Touch, all customized for the unique features of the

RollerCoaster Tycoon Adventures brings the legendary RollerCoaster Tycoon series into the next generation -- combining classic RCT gameplay with the modernized user experience of the critically acclaimed mobile title RollerCoaster Tycoon Touch, all customized for the unique features of the Nintendo Switch. Build your entertainment empire in three distinct game modes -- classic Campaign, tricky Scenarios, and the open Sandbox. Over 200 wonderfully wacky rides, restaurants, shops and decorations ensure parks burst with action, and the intuitive coaster builder lets you create wild, death-defying coasters with ease. Play it on your TV or on-the-go -- it's never been so easy to become a RollerCoaster Tycoon!

…

Expand
Developer:

Nvizzio Creations

Genre(s):

Strategy

,

Management

,

Business / Tycoon

# of players:

No Online Multiplayer

Cheats:

On GameFAQs
RollerCoaster Tycoon Adventures may not be an in-depth amusement park management sim but what's here is a ton of fun. Plus, the amount of content is superb so if you're looking for a less demanding theme park simulation experience then this is a game for you.

You'll rue the lack of some crucial features, and its performance will grate on you, but there's still plenty of fun to be had in shaping your own park. Whether you're aiming for the prettiest themed landscape, or care more about building massive and crazy roller coasters, there's plenty for you to sink your teeth into. Just don't expect to be able to micro-manage every element of your park, and you shouldn't be too disappointed.

Roller Coaster Tycoon Adventures lacks the replay value and challenge to have much worth outside those two scenarios, especially when compared to modern competition like Planet Coaster and Parkitect.

RollerCoaster Tycoon Adventures has a long history and it's a shame this Switch version doesn't really hold a candle to the original - it's let down by long loading times, a clunky coaster creation system and a painfully slow progression. Fans of the series will get a little enjoyment but you'll be much better off sticking to the 90's originals.

They game controls fine and it's fun to build a park but the game is too easy. What's worse is the performance and the many bugs. They make the game pretty disappointing.

RollerCoaster Tycoon: Adventures is pleasant on the eyes, but is in every other way a disappointment. It's a shallow grind, which challenges none of the player's management skills, and comes across more as an opportunity to simply decorate a theme park.

For this Switch version, Rollercoaster Tycoon has forgot everything that was important in the franchise: customization and management are as weak as the framerate on big parks and the interface isn't user-friendly at all.
RCT has always been an incredible game, and every new version they make is more incredible. The graphics, and the realistic tone in amusement

RCT has always been an incredible game, and every new version they make is more incredible. The graphics, and the realistic tone in amusement park simulator are amazing. Every game is a new surprise that surprises me.

…

Expand

This game is great I like it a lot hopefully we get DLC and hopefully we get more RollerCoaster Tycoon games for Nintendo Switch

I read that it was a version for kids so I offered it to my 8y/o daughter and I played for a few hours myself. She loves it and I feel like

I read that it was a version for kids so I offered it to my 8y/o daughter and I played for a few hours myself. She loves it and I feel like it's a very good introduction to management games for anyone who never played one, or who doesn't have time to play more complex ones. Stay away from it if you expect a port of Planet Coaster on Switch though.

…

Expand

Ok, this is no where near a perfect Rollercoaster Tycoon game. Thrillville or Planet Coaster are far more better, but guess what, those

Ok, this is no where near a perfect Rollercoaster Tycoon game. Thrillville or Planet Coaster are far more better, but guess what, those aren't on current consoles. This game is better than Rollercoaster Tycoon World that is for sure! I love sim building games and I couldn't wait for this to come out. I knew it probably wasn't going to be like RollerCoaster Tycoon 3, but it tries, I will give it that. One bad thing about this game is the lag. Once the park gets really big, the game lags and it is kind of annoying. I really hope they fix this, but they probably won't because this game almost didn't even happen for the Switch. The other bad thing is that you can't ride the rides like you could in other Rollercoaster Tycoon games. This really is a stripped down version of Rollercoaster Tycoon 3. I still enjoy the game, don't get me wrong. I am happy that it is on the Switch and I have put a lot of time into it. I do recommend the game if you absolutely love sim building games. This and City Skylines is perfect for you!

…

Expand

It's a Skinner box, people, it gives you endless tasks to complete that give you small rewards for completing them. It is utterly impossible

It's a Skinner box, people, it gives you endless tasks to complete that give you small rewards for completing them. It is utterly impossible to fail, which makes everything you do feel hollow and pointless. It loads very slowly and parks with a lot of entities lag considerably. Even kids would be disappointed to play this non-game provided they know other better games exist. Avoid at all costs, especially since there are much better theme park management games available (RCT Classic for example is half the price ($20), Parkitect is another good option (also $20), Planet Coaster is only 5 dollars more ($45) and has far more game).

…

Expand

I have loved the roller coaster tycoon series so I am currently extremely disappointed that this is a mobile port without the in game

I have loved the roller coaster tycoon series so I am currently extremely disappointed that this is a mobile port without the in game purchases or the cards feature. the game also markets it's coaster builder as intuitive when it lacks chain lift and brakes some of the things that 90% of roller coasters around the world have. the other problem i have with this game is it is 50 dollars for a mobile port! if you want this game get the free mobile version and play that instead of wasting 50 dollars.

…

Expand