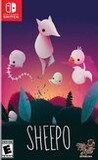 Summary:

Sheepo is a quirky metroidvania platformer featuring a shape-shifting sheep-thing, who must traverse an uncharted planet in order to collect samples of each living species. Sheepo is a metroidvania, but contains no standard combat. Instead, gameplay is based on platforming and exploration.

Sheepo is a quirky metroidvania platformer featuring a shape-shifting sheep-thing, who must traverse an uncharted planet in order to collect samples of each living species. Sheepo is a metroidvania, but contains no standard combat. Instead, gameplay is based on platforming and exploration. With the collection of each creature, Sheepo is able to dig, fly, and teleport across an interconnected series of landscapes, uncovering hidden shrines, old ruins, and strange characters. To capture a creature, Sheepo must find their unhatched egg, which happen to be highly guarded by that species "queen" (aka, a boss.) With each egg Sheepo collects, you then gain the ability to transform into that creature on contact, and explore the deeper reaches of the planets sprawling environment

Features:
-Tight platforming with variety. Play as both Sheepo, and the variety of creatures you come in contact with. Gameplay remains fresh as you consistently learn the moves of each creature
-Traverse a sprawling landscape with tons of hidden rooms and characters. Explore old mines, an abandoned mall, lush forests, the dingy sewer system, and much more.
-75+ hidden feathers to collect (the planets currency), which can be spent at the last remaining shop in DeadMall.
-Non-linear gameplay. Sheepo begins somewhat linearly, but the map quickly opens up to allow you to make your own route.


…

Expand
Developer:

Kyle Thompson

Genre(s):

Action

,

Platformer

,

2D

,

Metroidvania

# of players:

No Online Multiplayer

Cheats:

On GameFAQs

Rating:

E
It's pretty impressive for a game to go from not being on my radar to one of my favorite Metroidvanias in recent years, especially in a year that had the release of Metroid Dread. Sheepo does almost everything right, and only frustrated me because it was over so soon. But if you enjoy Metroidvanias and want to try something delightfully different, you really need to check this one out.

While Sheepo has some flaws, the solid platforming coupled with shape-shifting mechanics more than make this worthy of your time. Definitely worth checking out.

Sheepo never gets boring throughout its three-hour run time. It was correctly paced and had some delightful moments, both in narrative and tone as well as platforming puzzles. While it does try to change some things up from its competitors, nothing it does is better than other games in the genre. This isn't bad though and fans of 'Metroidvanias' are in for an enjoyable time as it manages to scratch the itch for a 2D open-world platformer, even if it's only for a couple of hours.

Sheepo is a very fun and welcoming action platformer with plenty of puzzle-solving and challenges for the sharpest minds. Thanks to its intuitive but defying gameplay, as well as fluid movement and very inclusive options, there's something here for players of all profiles who are keen on puzzle challenges and on exploration.

On first impressions, Sheepo is a welcoming, inventive Metroidvania with slick aesthetics. But its stark environments and lack of combat result in a rather empty world which does little to establish the game in a sea of able competitors.
this game is short and sweet. charming and light. the controls feel great and the game is just fun to play. A combat-less metroidvania.
Ithis game is short and sweet. charming and light. the controls feel great and the game is just fun to play. A combat-less metroidvania.
I played this and Gato Roboto recently. I could get used to these little bite sized metroidvanias. the critic score of 70 is underrating it.

…

Expand

Fun mini metroidvania/platformer that kept me interested through its ~3-4 hour runtime. Really enjoyed some of the level design and excited

Fun mini metroidvania/platformer that kept me interested through its ~3-4 hour runtime. Really enjoyed some of the level design and excited for Islets (Kyle Thompson's next game).

…

Expand