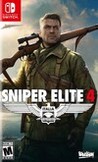 Summary:

Welcome to Italy, 1943.

Set in the aftermath of its award-winning predecessor, Sniper Elite 4 continues the series World War Two heritage by transporting players across the beautiful Italian peninsula, from sun-drenched Mediterranean coastal towns, to colossal Nazi mega structures,Welcome to Italy, 1943.

Set in the aftermath of its award-winning predecessor, Sniper Elite 4 continues the series World War Two heritage by transporting players across the beautiful Italian peninsula, from sun-drenched Mediterranean coastal towns, to colossal Nazi mega structures, daunting forests and giddying mountain monasteries inspired by Monte Cassino.

Covert agent and elite marksman Karl Fairburne must fight alongside the brave men and women of the Italian Resistance to help free their country from the yoke of Fascism, and defeat a terrifying new threat with the potential to halt the Allied fightback in Europe before its even begun.

If his mission fails, there will be no Operation Overlord, no D-Day landings, and no Victory in Europe.

…

Expand
Developer:

Rebellion

Genre(s):

Action

,

Shooter

,

First-Person

,

Tactical

# of players:

Up to 12

Cheats:

On GameFAQs

Available On:

Stadia

Rating:

M
Going in it seemed like this was just going to be Sniper Elite 3 again but Sniper Elite 4 blows that game out of the water. It's such a complete package and one that feels so at home in portable mode that the absolute quality shining off this port easily puts it at the top of the war games available on the platform. Further highlighting developer Rebellion's fantastic work on the Nintendo Switch platform. Opening up the series to a completely new group of gamers who will hopefully love the brutal sniping action they have so sumptuously crafted. Don't sleep on this game.

Sniper Elite 4 is a superb adaptation, capable of shrinking Karl Fairburne's Italian adventure into a pocket size while keeping the strengths of the original game intact. If you already played Sniper Elite 4 three years ago and aren't itching to replay it in a portable format, your savings would be better spent elsewhere, given the absence of exclusive content.

Sniper Elite 4 takes its perch as the marquee, non-arcade sniping title on the market. Through its strategic gameplay, disgustingly explosive kill cutscenes, and jam-packed sandboxes, Sniper Elite 4 satiates the need for a World War II shooter, while not getting dragged down by the norms of the genre. Even with some technical hiccups and a less-than-likable protagonist, Sniper Elite 4 achieves, takes aim, hits its mark, and then some.

Sniper Elite 4 is the best entry yet in this long-running franchise with great big meaty missions stuffed to bursting point with Nazis to snipe and stab in glorious slo-mo X-ray vision. There's a new-found flexibility to the gameplay, with Karl now able to shimmy and scurry vertically around levels and enemy AI that's much more up to the task than in previous iterations. There may be some slightly rough edges, with duff writing, naff characters and gameplay that doesn't change much from start to finish but, overall, this is playful sniper's paradise that lands on Switch in a truly impressive port. It's time to dust off that M1903 Springfield, find a nice vantage point and get to blowing great big bloody holes in fascist heads. The perfect antidote to 2020.

If you're a fan of the Sniper Elite franchise, Sniper Elite 4 on Nintendo Switch is definitely worth checking out. It's a new campaign in the series with necessary improvements from the last installment, while fans from other platforms can enjoy their favorite Sniper Elite Italian campaign from the comfort of their bed or on their commute to work. Sniper Elite 4 brings snipers into new locations featuring ruined castles, bayside watchtowers, vast orchards, underground tunnels, occupied cities, and far more.

With expansive sandbox levels, some thrilling stealth action, and (of course) those magnificent X-ray kill cam shots it's easy to see why this fourth iteration of Rebellion's popular series is generally considered the most well rounded. With that being said, the seams are beginning to show this long after the original release, and while the Switch manages to pull off the action behind the scope exactly the way you'd expect, your mileage with the middle of the road visuals and mostly bland story may vary.

Sniper Elite 4 manages to offer a unique approach to shooter games, thanks to its deep and articulated sniping mechanics. Yet, the release on Switch doesn't even try to hide its age and feels shallow and forgettable. If you love this kind of game, probably Switch isn't the best choice where to play it.
This game is fantastic, and is the best Sniper Elite game in the series. Tons of optional challenges once you complete the expansive levels.

This game is fantastic, and is the best Sniper Elite game in the series. Tons of optional challenges once you complete the expansive levels. Highly recommended.

…

Expand

Great game. Finished it multiple times and every run is different.
In my opinion a game that is overlooked by many, while it is one of theGreat game. Finished it multiple times and every run is different.
In my opinion a game that is overlooked by many, while it is one of the best games we have on switch.

…

Expand

Runs better than xbone version. Grab your copy now. REBELLION has really outdone themselves this time.

This is my first experience in the world of Sniper Elite, and I have to say that I wish I'd jumped on board earlier. I played it exclusively

This is my first experience in the world of Sniper Elite, and I have to say that I wish I'd jumped on board earlier. I played it exclusively in handheld mode, and it's clear that Rebellion haven't just phoned this port in; the performance is excellent, and the graphics are very impressive. As for the game itself, it's a sandbox wonderland that is amazing fun to dive into. Filled with 8 (very large) missions/levels that allow you to either tackle the objectives by being a true ghost sniper, a trap setter, or with a run and gun mindset, or a combination of all of the above. Whichever avenue you take, there's always fun, exploration and experimentation to be had. If you're a fan of shooters/stealth/tactical games, have a Switch, and haven't played this yet, get on board. It's a high quality game that is wickedly fun to play (and replay). It seriously exceeded my expectations by a fair margin. Game length will vary from player to player, but I got a bit over 50 hours out of my campaign playthrough. Having said that, I was fairly methodical, explored a lot, and had fun experimenting with different strategies to take down enemy mobs. As for negatives, it seems a bit rough that Rebellion didn't release this game as an ultimate edition with all DLC, considering that the game is over 3 years old, instead choosing to charge a premium for it. The base game is strong enough to justify the price tag, but it still leaves a slightly bitter taste in the mouth. Also, I experienced a save game bug a couple of times where the game stopped autosaving during a mission, and also prevented me from manually saving. This was fixed by starting the mission again from scratch, but was pretty frustrating. Hopefully it gets patched out. All in all, an amazing game that I'm so glad that I took a punt on. Bring on SE5!

9/10

…

Expand

I have to say i am really digging this game. Looks great on the Switch and plays smooth. Its a step up from V2 in everyway. The story is

I have to say i am really digging this game. Looks great on the Switch and plays smooth. Its a step up from V2 in everyway. The story is good. I like the mix of a different view of WW2 and not always being in europe like everyother game. Controls are nice too. Great port, pick it up.

…

Expand

Best shooter on Switch if you ask me. Runs impeccably well, and unlike other ports, the game is incredibly sharp. Controlling the game with

Best shooter on Switch if you ask me. Runs impeccably well, and unlike other ports, the game is incredibly sharp. Controlling the game with gyro is also awesome.

I loved this game on PC and having such a great port of one of my favorite shooters on switch is simply awesome.

…

Expand

This is a 2017 game running flawlessly on Nintendo's little handheld that could. As great a port as last years Alien: Isolation was. And

This is a 2017 game running flawlessly on Nintendo's little handheld that could. As great a port as last years Alien: Isolation was. And further proof that when developers put their time in to optimization anything is possible. Sniper Elite 4 is a must play if you enjoy stealth games and/or m-rated war titles. It also has a variety of online co-op and versus modes to keep players busy long after the campaign has ended. (And it also refreshingly runs well online too). Don't let this great game fly under your radar if you've been starving for a COD or MGS game on the switch Sniper does more than commendable job of filling those shoes. A must own.

…

Expand