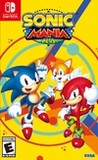 Summary:

Sonic Mania Plus is the definitive retail enhanced version of the original Sonic Mania's digital release, presented in a pristine collectible physical release. The encore pack is a $5 upgrade fee for owners of the original game.
Genre(s):

Action

,

Platformer

,

2D

# of players:

Up to 4

Cheats:

On GameFAQs

Rating:

E
Please enter your birth date to watch this video:
You are not allowed to view this material at this time.
Sonic Mania Plus - Trailer
If you loved Sonic Mania, Plus is an essential purchase. It's more Sonic Mania, but different.

Taken as a full package this is arguably the best Sonic game there is. Mania mode is fun as ever, the cast is fuller, and the bonus challenges, unlockables, Encore mode and multiplayer makes for a game that earns its spot on the retail shelf. Some existing owners might wonder whether two extra characters, remixed singleplayer and revamped splitscreen is worth the upgrade given there's no substantially new levels to speak of, but I think it's a fine way to extend the experience.

Sonic Mania was already a fantastic title, and Sonic Mania Plus only makes things look and feel better.

Essential for those who he did not play the original title.

Sonic Mania Plus is a return to form for Sega's most iconic character. It takes all that is old and makes it new again.

Sonic Mania was a true return to form for the mascot, in his 2D 'Classic' guise at least, and celebrated the glory days of the original games while also enhancing their qualities and taking on new ideas. From new areas, imaginative second acts and some delightful boss encounters, the development team poured a lot of passion and talent into the project. Sonic Mania Plus takes that solid foundation and - in all honestly - doesn't do a great deal to mess with it. The new characters and modes are welcome, and there are some neat tweaks which iron out some of the kinks present in the original release, but on the whole this is an enhanced edition of the game rather than a feature-rich update. If you've still not sampled the delights of Sonic Mania then this is clearly the version to get, but if you're an existing owner then the low asking price of the DLC update make this well worth a look; we'll take any excuse to dive back into one of the best 2D platformers of recent memory.

It adds on neatly onto your original game (no need to start all over), and will extend your playtime at least another few hours if not more. Also, if you missed Sonic Mania last year, this is now the definitive version of the game. That said, if you just casually picked it up, and only invested a few hours, there isn't that much here in Sonic Mania Plus to justify spending more money unless you're a huge fan of Mighty and Ray.
The quality of the package in Mania Plus is so good that it is becoming one of the best, if not the best, Sonic game of all time.

This game is awesome.I don't know why it has only 8.1 user score.This is the best classic sonic game.It has nice zones,nice environments 5

This game is awesome.I don't know why it has only 8.1 user score.This is the best classic sonic game.It has nice zones,nice environments 5 characters,one of the best sonic final bosses and it has the encore mode

…

Expand

A further improvement on an already great game. Similar to the original trilogy on the Genesis in gameplay and appearance, the game goes back

A further improvement on an already great game. Similar to the original trilogy on the Genesis in gameplay and appearance, the game goes back to the more looked up upon period of the series, and the add-on features extra characters, an encore mode, and with the collector's package you receive an art book, along with a beautiful looking package.

…

Expand

This review contains spoilers

, click expand to view

.

People have said things like "this game is overrated" I 100% disagree with that, this game is amazing! This is a great opportunity for Sega to come back from the dead!

…

Expand

Yep. They got it right. Classic Sonic is back to the format where he belongs, and while they may have gone a little overboard on the ratio of

Yep. They got it right. Classic Sonic is back to the format where he belongs, and while they may have gone a little overboard on the ratio of old levels to new ones, this product is built to last.

…

Expand

Yes, I wrote a review on Sonic Mania before, but I just wanted to reveal my honest opinion about it. Yes, I still think it's an awesome

Yes, I wrote a review on Sonic Mania before, but I just wanted to reveal my honest opinion about it. Yes, I still think it's an awesome game... but I always spend sleepless nights thinking about it... Sonic Mania could've been so much more. Yes, my second favorite Sonic game of the 2010s could've easily elevated into being my favorite Sonic game of all if it just did one thing.
All-original zones.
I'm still happy with what we have, but, like I said in my last review, it gets boring after a while.
9/10

…

Expand