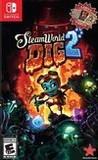 Summary:

Grab your pickaxe and dig into the sequel to SteamWorld Dig. A platform mining adventure forged in Metroidvania flames. In search of her lost friend, a lone steambot and her unlikely companion must dig deep, gain riches and explore an underworld riddled with danger. But time is running

Grab your pickaxe and dig into the sequel to SteamWorld Dig. A platform mining adventure forged in Metroidvania flames. In search of her lost friend, a lone steambot and her unlikely companion must dig deep, gain riches and explore an underworld riddled with danger. But time is running short... [Nintendo]

…

Expand
Developer:

Image & Form

Genre(s):

Action

,

Action Adventure

,

General

,

Platformer

,

2D

, ,

Metroidvania

# of players:

No Online Multiplayer

Cheats:

On GameFAQs

Available On:

Stadia

Rating:

E10+
Please enter your birth date to watch this video:
You are not allowed to view this material at this time.
SteamWorld Dig 2 - Nintendo Switch Trailer
I would absolutely recommend this game to anyone, whether you're familiar with the first SteamWorld Dig or not. Image and Form have done a fantastic job with this follow-up, and much like their track record so far with the SteamWorld universe, the experience here is impeccable.

SteamWorld Dig 2 is everything that you may want for a sequel. It takes the digging formula of its predecessor and makes it more fun to play, prettier to look at, and more pleasant to listen to. Fans of both platform and Metroidvania genres will be pleased by its enjoyable gameplay and, even if you're not into those style of games, it may be worth a try - as it is one of the best indie games released on the Switch.

Every advancement Dig 2 makes to its story and mechanics strengthens your initiative to progress. There's an overwhelming sense of momentum that runs through the adventure; as if developer Image & Form sifted the original in a pan, removing its redundancies while expanding upon what made it so fun to persistently play. In your quest to acquire every upgrade and explore every nook and cranny, there's no shortage of hidden collectables to discover.

Once again Image & Form continue to pour heart, soul and quality into their games. Steamworld Dig 2 is another near perfect entry in the Steamworld universe, and the enhanced art design makes me wish that they go back to both the original Dig and Heist and update them and release them on the Switch. I would be the first in line to buy them again.

Action, exploration, platforming, beautiful visuals... SteamWorld Dig 2 improves on everything from the original game, adding some metroidvania elements, and making it one of the best indies for the Nintendo Switch.

Steamworld Dig 2 makes you dig like Minecraft, while exploring away like Castlevania. This solid adventure gets even better thanks to the cool dungeon levels and its duration.

In summary, SteamWorld Dig 2 is a stellar addition to the Switch, and it's a great throwback to the classic 2D platformers and side-scrollers of yesteryear. There's more to the game than just the main story mode, and going off the beaten track to discover side quests, relics and other secrets is very rewarding. From the unique plot to the charming visuals, SteamWorld Dig 2 excels from the off. I especially loved the Western style music, which suits the theme of the game really well. Indie titles have been flooding onto the Switch since its release, and the highly-impressive nature of them has me excited to see what comes out next.
I don't really like giving things a 10, but literally my only complaint with this game was that finished it and wanted more.

But 10 hoursI don't really like giving things a 10, but literally my only complaint with this game was that finished it and wanted more.

But 10 hours for 15 quid is a solid return. I'd love steamworld dig 3 to be absolutely huge.

The art style is gorgeous, the music and atmosphere is perfect, digging for teasure is tonnes of fun, the levelling up system, the puzzles, boss fights. All of it, no complaints.

Mighy have to go play the first game now, but so glad i found this one, beats shovel knight as my fave indie game ever.

…

Expand

The first game was a pretty cool game... The second .. Wow.. If you like a game with a lot of puzzle and element of platforming with so many

The first game was a pretty cool game... The second .. Wow.. If you like a game with a lot of puzzle and element of platforming with so many upgrade to find and twick then its the right game for you. For my part just love to take time to search everyting and after 15 hours I search for the next upgrade. The game never get boring because you always find something new and that you have to return to a old cave to find .. at last, the treasure... Fantastic game, graphic beautiful and fun factor at max !!!

…

Expand

Owned this game since day 1 and replayed it countless times, I think it's the beautiful visuals and the digging that makes this game so

Owned this game since day 1 and replayed it countless times, I think it's the beautiful visuals and the digging that makes this game so addictive... To me, it's a MUST OWN and THE BEST indie game on switch.

…

Expand

Liebevolle Grafik mit dem bekannten Metroidvania Gameplay. Einzig die geringe Anzahl an Bossgegnern und die wenige Abwechslung in den Kämpfen

Liebevolle Grafik mit dem bekannten Metroidvania Gameplay. Einzig die geringe Anzahl an Bossgegnern und die wenige Abwechslung in den Kämpfen sind kleinere Kritikpunkte. Absolute Empfehlung für alle, die dieses Genre mögen. Läuft auf der Switch hervorragend und ohne Bugs.

…

Expand

I bought this while I was sick, thinking I'd get a simple game I could mindlessly play while listening to a podcast. Boy, was I surprised. The

I bought this while I was sick, thinking I'd get a simple game I could mindlessly play while listening to a podcast. Boy, was I surprised. The gameplay starts out simple enough, but progresses at a good pace towards a solid action platformer. Every new upgrade is a surprise, and completely changes how you approach situations. And the next thing is always just around the corner. The story, similarly, starts out barely being there, sticks under the surface for the most part, and then comes together towards the end.

Just delightful!

…

Expand

Really fun metroidvania with lots of cool mechanics. The gameplay loop of exploring and returning to base to sell your loot is addictive and

Really fun metroidvania with lots of cool mechanics. The gameplay loop of exploring and returning to base to sell your loot is addictive and fun. A bit too short though! I thought the game had just started when it literally just ended. Well worth it for the few hours of great gameplay though. Recommended!

…

Expand

the gamepplay is boring and very stressful sometimes. i really dont like the soundtrack