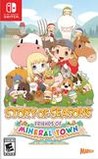 Summary:

Originally released for the Nintendo Game Boy Advance in 2003, STORY OF SEASONS: Friends of Mineral Town is a complete remake that will let series fans revisit the charming world of Mineral Town, while also introducing it to a new generation of farmers. In this peaceful setting, players will

Originally released for the Nintendo Game Boy Advance in 2003, STORY OF SEASONS: Friends of Mineral Town is a complete remake that will let series fans revisit the charming world of Mineral Town, while also introducing it to a new generation of farmers. In this peaceful setting, players will grow crops, take care of animals, and build relationships with villagers. * Rediscover one of STORY OF SEASONS' most beloved entries: This Nintendo Switch remake of the classic game preserves the compelling gameplay, colourful characters and rustic charm of the original 2003 Game Boy Advance release. With buttery-smooth HD visuals and a heartwarming reimagining of the iconic locale, series veterans and newcomers will soon find themselves welcomed by the gentle rhythms of Mineral Town.

* Live the simple life in Mineral Town: Tap into the power of nature as you breathe life back into your grandfather's farm, tending crops and raising livestock to earn your keep. With more than 20 varieties of crops to grow, and animals ranging from alpacas to angora bunnies, no day is the same as seasons cycle and new skills await.

* Forge friendships with the townsfolk and win their hearts: Mineral Town is full of friendly faces willing to help you find your feet in your new hometown. Get to know the locals and learn their stories as you go about your daily life, and you might even find love along the way!

* Activities galore for days off from the farm: Whether it's high-tailing in horseraces, catching a champion trout or showcasing your culinary creativity, the busy calendar full of festivals means that there's never a dull day in Mineral Town. If you're looking for a quieter time, take yourself away to the local hot spring, delve deep into the mines, or seek out the seasonal secrets of the town.

…

Expand
Developer:

Marvelous Inc.

Genre(s):

Strategy

,

Management

,

Business / Tycoon

# of players:

No Online Multiplayer

Cheats:

On GameFAQs

Rating:

E10+
Overall, the game very much feels like the very best of the original Harvest Moon title mixed with the newer mechanics and ideas that have been developed in the Story of Seasons franchise. It's a perfect mesh of old and new that feels well pitched for both veterans and newcomers to enjoy. If you're looking for a relaxing game to calm your mind at the end of the day, then Story Of Seasons: Friends of Mineral Town is here to fill that gap.

Story of Seasons: Friends of Mineral Town is the ideal Story of Seasons experience. It may lack some of the unique ideas from later games in the franchise, but it captures the fun of farming simulators. It can be repetitive and too easy to earn money, but you'll hours spending hours exploring mines and perfecting your crops. Additionally, the Switch version retains the portability of the original GBA title, so FoMT is an excellent Story of Seasons experience for newcomers and long-term fans alike.

Who says you can never go home again? Story of Seasons: Friends of Mineral town takes an already great game in the storied franchise and throws it into HD, with a hefty bushel of new content along for the ride. Whether you're a nostalgic veteran like me or a greenhorn just starting out, Mineral Town is a worthy addition to your Switch library.

Story of Seasons: Friends of Mineral Town is a 3D remake of a game from a former generation and it's fair to say it picks up everything that made the original enjoyable and builds up on it, making this a work that's thoroughly recommended for all tastes. Whether it's doing menial seeding and plowing tasks or bonding with other villagers, Friends of Mineral Town is filled with lovely moments that make even the most routine actions feel like something to look forward to.

The videogame arrives on Nintendo Switch with a graphic face lift and improved menus but without too many new features. It perfectly maintains the essence of the original but with a clear focus on the GBA version.

Story of Seasons: Friends of Mineral Town is such a calming experience from it's very sweet and earthy tunes to its simple routine. While credits can be rolled in about twenty hours, this a game that is meant to be played well beyond the player's first year. There are lots of friendships to make, storylines to unfold, and gossip to be found. While I wish the presentation had been stronger, I won't deny the fun I had courting my librarian love while also enjoying the fruits of my virtual labour. Friends of Mineral Town is an engaging game for those of us who love and need a sense of repetition in these times of uncertainty.

Like many other life simulators, Story of Seasons: Friends of Mineral Town will probably benefit from sunk cost fallacy (if you make it past the first 20 hours, why not another 20?), but if you want a farm sim to wholeheartedly commit to, seek your pleasure elsewhere.
I love this, love the nostalgia, the game doesn't have too much difference from the former game, they're just enchancing the graphics, maybe

I love this, love the nostalgia, the game doesn't have too much difference from the former game, they're just enchancing the graphics, maybe some new npc, and that's all, the mechanic of the game is the same as it's former game

…

Expand

At last a farming sim game that I can sink my teeth into. I was thoroughly disappointed with the last two SoS entries but this game makes up

At last a farming sim game that I can sink my teeth into. I was thoroughly disappointed with the last two SoS entries but this game makes up for all that. You start out as usual with a small section of the farm and it grows more and more addictive from there. New areas are unlocked after amassing the required funs and materials. There's so much variety, you won't get bored. You can pretty much develop the farm exactly how you want it. There's fencing, paths, decorations etc.

If i had to complain about something, I'd say there are some framerate and loading time issues. However these will be patched soon, or so I hear.

I love this game!

…

Expand

Just wanna say, thanks to make me feels nostalgic, and thanks to Marvelous for making this game...

As a veteran Harvest Moon fan this is by far my favorite farming game on the switch. Nostalgia does play a big role in this game though. Many

As a veteran Harvest Moon fan this is by far my favorite farming game on the switch. Nostalgia does play a big role in this game though. Many do not know that this is a remake of a classic GBA game called Harvest Moon: Friends of Mineral Town. I will say that many will prefer to Stardew Valley (which is understandable) than this but hear me out! This is a fantastic game to relax to and take in the memorable music it has grown on me since I was a kid. It has two new characters which is a breath of fresh air for the series. It also has same-sex marriage which is a major plus in my books. We stan equality in our games. You can be a girl or boy, pick your skin color and the game has a variety of clothing options to choose from. Add-ons such as costumes cost 1.99 on the eshop store. More animals to raise and more different crops to grow aswell. It really filled in the gaps of the GBA version I grew up with.

Now comes the negatives. Why I gave this an 8 instead of a 10 is..

1. The graphics and character portraits. The graphics do look like a mobile version of a game I will admit but I did however grew to like it. Alot of people might not like this though. Especially if they're gonna pay $50 for this game. I can understand that. And the portraits and characters look very chibi and some of the character redesigns aren't that great. Gray without a hat and Ann is named Ran instead of Ann. Just minor setbacks but let's now get to the most important flaw.

2. No rival marriages. This is the biggest flaw in the game because it made the town come alive back on the GBA Version. Maybe down the road they will add it in a patch. Who knows but it's a big disappointment for many nostalgic FoMT fans.

Overall Marvelous has really stuck to the original GBA version as close as possible and I'm so happy they did this for the older and newer fans too. We have to appreciate that we were blessed with a nostalgic and fan favorite game remade in our hands and it's so nice to play it on the go and on the big screen. is it worth $50 though? For a non-fan I'd wait for it to go on sale but if your a longtime fan it's definitely worth the price. Thank you Marvelous for keeping the spark alive. Something Natsume has failed to do these last past years. Happy farming!

…

Expand

Add a review here for Story of Seasons: Friends of Mineral Town, or submit with only a rating...
Playing story of seasons feels like comingAdd a review here for Story of Seasons: Friends of Mineral Town, or submit with only a rating...
Playing story of seasons feels like coming back home and your are having your favorite meal for dinner with a few surprises. It truly enhanced everything the GBA version did and has some really nice improvements. If you loved Friends of Mineral town and More friends of Mineral Town you'll love this one too. There are new fruit trees, improved graphics, a new area in town, new animals and pets and finally same-sex marriage. All these new features will definitely make this the definitive version.

…

Expand

Nostalgia factor is pretty big with this game. It may be hard to stick with if you have never played the originals and have only played

Nostalgia factor is pretty big with this game. It may be hard to stick with if you have never played the originals and have only played Stardew Valley; however, if you played the original harvest moon friends of mineral town, Harvest moon back to nature, or you are a fan of the genre in general, this is worth the purchase. The art style grows was originally my biggest concern for the game but turned into one of my favorite things about the game. At first, I was super hesitant about the 3d art style, comparing it to something you'd see in a mobile game. It was surprising to me how quickly the art style grew on me after I started playing. The portraits are very well drawn and convey a lot of expression from the NPCs. The backgrounds and season changes are also very well done. The art direction is helped by the game running at a consistent 60fps on the switch. The new 3d art design was a good choice for the remaster and it is polished enough to give a timeless appeal. Personally I prefer this new art style over SDV.

Romance options are some of the largest in the genre. Each romance option feels unique and the dialogue adds alot of depth to each of the characters. I also find the romance options way more engaging than the SDV romance options. Customization is where the game falls short. If your fine with not having total control over farm customization, then you should be able to get over the games biggest shortcoming. The game tries to overcome this by having a leveling system for your tools and even other grading system for your harvested crops; however, none of this really seems to matter too much when you can use harvest sprites to do all the dirty work for you. Tools are more or less just a means to clear up large stumps and rocks on the soil and open new areas. Building placement and crafting options are also way more limited than in SDV. The farming and animal mechanics have also been cleaned up a lot since the previous versions. Several quality-of-life changes have made it much easier to tend to your crops. Overall I recommend picking it up even if you're curious. Its not perfect but its still a very fun game and an improvement on the originals.

…

Expand

Unfortunately, I am relatively disappointed with this remake. The graphics are nice, the gameplay itself still works well and the characters

Unfortunately, I am relatively disappointed with this remake. The graphics are nice, the gameplay itself still works well and the characters are nicely designed, but unfortunately there is virtually no conflict between the characters anymore. And therein lies my problem with the game and the series in general. The whole community seems smoothed out, there's just something missing. There are no rivals like in the original, which means that the lives of the same-aged residents are basically static. I loved the original, but it unfortunately lost the very things that made it special for me. For example, even after several ingame years, there were still various events between the other couples, problems that needed to be solved. Not necessarily by oneself, but between the characters, that gave the relationships and inhabitants the appearance of existence. I notice the same problem with other titles in the series. The games don't captivate me the way they used to, because other than the tighter circumstances around your character, there's no development, much less conflict, and generally too little change. It feels more like a dollhouse instead of a simulation of life in a community, where everything ends up back where it was. It's really a shame that these principles have become entrenched over time in the series.

…

Expand