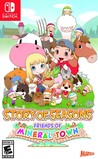 Summary:

Originally released for the Nintendo Game Boy Advance in 2003, STORY OF SEASONS: Friends of Mineral Town is a complete remake that will let series fans revisit the charming world of Mineral Town, while also introducing it to a new generation of farmers. In this peaceful setting, players will

Originally released for the Nintendo Game Boy Advance in 2003, STORY OF SEASONS: Friends of Mineral Town is a complete remake that will let series fans revisit the charming world of Mineral Town, while also introducing it to a new generation of farmers. In this peaceful setting, players will grow crops, take care of animals, and build relationships with villagers. * Rediscover one of STORY OF SEASONS' most beloved entries: This Nintendo Switch remake of the classic game preserves the compelling gameplay, colourful characters and rustic charm of the original 2003 Game Boy Advance release. With buttery-smooth HD visuals and a heartwarming reimagining of the iconic locale, series veterans and newcomers will soon find themselves welcomed by the gentle rhythms of Mineral Town.

* Live the simple life in Mineral Town: Tap into the power of nature as you breathe life back into your grandfather's farm, tending crops and raising livestock to earn your keep. With more than 20 varieties of crops to grow, and animals ranging from alpacas to angora bunnies, no day is the same as seasons cycle and new skills await.

* Forge friendships with the townsfolk and win their hearts: Mineral Town is full of friendly faces willing to help you find your feet in your new hometown. Get to know the locals and learn their stories as you go about your daily life, and you might even find love along the way!

* Activities galore for days off from the farm: Whether it's high-tailing in horseraces, catching a champion trout or showcasing your culinary creativity, the busy calendar full of festivals means that there's never a dull day in Mineral Town. If you're looking for a quieter time, take yourself away to the local hot spring, delve deep into the mines, or seek out the seasonal secrets of the town.

…

Expand
Developer:

Marvelous Inc.

Genre(s):

Strategy

,

Management

,

Business / Tycoon

# of players:

No Online Multiplayer

Cheats:

On GameFAQs

Rating:

E10+
Story of Seasons: Friends of Mineral Town, I'm happy to report, strips away the fat, leaving behind the sort of lean mean farming title fans crave. The new additions and streamlining made an already fantastic experience on the GBA into a near-perfect one on the Switch.

Story of Seasons: Friends of Mineral Town is simple and charming, but beneath the rather basic gameplay loop hides some surprisingly deep secrets. It brings back elements of farming games past, including marriage rivals and transient characters, while providing some major quality of life updates as well as a more freedom, such as limited character customization and a truly bizarre variety of farmyard pets. It's a cozy, welcoming little village, sure to charm any farming fan.

Despite its simple appearance in how it looks and the game mechanics, Story of Seasons Friends of Mineral Town is a superb remake, filled with many tasks to do that help the farm grow in all areas. Farming games are much beloved for what they offer, the wide variety of crops and handful of animals mean there is rarely a dull moment, unless it's a season like Winter, due to the absence of crops. There is no doubt that this remake delivers an enjoyable farming experience that provides countless hours of game play. It is a joy to relax with and be immersed by a simpler life compared to reality, with various town events throughout the year providing extra entertainment, sometimes with a trophy to be won, and the addictive tasks necessary on a farm.

Friends of Mineral Town remains an engaging, warm and homey experience.

Friends of Mineral Town has moments where certain features would have benefitted from further modern upgrades, but this is still a satisfying remake of the beloved classics.

If you're looking for something to sink hours into and enjoy a slow, steady stroll rather than an action-packed sprint, Story of Seasons: Friends of Mineral Town might just be for you.

Like many other life simulators, Story of Seasons: Friends of Mineral Town will probably benefit from sunk cost fallacy (if you make it past the first 20 hours, why not another 20?), but if you want a farm sim to wholeheartedly commit to, seek your pleasure elsewhere.