Publisher:

Nintendo

Release Date:

Jun 28, 2019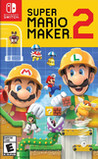 Summary:

Mario fans of the world, unite! Now you can play, create, and share the side-scrolling Super Mario courses of your dreams in the Super Mario Maker 2 game, available exclusively on the Nintendo Switch™ system! Dive into the single-player Story Mode and play built-in courses to rebuild

Mario fans of the world, unite! Now you can play, create, and share the side-scrolling Super Mario courses of your dreams in the Super Mario Maker 2 game, available exclusively on the Nintendo Switch™ system! Dive into the single-player Story Mode and play built-in courses to rebuild Princess Peach's castle. Make your own courses, alone or together. And with a Nintendo Switch Online membership*, share your courses, access a near-endless supply made by others, enjoy online multiplayer, and more. A new side-scrolling Mario adventure that unleashes the creative potential of Super Mario Maker 2 awaits in Story Mode, which contains over 100 built-in courses. And in Course Maker, a wide range of parts, tools, and more are available so you can construct your own courses. Want coin-shooting cannons? Bowser riding on a giant Goomba? Cat Mario sliding down slopes to take out an army of baddies? Go for it! You call the shots. Pass a Joy-Con controller to a partner to build cooperatively on a single system.

…

Expand
Developer:

Nintendo

Genre(s):

Action

,

Platformer

,

2D

# of players:

Up to 4

Cheats:

On GameFAQs

Rating:

E
Please enter your birth date to watch this video:
You are not allowed to view this material at this time.
Super Mario Maker 2 - Toughest Story Levels So Far
Another masterpiece by Nintendo. Super Mario Maker 2 is a delight for every creative soul out there - and yet also cares about players with no interest in designing their own levels. There are dozens of hours of pure fun for both of those groups.

Super Mario Maker 2 is another Nintendo Switch essential. With more things to create with, more unique stages to play and better online functionality, this is the definitive Super Mario Maker experience. Honestly, the game is good enough to have the story mode sold separately, but the fact that it's bundled with such a powerful stage creation tool is incredible. This is one of the best Mario games of all time.

Super Mario Maker 2 is a much needed and long awaited addition to the Switch. Even the smaller additions to course making goes a long way to giving players the tools they need to make courses that you wouldn't be able to distinguish from the real deal. If you're not interested in building levels, there's plenty to play in the story mode and the content from the Course World will ensure there's content for years to come. While there are some limitations that might irk hardcore course builders, there is so much more to like about the game. How can you pass up a Mario game that has the most inventive courses the series has seen in years.

Super Mario Maker 2 is a game that transcends its flaws. While the game can improve in several key areas, these shortcomings are triumphantly eclipsed by the strengths of the game. From its robust and accessible suite of level creation tools to its myriad ways to play, the sheer potential for fun, subversive Mario experiences outshines any problem the game may have. Super Mario Maker 2 is more than a game, it's a community—one I plan on spending a lot of time in.

Super Mario Maker 2 expands on the first in a great way. New possibilities, a story mode and coop are a great addition. There are however a few details that can lead to some frustrations, but they are few and far between.

Super Mario Maker 2 is a remarkable continuation from the original game. This new entry in the series takes the best elements of the previous one and adds a huge number of new elements, modes and styles. The creator mode is larger and deeper, the online multiplayer is just fun; but the story mode lacks on personality. Even though the game is bigger and extensive, it is definitely not the ultimate Mario Maker.

But that toolkit is only half of the equation. The other half is a platform game with no quality control, no impetus for putting legitimate effort into your original designs, and no way to weed out poor content creators other than trusting that players will be able to discern the difference between a bad level and good level and rate them accordingly. Given how many positive messages I've seen attached to genuinely bad stages, I don't have much faith in the Mario Maker community right now and I question whether it'll get better down the line.
This is an absolute must-buy for the Switch. It takes Mario Maker 1 and adds a huge amount of things to it. New styles, new themes, night

This is an absolute must-buy for the Switch. It takes Mario Maker 1 and adds a huge amount of things to it. New styles, new themes, night versions of all of them, vertical levels, custom scroll, multiplayer co-op and versus both local and online, a full story mode, ...

I could go on and on, but the tl;dr is that you owe it to yourself to get this if you even remotely enjoy platformers in general.

…

Expand

Nintendo have clearly listened to the players and upgraded everything from the original Mario maker on wii u this is a sequel that really

Nintendo have clearly listened to the players and upgraded everything from the original Mario maker on wii u this is a sequel that really delivers and has almost infinite value, the user created levels are already wonderful only days after release and the much greater creative tool promise a great time for creators and players alike

…

Expand

Well it blowed my mind! It is amazing! All these tools for level creation & the story mode!!! It's a great game that should be in your

Well it blowed my mind! It is amazing! All these tools for level creation & the story mode!!! It's a great game that should be in your library....yesterday!

…

Expand

Amazing game. Better than the first one in most things, although it does lose a little bit of the charm the first one had on simple little

Amazing game. Better than the first one in most things, although it does lose a little bit of the charm the first one had on simple little things... Everything else is definitely better though. Great story mode, 3D World style looks amazing, the other 4 styles are as good as ever with more themes to choose from. Great music, solid controls, editing is better in handheld but you will get used to editing with a controller, it's not too bad. I'd give it a 9.5 if I could but the 10 will have to do for Metacritic.

…

Expand

Another Mario Maker smash hit: they added new tools and objects for levels - and personally I think creative is great, but I enjoy most the

Another Mario Maker smash hit: they added new tools and objects for levels - and personally I think creative is great, but I enjoy most the mode they added where you can play endless different levels that people have made. Its like playing Mario that never gets stale, which I think is the real joy of Mario Maker 2. I would give it a 10/10 but i'm going to drop it to 9/10 because it does require you to have a paid subscription to Nintendo Online (which itself is not too bad, its cheaper than XBOX or PS but no free games... On the plus side theres been a whole bunch of free months for it with Twitch Prime this year...) - so 9/10. Its a switch "Must Have" to go along with other great titles like Breath of the Wild and Smash Bros :)

…

Expand

Super Mario Maker 2 delivers everything you want. Creating your own levels is easy and simple and with so many options to customize your

Super Mario Maker 2 delivers everything you want. Creating your own levels is easy and simple and with so many options to customize your levels every single one feels unique. Even though it´s super fun, it has a big issue like the online mode being only playable if you're subscribed to the Nintendo Switch Online and in my opinion if you don't have it this game is a waste of money. If you are subscribed this is a must buy to the Nintendo switch. This game offers the possibility to create the Mario level of your dreams with various themes : Super Mario Bros., Super Mario Bros. 3, Super Mario World, New Super Mario Bros. and the all new Super Mario 3D World, not t mention every single one has unique enemies and various stages like grond, underground, underwater, ghost house, airship and many more. This variety of gameplay is what makes the online mode fun. In the online mode you can play levels that were created by other players online and the possibilities are endless. Last but not least, Mario Maker 2 offers many new things in comparison to the prequel such as the new Super Mario 3D World Style, new enemies, new themes, new music, slopes and the single-player mode which may be quite fast to conclude but it's fun and gives many ideas to create your levels. In conclusion, if you have the online subscription, this game is a must buy for your Ninendo Switch.

…

Expand

A truly awful game that goes to show, new isn't always better, there are barely any new features, and the best part of the 1st game, amiibo

A truly awful game that goes to show, new isn't always better, there are barely any new features, and the best part of the 1st game, amiibo costumes, where removed! Also, you need a subscription to get in when you didn't in the 1st one, and I haven't even talked about the online multiplayer yet, oh it's bad, and SUPER laggy.

…

Expand