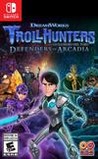 Summary:

Jump into the world of Trollhunters as Jim Lake Jr. to stop Porgon the Trickster Troll and his sneaky plans! Team up with Claire in couch co-op and also get a helping hand from lots more loved characters to face unknown evil forces and help stop the Time-pocalypse! Upgrade your armour and

Jump into the world of Trollhunters as Jim Lake Jr. to stop Porgon the Trickster Troll and his sneaky plans! Team up with Claire in couch co-op and also get a helping hand from lots more loved characters to face unknown evil forces and help stop the Time-pocalypse! Upgrade your armour and boost your abilities to become more powerful than ever. The fate of the universe is in your hands!

…

Expand
Developer:

WayForward

Genre(s):

Action

,

General

,

Platformer

,

2D

# of players:

Online Multiplayer

Cheats:

On GameFAQs

Available On:

Stadia

Rating:

E10+
Trollhunters: Defenders of Arcadia is a fun, but flawed action-platformer that may deliver a lot of thrills for fans of the series, but lacks enough substance to be a must-buy for those coming in cold. It's a good game technically, but one with levels that lack soul and a rock-solid layout. What's here is done well — but it could be done better. The graphical design in particular feels like something from a bygone era with iffy-looking character models and environments that are dull and lifeless. There's a lot of life to the world around you, but the darker visual look of everything beguiles it and doesn't do it much justice. Thankfully, it's still a fun romp in part to the show's voice cast shining and the excellent soundtrack making the adventure fun to listen to.

At the end of the day Trollhunters: Defenders of Arcadia has far too many issues to be worth a player's time. Most of the gameplay mechanics may be functional, but they are boring and repetitive. The storyline isn't awful, but doesn't hold up against the critically acclaimed Trollhunters TV show, and to top it all off the bugs make Defenders of Arcadia basically unplayable at times. Even if this was a free mobile title it still wouldn't be worth a playthrough except for maybe the most loyal of fans - but as a console game purchase, this is a pass for anyone.

It didn't have to be this way. WayForward has worked minor miracles with licensed fare before – see Aliens: Infestation and The Mummy Demastered. But this is work for hire of the most rotten kind, showing total contempt for the fans it hopes to lure in with a bright, likeable licence. Trollhunters is one of the less enjoyable things to happen to us this year. Given what a year it's been, that is quite a feat.
Trollhunters has become an inferior game compared to the quality and options of other Wayforward games.

The graphics engine (Unity) in myTrollhunters has become an inferior game compared to the quality and options of other Wayforward games.

The graphics engine (Unity) in my opinion had great potential, as I said before, I don't mind the lack of details or simple graphics, but as most of Wayforward's games are based on graphics with cartoons / drawings art, I believe that for if this is a series of this style, maybe it would have combined more with this graphics art (for those who didn't understand, I mean art in the Shantae style).

The difficulty of the game is low – moderate, so if you're a hardcore platform hunter, forget it, the challenge proposal is more for children who want to play, maybe at most in the final parts they may have s umome difficulty, where the design of one of the phases near the end may confuse them.
If you have children, it is a good start to the game for them, with a recommended duration for this type of audience, a question of 7 stages, ranging from 2 to 4 hours, depending on the way you play.

Now what really bothered me:
Bugs happen in different cases while the game is running, being uncomfortable because they are graphic and gameplay bugs, where some functions are not recognized by the game.

Graphic bug

You can duplicate Jim on the screen, for some reason, one of these bugs caused me damage with an enemy hitting the clone.

Bug Gameplay

You may not recognize the assistance functions and their selections, as you can see on the side, I pressed L1 / R1 between the two sides to change and it was not recognized, varying between moments during gameplay.

If you close the game and come back you can check the bugs again or not, it will depend on how the source code of the game will interpret the functions for each execution ... which requires an urgent code review and patch correction.

And finally, with regard to the story, the idea of ​​the final sequence in the last phase was very good.

It is a game that is perhaps worth getting at a more affordable price than suggested, only if you have children and if you want to introduce them to a simple game, with moderate shallow difficulty.

…

Expand