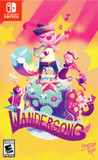 Summary:

A musical adventure where you use singing to save the world! Play as a silly bard who embarks on a globe-trotting journey to learn about the mysterious Earthsong, said to prevent the universe's imminent end. It's up to you to sing your songs, unlock the world's secrets and make new friends.
Wandersong is an unforgettable adventure and one of the most interesting indie game of this year. Bow down to the little bard.

Every new story act and every location had characters that I grew fond of, and interactions were wholesome and genuinely funny.

If you're after a unique experience, Wandersong completely has you covered. The singing mechanic works perfectly, and while it may feel a bit too easy at times, the combination of the visuals, writing, and various gameplay objectives across a generous seven-act structure make for an incredibly compelling platforming experience that you'd do well to check out.

Wandersong is definitely worth checking out on the basis of how different and unique it is. From the fun, new interaction method to the hand-crafted art style, this is something completely fresh.

Wandersong is a title we recommend. it is an adventure that hits straight to the heart. If you are looking for a breath of fresh air, consider this.

Wandersong's memorable adventure and heartwarming tale make for one fantastic musical journey.

If there's one thing that could have taken this from alright to great, the game could have treated its mechanic as an actual puzzle instead of a gimmick. More Zelda-style instrument playing than Moonwalker-inspired song and dance.
I think this game is incredible. The dialogue is funny and well written. The characters are unique and interesting, and the story is very

I think this game is incredible. The dialogue is funny and well written. The characters are unique and interesting, and the story is very cool, with many twists as you go along. The gameplay is really fun and had me engaged the entire time. The puzzles are all very fun to go through and solve. I think this game is definitely a must-play.

…

Expand

Do you like
-Undertale?
-The Vanishing of Ethan Carter? -What Remains of Edith Finch? Then you will LOVE Wandersong! To begin, thisDo you like
-Undertale?
-The Vanishing of Ethan Carter?
-What Remains of Edith Finch?
Then you will LOVE Wandersong!

To begin, this game is a instant masterpiece, it grabs you in straight away with it's charm! And it never hits a low note: "no pun intended". The art is simple, the music is relaxing, and the characters are wonderful, there is a side character for everyone to LOVE!

…

Expand

This. Game.

I have just recently finished Wandersong and I cannot get over how good of a game it is. The game takes place in 7 differentThis. Game.

I have just recently finished Wandersong and I cannot get over how good of a game it is.
The game takes place in 7 different acts, each in a different place with different characters. Every act is the perfect length, so you get a beautiful breath of fresh air every now and again. The characters are some of the best in any video game I've played, each filled to the brim with personality and backstory. It's just plain fun to run around and talk to people. The gameplay, art style and music is gorgeous. The singing mechanic is used in so many different ways, wether your luring birds or using it as a light, singing is marvelous. No spoilers, but I will tell you that the ending is incredibly satisfying. Deserves a sequel. 10/10

…

Expand

I enjoyed this quite a lot. It reminded me of night in the woods on account of its art style, charming characters and focus on music.
TheI enjoyed this quite a lot. It reminded me of night in the woods on account of its art style, charming characters and focus on music.
The scale of the story is quite epic, taking you on a journey across different kingdoms in your quest to save the world.
It's divided into seven acts and each act features a different location and some new mechanics which change how you traverse the environment.
The real attraction comes from the game's excellent use of music which creates some really atmospheric moments and the humorous characters you meet along the way. The game really isn't very challenging so i'd recommend it to anyone looking for a relaxing, colorful game with a protagonist who dances in the best ways imaginable.

…

Expand

A very charming and uplifting (sometimes even a little too much for my grumpy ass lol) Indie game with surprisingly big scope. The platforming

A very charming and uplifting (sometimes even a little too much for my grumpy ass lol) Indie game with surprisingly big scope. The platforming controls could be a little tighter, but since the game is pretty easy, it doesn't matter that much.

…

Expand

A surprisingly epic adventure with unique singing mechanics. Great story and characters, weaker platforming.

I have no idea why this game is getting good reviews. I'm usually one defending games that are mediocre because there's usually a redeeming

I have no idea why this game is getting good reviews. I'm usually one defending games that are mediocre because there's usually a redeeming quality or maybe people just didn't give them a chance. Well I heard awesome things about wandersong...I was going to just buy it in the switch for one of my long trips but just held off and boy am I glad..this game sucks and I hate to say that. I'm really glad Microsoft put it on game pass because they saved me some coin. All you do us go around with a radial bar around you that if you press it in a certain direction the bard sings a note. So the story basically is about saving the planet and only you can sing to maybe stop the catastrophe...I played the first 3 chapters and kept wondering if the game is going to get better..where's all this awesomeness and mind blowing experience I've been hearing about. I went from boring dialog to solving parts dance dance revolution style by pushing my analog stick to match what the enemies or puzzles wanted..snooze fest...maybe I'm just not deep like the neckbeards out there and only games like these make sense to them because did you ever talk to those lads with fedoras...they just go in just as dumb...so yeah..this game gets the masterful 1 out of 10..thanks game pass for saving he money...I just didn't get this game at all. What's so good about it

…

Expand