| The Last of Us Part II | F1 2020 | Catherine: Full Body |
| --- | --- | --- |
| | | |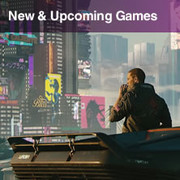 Find release dates, trailers, and scores for major upcoming and recent videogame releases for all platforms, updated weekly.
1.

The Last of Us Part II

Five years after their dangerous journey across the post-pandemic United States, Ellie and Joel have settled down in Jackson, Wyoming. Living amongst a thriving community of survivors has allowed them peace and stability, despite the constant threat of the infected and other, more desperate survivors. When a violent event disrupts that peace, Ellie embarks on a relentless journey to carry out justice and find closure. As she hunts those responsible one by one, she is confronted with the devastating physical and emotional repercussions of her actions.

2.

Xenoblade Chronicles: Definitive Edition

Join the fight between man and machine in the definitive edition of this critically-acclaimed RPG. Discover the origins of Shulk as he and his companions clash against a seemingly-unstoppable mechanical menace. Wield a future-seeing blade, chain together attacks, and carefully position your party members in strategic, real-time combat as you journey across a massive world. During an attack from the mechanical invaders known as the Mechon, Shulk discovers that he can tap into the full power of a mysterious blade known as the Monado. With the mighty Monado in hand, Shulk sets out to defeat the Mechon once and for all. In addition to the Mechon, you'll run into wildlife that ranges from docile to deadly. Keep an eye on what attracts monsters' attention to avoid unwanted conflict…or try your hand at bringing down an ultra-powerful Unique Monster. Upgrade your party as you progress through the adventure by selecting equipment, enhancing weapon skills, and using benefit-granting gems. Put your dependable companions to work by filling the party gauge to trigger a Chain Attack and attack enemies in quick succession.

3.

Final Fantasy VII Remake

Long ago, we looked upon a foreboding sky. The memory of the star that threatened all burns eternal in our hearts. In its wake came an age of silence. Yet with each fond remembrance, we knew those encountered were not forgotten, that some day we would see them again. Perhaps it was no more than wishful thinking. But after the long calm, there are the beginnings of a stir. The reunion at hand may bring joy, it may bring fear, but let us embrace whatever it brings. For they are coming back. At last the promise has been made.

4.

Super Mega Baseball 3

Run up the score in a relaxed slugfest or push the limits of your reflexes in this refined baseball simulator. Super Mega Baseball 3 features an all-new Franchise mode, major graphical enhancements, and on-field additions including pickoffs and situational player traits.

5.

Legends of Runeterra

Face off in dynamic, alternating combat full of opportunities to adapt and outplay. Make your move, but be ready to react, because your opponent has a plan of their own. It all comes down to this—can you outwit them and win?

6.

Huntdown

Challenge yourselves in this hard-boiled co-op arcade shooter! Run, jump, and take cover in the mayhem-filled streets of the future. Kill the henchmen, take their guns, and Huntdown the leaders! Collect the bounty, level by level, and make a healthy living by making living unhealthy.

7.

Persona 4 Golden

Inaba—a quiet town in rural Japan sets the scene for budding adolescence in Persona 4 Golden. A coming of age story that sets the protagonist and his friends on a journey kickstarted by a chain of serial murders. Explore meeting kindred spirits, feelings of belonging, and even confronting the darker sides of one's self. Persona 4 Golden promises meaningful bonds and experiences shared together with friends. With an overall Metacritic score of 93 and a multitude of awards, fan-adored Persona 4 Golden stands as one of the finest RPGs ever made, delivering on enthralling storytelling and quintessential Persona gameplay.

8.

Huntdown

Challenge yourselves in this hard-boiled co-op arcade shooter! Run, jump, and take cover in the mayhem-filled streets of the future. Kill the henchmen, take their guns, and Huntdown the leaders! Collect the bounty, level by level, and make a healthy living by making living unhealthy.

9.

Streets of Rage 4

Amongst the best beat'em up series ever created, jammin' '90s beats and over the top street beating, the iconic series Streets of Rage comes back with a masterful tribute to and revitalization of the classic action fans adore. The all-time classic Streets of Rage, known as Bare Knuckle (ベア・ナックル Bea Nakkuru) in Japan, is a beat 'em up series known for this timeless gameplay and electronic dance influenced music. Streets of Rage 4 builds upon the classic trilogy's gameplay with new mechanics, beautiful hand-drawn visuals and a God tier soundtrack. Team up with iconic and brand-new characters Streets of Rage 4 got its iconic characters back: Axel, Blaze, and Adam teaming up with new brother and sister in arms Floyd Iraia and Cherry Hunter. With some brand-new moves and kickass tracks to take a listen, our heroes are ready to dish out beatdowns to a fledgling group of ill-advised criminals in full force.

10.

F1 2020

For the first time, players can create their own F1® team by creating a driver, then choosing a sponsor, an engine supplier, hiring a teammate and competing as the 11th team on the grid. Build facilities, develop the team over time and drive to the top. Customise your 10-year career mode, with a choice of F2™ Championship introduction options and season lengths to allow for a more exciting, multiple season, career. The addition of split-screen racing, a new steering assist and a more accessible race experience means that you can enjoy the game with friends, no matter what your skill level. F1® 2020 features all the official teams, drivers and 22 circuits, including two new races: Hanoi Circuit and Circuit Zandvoort. Online connection required to download the final teams' 2020 cars (as applicable) and F2™ 2020 season content.