| Warcraft III: Reforged | Journey to the Savage Planet | Dragon Ball Z: Kakarot |
| --- | --- | --- |
| | | |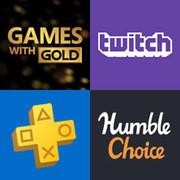 A frequently updated list of free games available from PS Plus, Xbox Games With Gold, Twitch (Free With Prime), Origin Access, Humble, Steam, and other services.
1.

Red Dead Redemption 2

America, 1899. The end of the wild west era has begun as lawmen hunt down the last remaining outlaw gangs. Those who will not surrender or succumb are killed. After a robbery goes badly wrong in the western town of Blackwater, Arthur Morgan and the Van der Linde gang are forced to flee. With federal agents and the best bounty hunters in the nation massing on their heels, the gang must rob, steal and fight their way across the rugged heartland of America in order to survive. As deepening internal divisions threaten to tear the gang apart, Arthur must make a choice between his own ideals and loyalty to the gang who raised him. From the creators of Grand Theft Auto V and Red Dead Redemption, Red Dead Redemption 2 is an epic tale of life in America at the dawn of the modern age.

2.

Unity of Command II

Unity of Command II is the sequel to one of the most critically acclaimed strategy games of all time; a game critics called 'the perfect gateway' into computer war games.

3.

Monster Hunter: World - Iceborne

Monster Hunter World: Iceborne is the highly anticipated massive expansion to Monster Hunter: World, the best-selling Capcom title of all time with more than 12 million units shipped worldwide adding to the series total of more than 53 million units to date. This gargantuan follow-up rivals the gameplay volume from the original release and features a new icy setting, storyline, monsters, gameplay options, and more. The game's all-new story picks up after Monster Hunter: World and whisks hunters away to the newly discovered chilly locale that, once fully explored, becomes the largest region in World so far. The new locale is home to several new and returning monsters ready to challenge hunters throughout their expeditions and raises the stakes with the added higher difficulty Master Rank. Iceborne continues the skill-based progression and robust crafting system found in World and expands that with several new gameplay features that broaden the player's combat repertoire. All this leads to the ultimate hunter test against the mysterious new flagship monster, Velkhana.

4.

Sid Meier's Civilization VI

Civilization VI offers new ways to interact with your world, expand your empire across the map, advance your culture, and compete against historys greatest leaders to build a civilization that will stand the test of time.

5.

Sid Meier's Civilization VI

Civilization VI offers new ways to interact with your world, expand your empire across the map, advance your culture, and compete against historys greatest leaders to build a civilization that will stand the test of time.

6.

Pillars of Eternity II: Deadfire

Pursue a rogue god over land and sea in the sequel to the multi-award-winning RPG Pillars of Eternity. Captain your ship on a dangerous voyage of discovery across the vast unexplored archipelago region of the Deadfire. Bend the world to your will, as you explore the depths of infinite possibilities, including detailed character customization, total freedom of exploration, and more meaningful choices at every turn. Features: * Immerse yourself in a deeper single player RPG game experience -- enriched with cutting edge technology and features, Deadfire builds on the foundation of classic D&D gameplay with vastly improved graphics, deeper game mechanics and a whole new hand-crafted adventure where choices truly matter. * Discover the new region of the Deadfire -- plot your own course by ship and explore the rich and exotic islands of the archipelago region, discovering new places interacting with their inhabitants and engaging in a variety of quests at every port. * Build your party and customize your companions -- choose from 7 different companions to join you on your quest and assign multiple classes and deeper abilities for each. Witness their personal relationships and interactions unfold with the addition of the new companion system. * Captain your ship across the seas -- as your stronghold on the seas, your ship is much more than simply a vessel for exploring. Upgrade your ship and crew and choose what skills you improve in order to survive dangerous encounters along the way.

7.

Luigi's Mansion 3

Luigi embarks on a dream vacation with Mario and friends upon receiving an invitation to a luxurious hotel. However, his dream quickly becomes a nightmare when King Boo reveals everything had been a ploy to capture Mario and friends. With the assistance of Professor E. Gadd once again, the reluctant and cowardly hero Luigi traverses up and down treacherous floors of the now-ominous hotel on a quest to save them. Wield the upgraded Poltergust G-00 to slam and blow away the ghosts' defenses, or summon Gooigi, an all-green doppelganger that can help Luigi overcome obstacles he can't get past alone. Interchange between Luigi and Gooigi as one player, or grab a friend and control one each. For more frenetic multiplayer action, race the timer to clear various objectives on a series of floors in ScareScraper mode. ScareScraper mode can be played online* or locally with up to eight players on four Nintendo Switch systems (additional games required; sold separately).

8.

Life is Strange 2: Episode 5 - Wolves

After a tragic incident, brothers Sean and Daniel Diaz run away from home. Fearing the police, and dealing with Daniel's new telekinetic power, the boys head to Mexico. Each stop on their journey brings new friends and new challenges.

9.

Dragon Quest Builders 2

DRAGON QUEST BUILDERS 2 is a block-building RPG set in a fantasy land threatened by an evil cult. Explore, battle, build and harvest in the charming single-player campaign or build big projects in the online sandbox mode for up to 4-players.

10.

Alien: Isolation

HOW WILL YOU SURVIVE? Discover the true meaning of fear in Alien: Isolation, a survival horror set in an atmosphere of constant dread and mortal danger. Fifteen years after the events of Alien, Ellen Ripleys daughter, Amanda enters a desperate battle for survival, on a mission to unravel the truth behind her mother's disappearance. As Amanda, you will navigate through an increasingly volatile world as you find yourself confronted on all sides by a panicked, desperate population and an unpredictable, ruthless Alien. Underpowered and underprepared, you must scavenge resources, improvise solutions and use your wits, not just to succeed in your mission, but to simply stay alive. Overcome an ever-present deadly threat Experience persistent fear as a truly dynamic and reactive Alien uses its senses to hunt you down and respond to your every move. Improvise to survive Hack systems, scavenge for vital resources and craft items to deal with each situation. Will you evade your enemies, distract them or face them head on? Explore a world of mystery and betrayal Immerse yourself in the detailed setting of Sevastopol, a decommissioned trading station on the fringes of space. Encounter a rich cast of inhabitants in a world scarred by fear and mistrust. When she left Earth, Ellen Ripley promised her daughter Amanda she would return home for her 11th birthday. Amanda never saw her again. Fifteen years later, Amanda, now a Weyland-Yutani employee, hears that the flight recorder of her mothers ship, the Nostromo, has been recovered at the remote trading station Sevastopol. The temptation for her to finally understand what happened is too much to resist. When the crew arrive at Sevastopol, they find something is desperately wrong. It all seems to be connected to an unknown menace, stalking and killing deep in the shadows. In order to uncover the truth about her mother, Amanda is forced to confront the same terrifying thing that separated them.