| Watch Dogs: Legion | Ghostrunner | Mad Rat Dead |
| --- | --- | --- |
| | | |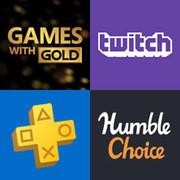 A frequently updated list of free games available from Epic Games Store, PS Plus, PS Now, Xbox Game Pass, Xbox Games With Gold, Twitch/Prime, Humble, EA/Origin Access, IndieGala, Steam, and other services.
1.

Factorio

Factorio is a game about building and creating automated factories to produce items of increasing complexity, within an infinite 2D world. Use your imagination to design your factory, combine simple elements into ingenious structures, and finally protect it from the creatures who don't really like you.

2.

Hades

Defy the god of the dead as you hack and slash out of the Underworld in this rogue-like dungeon crawler from the creators of Bastion, Transistor, and Pyre. Hades is a god-like rogue-like dungeon crawler that combines the best aspects of Supergiant's critically acclaimed titles, including the fast-paced action of Bastion, the rich atmosphere and depth of Transistor, and the character-driven storytelling of Pyre. BATTLE OUT OF HELL As the immortal Prince of the Underworld, you'll wield the powers and mythic weapons of Olympus to break free from the clutches of the god of the dead himself, while growing stronger and unraveling more of the story with each unique escape attempt. UNLEASH THE FURY OF OLYMPUS The Olympians have your back! Meet Zeus, Athena, Poseidon, and many more, and choose from their dozens of powerful Boons that enhance your abilities. There are thousands of viable character builds to discover as you go. BEFRIEND GODS, GHOSTS, AND MONSTERS A fully-voiced cast of colorful, larger-than-life characters is waiting to meet you! Grow your relationships with them, and experience thousands of unique story events as you learn about what's really at stake for this big, dysfunctional family. BUILT FOR REPLAYABILITY New surprises await each time you delve into the ever-shifting Underworld, whose guardian bosses will remember you. Use the powerful Mirror of Night to grow permanently stronger, and give yourself a leg up the next time you run away from home. NOTHING IS IMPOSSIBLE Permanent upgrades mean you don't have to be a god yourself to experience the exciting combat and gripping story. Though, if you happen to be one, crank up the challenge and get ready for some white-knuckle action that will put your well-practiced skills to the test. SIGNATURE SUPERGIANT STYLE The rich, atmospheric presentation and unique melding of gameplay and narrative that's been core to Supergiant's games is here in full force: spectacular hand-painted environments and a blood-pumping original score bring the Underworld to life.

3.

Ori and the Will of the Wisps

From the creators of Ori and the Blind Forest comes the highly-anticipated sequel, Ori and the Will of the Wisps. Embark on an all-new adventure in a vast and exotic world where you'll encounter towering enemies and challenging puzzles on your quest to discover Ori's true destiny. Immerse yourself in a hand-crafted narrative experience with deeply emotional storytelling, strikingly beautiful environments, and a stunning soundtrack. Master new skills to guide Ori through a journey of untold danger using newly acquired spirit weapons, spells, and attacks. Utilize an all-new shard system to power-up Ori's newfound abilities. Face larger-than-life bosses and seek help from an expansive cast of new characters who will help you uncover Ori's mysterious fate. Race to the top of the leaderboards in the all-new Spirit Trials mode where players dash, burrow, grapple, and leap to high scores in unique speed-run challenges throughout the game.

4.

Hades

Defy the god of death as you hack and slash your way out of the Underworld in this rogue-like dungeon crawler from the creators of Bastion and Transistor.

5.

Microsoft Flight Simulator

From light planes to wide-body jets, fly highly detailed and accurate aircraft in the next generation of Microsoft Flight Simulator. Test your piloting skills against the challenges of night flying, real-time atmospheric simulation and live weather in a dynamic and living world.

6.

Spelunky 2

Spelunky 2 builds upon the unique, randomized challenges that made the original a roguelike classic, offering a huge adventure designed to satisfy players old and new. Meet the next generation of explorers as they find themselves on the Moon, searching for treasure and missing family.

7.

Crusader Kings III

Paradox Development Studio brings you the sequel to one of the most popular strategy games ever made. Crusader Kings III is the heir to a long legacy of historical grand strategy experiences and arrives with a host of new ways to ensure the success of your royal house.

8.

There is no game : Wrong dimension

There is no game. So don't go messing things up by clicking everywhere. You don't want to be kicked out of your video game world, do you? Of course not!

9.

Inertial Drift

Forget everything you know about drifting. Inertial Drift tears up the racing rule book with innovative twin-stick controls, completely re-imagined driving mechanics and a roster of fiercely individual cars.

10.

Tony Hawk's Pro Skater 1 + 2

Drop back in with the most iconic skateboarding games ever made. Play Tony Hawk's Pro Skater & Tony Hawk's Pro Skater 2 in one epic collection, rebuilt from the ground up in incredible HD. All the pro skaters, levels and tricks are back and fully-remastered, plus more.