| Chernobylite | Microsoft Flight Simulator | The Ascent |
| --- | --- | --- |
| | | |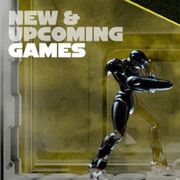 Find release dates, trailers, and scores for major upcoming and recent videogame releases for all platforms, updated weekly.
1.

Microsoft Flight Simulator

From light planes to wide-body jets, fly highly detailed and accurate aircraft in the next generation of Microsoft Flight Simulator. Test your piloting skills against the challenges of night flying, real-time atmospheric simulation and live weather in a dynamic and living world.

2.

Chicory: A Colorful Tale

Something terrible happened. Chicory, superstar artist and wielder of the Brush, is missing, and all the color in the land vanished with her. It's up to you, Chicory's number one fan, to pick up the Brush and fill in for her. It's a big job but you're ready for it! Probably! Chicory: A Colorful Tale is a top-down adventure game in a coloring book world where you can draw on anything. Use your painting powers to explore new places, solve puzzles, help your friends, and change the world!

3.

Mass Effect Legendary Edition

For many months now, our team at BioWare has been hard at work updating the textures, shaders, models, effects and technical features of three enormous games. Our goal was not to remake or reimagine the original games, but to modernize the experience so that fans and new players can experience the original work in its best possible form. It's been amazing to see the adventures of Commander Shepard take on new life in super-sharp resolution, faster framerates, and beautiful visual enhancements. Mass Effect Legendary Edition will include single-player base content and DLC from Mass Effect, Mass Effect 2, and Mass Effect 3, plus promo weapons, armors, and packs - all remastered and optimized for 4k Ultra HD. It will be available in Spring 2021 for Xbox One, PlayStation 4, and PC, with forward compatibility and targeted enhancements on Xbox Series X and PlayStation 5.

4.

Manifold Garden

Rediscover gravity and explore a beautiful Escher-esque world of impossible architecture. Geometry repeats infinitely in every direction, and falling down leads you back to where you started. Manipulate gravity to change your perspective and see the world in new ways. Master the rules of the universe and restore a barren world with vegetation and life.

5.

Final Fantasy VII Remake Intergrade

FINAL FANTASY VII REMAKE expands upon and reimagines the spectacular world of the original PlayStation game. It covers up through the escape from Midgar and is the first game in the FINAL FANTASY VII REMAKE project. INTERGRADE is a bundle that includes both REMAKE and the new episode featuring Yuffie. In her episode, play as the spirited ninja after she arrives in Midgar. There, she and another Wutaian operative are to rendezvous with Avalanche HQ, infiltrate the Shinra Building, and steal the conglomerate's most powerful materia. FINAL FANTASY VII REMAKE INTERGRADE takes advantage of the latest generation hardware and includes a wealth of graphical, gameplay and system enhancements for the PS5: Immerse yourself in the city of Midgar like never before, with improved textures, lighting, and background environments. Players can switch between two game modes: "Graphics Mode" prioritizes 4K high-resolution graphics "Performance Mode" prioritizes smooth action at 60 frames per second Capture and share your memorable moments from the game with a fully customizable "Photo Mode" Enjoy immersive battles by using the DualSense wireless controller, with its haptic feedback integration, and enjoy dynamic bike racing with its adaptive triggers. New difficulty settings for 'Classic Mode' provide new ways to play Jump into the action faster with optimized loading times

6.

ENDER LILIES: Quietus of the Knights

Long ago, in the distant reaches of Land's End, an unforeseen rainfall transformed all living things into frenzied undead monstrosities known as the Blighted. Faced with a calamity far beyond their understanding, the kingdom fell into ruin with no end to the accursed rain in sight. Meanwhile in the remnants of this devastated land, a young woman named Lily awakens in the depths of a church Unravel the mystery of the kingdom destroyed by the Rain of Death. Journey through the sprawling and hauntingly beautiful Land's End, traversing a submerged forest, a sealed-off contaminated underground cavern, and a grand castle. Formidable bosses await that will gladly claim your life given even the slightest chance. Defeat these powerful foes and release them from their unending curse to recruit them as allies. Overcome the challenges before you and search for the truth with powerful knights at your side.

7.

Doki Doki Literature Club Plus!

Welcome to the club! Write poems for your crush and experience the terror of school romance in this critically-acclaimed psychological horror story. Enter the #1 Psychological Horror Experience! Welcome to a terrifying world of poetry and romance! Write poems for your crush and erase any mistakes along the way to ensure your perfect ending. Now's your chance to discover why DDLC is one of the most beloved psychological horror games of the decade! You play as the main character, who reluctantly joins the Literature Club in search of a romantic interest. With every poem you write and every choice you make, you'll charm your crush and begin to unfold the horrors of school romance. Do you have what it takes to crack the code of dating sims and get the perfect ending? Now, the original mind-shattering DDLC experience is packed with tons of new features and content exclusive to Doki Doki Literature Club Plus!

8.

Wildermyth

We call Wildermyth a myth-making tactical RPG. It empowers you to craft iconic characters who grow through deep, rewarding battles and interactive storytelling.

9.

Streets of Rage 4: Mr. X Nightmare

After the events of Streets of Rage 4, our heroes wanted to prepare themselves for future threats. They will start a very special deranged training with the help of Dr. Zan, who built an AI program from the remnants of Mister X's brain that simulates every kind of danger they could be facing.

10.

Streets of Rage 4: Mr. X Nightmare

The fight continues in Wood Oak City. After the events of Streets of Rage 4, our heroes wanted to prepare themselves for future threats. Axel, Blaze and their mates will start a very special deranged training with the help of Dr. Zan, who built an AI program from the remnants of Mister X's brain that simulates every kind of danger they could be facing. With this new DLC, get ready for: • 3 new playable characters • A new Survival mode with weekly challenges • Character customization: build your own fighting style with new moves • New weapons and enemies!