| Halo Infinite | Chorus | Solar Ash |
| --- | --- | --- |
| | | |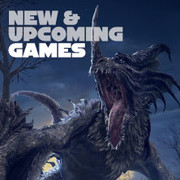 Find release dates, trailers, and scores for major upcoming and recent videogame releases for all platforms, updated weekly.
1.

Tetris Effect: Connected

Tetris Effect: Connected is the original Tetris Effect with all-new co-op and competitive online and local multiplayer modes. This is Tetris like you've never seen it, or heard it, or felt it beforean incredibly addictive, unique and breathtakingly gorgeous reinvention of one of the most popular puzzle games of all time.

2.

Forza Horizon 5

Your Ultimate Horizon Adventure awaits! Explore the vibrant and ever-evolving open world landscapes of Mexico with limitless, fun driving action in hundreds of the world's greatest cars.

3.

Disco Elysium: The Final Cut

Disco Elysium - The Final Cut is the definitive edition of the smash-hit RPG. Pursue your political dreams in new quests, meet and question more of the city's locals, and explore a whole extra area. Full voice-acting, controller support, and expanded language options also included. Get even more out of this award-winning open world. You're a detective with a unique skill system at your disposal and a whole city block to carve your path across. Interrogate unforgettable characters, crack murders, or take bribes. Become a hero or an absolute disaster of a human being.

4.

Forza Horizon 5

Your Ultimate Horizon Adventure awaits! Explore the vibrant and ever-evolving open world landscapes of Mexico with limitless, fun driving action in hundreds of the world's greatest cars.

5.

SNK vs. Capcom: Match of the Millennium

It's history in the making when 2 premiere arcade game giants settle the score. The greatest fighters of all time will be crowned when 18 of SNK's and Capcom's most popular characters collide. It's the best of both worlds: fighters, techniques and formats.

6.

DUSK

DUSK -A retro FPS that looks and feels like the 90s. Inspired by Quake, Heretic, Hexen, Half-Life and Redneck Rampage.

7.

Death's Door

Reaping souls of the dead and punching a clock might get monotonous but it's honest work for a Crow. The job gets lively when your assigned soul is stolen and you must track down a desperate thief to a realm untouched by death - where creatures grow far past their expiry and overflow with greed and power. Talon Sharp Combat: Utilize melee weapons, arrows and magic to overcome a fantastic array of beasts and demigods. Mistakes are punished and victory is rewarded. Gain an edge by customizing your character stats and mastering the abilities and upgrades you obtain. A Beautifully Bleak World: Venture beyond the Doors and explore a land full of twisted inhabitants and countless secrets, bringing hope to the weird and wonderful characters you'll meet along the way. A Dark Mystery to Unravel: Track down and defeat colossal tyrants with stories and motivations of their own. Experience a somber yet darkly comedic tale, uncovering the truths behind the flow of souls, the role of the Crows and the origin of the Doors.

8.

Cupid Parasite

A story about a cupid who ran away from her family after a fight to become the most successful bridal adviser in the human world. One day the heroine's boss calls her up for a job to find 5 hopeless guys (aka parasites) in desperate need of fixing their love life (and prolly their personalities in some cases).

9.

Deathloop

If at first you don't succeed Die, Die Again. From the team at Arkane Lyon comes an innovative take on first-person action. "DEATHLOOP" transports players to the lawless island of Blackreef in an eternal struggle between two extraordinary assassins. Explore stunning environments and meticulously designed levels in an immersive gameplay experience that lets you approach every situation any way you like. Hunt down targets all over the island in an effort to put an end to the cycle once and for all, and remember, if at first you don't succeed die, die again.

10.

Unsighted

The few androids that remain are running out of Anima, the energy that gives all robots consciousness. It's up to you, Alma, to save your friends from becoming Unsighted. Explore the vast ruins of Arcadia, using every tool you can find. Time is ticking. They need you.