| Cyberpunk 2077 | Haven | Immortals: Fenyx Rising |
| --- | --- | --- |
| | | |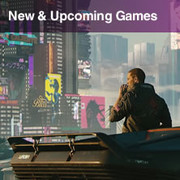 Find release dates, trailers, and scores for major upcoming and recent videogame releases for all platforms, updated weekly.
1.

Hades

Defy the god of the dead as you hack and slash out of the Underworld in this rogue-like dungeon crawler from the creators of Bastion, Transistor, and Pyre. Hades is a god-like rogue-like dungeon crawler that combines the best aspects of Supergiant's critically acclaimed titles, including the fast-paced action of Bastion, the rich atmosphere and depth of Transistor, and the character-driven storytelling of Pyre. BATTLE OUT OF HELL As the immortal Prince of the Underworld, you'll wield the powers and mythic weapons of Olympus to break free from the clutches of the god of the dead himself, while growing stronger and unraveling more of the story with each unique escape attempt. UNLEASH THE FURY OF OLYMPUS The Olympians have your back! Meet Zeus, Athena, Poseidon, and many more, and choose from their dozens of powerful Boons that enhance your abilities. There are thousands of viable character builds to discover as you go. BEFRIEND GODS, GHOSTS, AND MONSTERS A fully-voiced cast of colorful, larger-than-life characters is waiting to meet you! Grow your relationships with them, and experience thousands of unique story events as you learn about what's really at stake for this big, dysfunctional family. BUILT FOR REPLAYABILITY New surprises await each time you delve into the ever-shifting Underworld, whose guardian bosses will remember you. Use the powerful Mirror of Night to grow permanently stronger, and give yourself a leg up the next time you run away from home. NOTHING IS IMPOSSIBLE Permanent upgrades mean you don't have to be a god yourself to experience the exciting combat and gripping story. Though, if you happen to be one, crank up the challenge and get ready for some white-knuckle action that will put your well-practiced skills to the test. SIGNATURE SUPERGIANT STYLE The rich, atmospheric presentation and unique melding of gameplay and narrative that's been core to Supergiant's games is here in full force: spectacular hand-painted environments and a blood-pumping original score bring the Underworld to life.

2.

Ori and the Will of the Wisps

From the creators of Ori and the Blind Forest comes the highly-anticipated sequel, Ori and the Will of the Wisps. Embark on an all-new adventure in a vast and exotic world where you'll encounter towering enemies and challenging puzzles on your quest to discover Ori's true destiny. Immerse yourself in a hand-crafted narrative experience with deeply emotional storytelling, strikingly beautiful environments, and a stunning soundtrack. Master new skills to guide Ori through a journey of untold danger using newly acquired spirit weapons, spells, and attacks. Utilize an all-new shard system to power-up Ori's newfound abilities. Face larger-than-life bosses and seek help from an expansive cast of new characters who will help you uncover Ori's mysterious fate. Race to the top of the leaderboards in the all-new Spirit Trials mode where players dash, burrow, grapple, and leap to high scores in unique speed-run challenges throughout the game.

3.

Hades

Defy the god of death as you hack and slash your way out of the Underworld in this rogue-like dungeon crawler from the creators of Bastion and Transistor.

4.

Ori and the Will of the Wisps

The little spirit Ori is no stranger to peril, but when a fateful flight puts the owlet Ku in harm's way, it will take more than bravery to bring a family back together, heal a broken land, and discover Ori's true destiny. From the creators of the acclaimed action-platformer Ori and the Blind Forest comes the highly anticipated sequel. Embark on an all-new adventure in a vast world filled with new friends and foes that come to life in stunning, hand-painted artwork. Set to a fully orchestrated original score, Ori and the Will of the Wisps continues the Moon Studios tradition of tightly crafted platforming action and deeply emotional storytelling.

5.

Demon's Souls

From PlayStation Studios and Bluepoint Games comes a remake of the PlayStation classic, Demon's Souls. Entirely rebuilt from the ground up and masterfully enhanced, this remake introduces the horrors of a fog-laden, dark fantasy land to a whole new generation of gamers. Those who've faced its trials and tribulations before, can once again challenge the darkness in stunning visual quality and incredible performance. In his quest for power, the 12th King of Boletaria, King Allant channelled the ancient Soul Arts, awakening a demon from the dawn of time itself, The Old One. With the summoning of The Old One, a colorless fog swept across the land, unleashing nightmarish creatures that hungered for human souls. Those whose souls were stripped from them, lost their minds – left only with the desire to attack the sane that remained. Now, Boletaria is cut off from the outside world, and the knights who dare penetrate the deep fog to free the land from its plight, are never seen again. As a lone warrior who has braved the baneful fog, you must face the hardest of challenges to earn the title "Slayer of Demons" and send The Old One back to its slumber.

6.

Halo: The Master Chief Collection - Halo 3: ODST

Experience the events leading up to Halo 3 through the eyes of Orbital Drop Shock Troopers (ODST) as they search for clues leading to the whereabouts of their scattered squad and the motivations behind the Covenant's invasion of New Mombasa.

7.

Borderlands 3

The original shooter-looter returns, packing bazillions of guns and a mayhem-fueled adventure! Blast through new worlds and enemies as one of four new Vault Hunters. Play solo or with friends to take on insane enemies, score loads of loot and save your home from the most ruthless cult leaders in the galaxy. A MAYHEM-FUELED THRILL RIDE Stop the fanatical Calypso Twins from uniting the bandit clans and claiming the galaxy's ultimate power. YOUR VAULT HUNTER, YOUR PLAYSTYLE Become one of 4 new Vault Hunters, each with deep skill trees, abilities and customization. LOCK, LOAD, AND LOOT With bazillions of guns and gadgets, every fight is an opportunity to score new gear. NEW BORDERLANDS Discover new worlds beyond Pandora, each with unique environments and enemies. QUICK & SEAMLESS CO-OP ACTION Play with anyone at any time online or in split-screen co-op, regardless of your level or mission progress.

8.

Spelunky 2

Spelunky 2 builds upon the unique, randomized challenges that made the original a roguelike classic, offering a huge adventure designed to satisfy players old and new. Meet the next generation of explorers as they find themselves on the Moon, searching for treasure and missing family.

9.

Mortal Kombat 11 Ultimate

Experience 2 robust and critically acclaimed story campaigns from Mk11 & Mk11: aftermath. Play as the complete 37-character roster including newly added fighters mileena, RaiN & rambo. Thousands of Skins & weapons & Gear for an unprecedented level of Fighter customization. Includes all previous guest fighters such as Terminator Joker spawn & robocop. Every mode included.

10.

Yakuza: Like a Dragon

RISE LIKE A DRAGON. Become Ichiban Kasuga, a low-ranking yakuza grunt left on the brink of death by the man he trusted most. Take up your legendary bat and get ready to crack some underworld skulls in dynamic RPG combat set against the backdrop of modern-day Japan.