| Death Stranding | Star Wars Jedi: Fallen Order | Sekiro: Shadows Die Twice |
| --- | --- | --- |
| | | |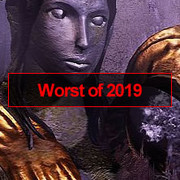 These were the worst-reviewed games released in 2019 for any platform, ranked by Metascore.
1.

Red Dead Redemption 2

America, 1899. The end of the wild west era has begun as lawmen hunt down the last remaining outlaw gangs. Those who will not surrender or succumb are killed. After a robbery goes badly wrong in the western town of Blackwater, Arthur Morgan and the Van der Linde gang are forced to flee. With federal agents and the best bounty hunters in the nation massing on their heels, the gang must rob, steal and fight their way across the rugged heartland of America in order to survive. As deepening internal divisions threaten to tear the gang apart, Arthur must make a choice between his own ideals and loyalty to the gang who raised him. From the creators of Grand Theft Auto V and Red Dead Redemption, Red Dead Redemption 2 is an epic tale of life in America at the dawn of the modern age.

2.

Dragon Quest XI S: Echoes of an Elusive Age - Definitive Edition

Dragon Quest XI: Echoes of an Elusive Age tells a captivating tale of a hunted hero and is the long-awaited role-playing game from series creator Yuji Horii, character designer Akira Toriyama and composer Koichi Sugiyama. While it is the eleventh mainline entry in the critically acclaimed series, Dragon Quest XI is a completely standalone experience that features entirely new characters, a beautifully detailed world, finely tuned turn-based combat, and an immersive story that will appeal to long-time fans and franchise newcomers alike. A young man, about to participate in his village's coming of age ceremony, travels to a Sacred Stone alongside his childhood friend. After a series of unexpected events, this intrepid adventurer learns he is the reincarnation of a legendary hero from a forgotten age. The young hero sets forth into an unknown world on a journey to unravel the mystery of his past... but the welcome he receives is far from warm. Upon revealing his identity to the King, the hero is branded as "The Dark spawn" and hunted by a relentless army. Fleeing from his pursuers, the hero assembles a band of endearing adventurers who believe he is actually The Luminary reborn. The hero and his newfound companions embark on a quest that will take them across continents and over vast oceans as they learn of an ominous threat facing the world.

3.

Disco Elysium

Disco Elysium is an open world role playing game. You're a detective with a unique skill system at your disposal and a whole city block to carve your path across. Interrogate unforgettable characters, crack murders or take bribes. Become a hero or an absolute disaster of a human being.

4.

Ori and the Blind Forest: Definitive Edition

Ori and the Blind Forest: Definitive Edition delivers a multitude of new areas, difficulty options, and gameplay upgrades that should appeal to both new and seasoned Ori players.

5.

Unity of Command II

Unity of Command II is the sequel to one of the most critically acclaimed strategy games of all time; a game critics called 'the perfect gateway' into computer war games.

6.

Asgard's Wrath

Unleash the wrath of the Gods in a mythical Norse adventure that can only unfold in VR. Forge your destiny as both a mortal hero and living god in an action role playing game of unworldly depth.

7.

Frostpunk: Console Edition

In a completely frozen world, people develop steam-powered technology to oppose the overwhelming cold. Society in its current form becomes ineffective and it has to change in order to survive.

8.

The Legend of Zelda: Link's Awakening

[*Reviews will go up on September 19 at 5am Pacific] 26 years after its original release on Game Boy, The Legend of Zelda: Link's Awakening will be reborn as a new experience on Nintendo Switch. Buffeted by a storm, Link washes ashore on the mysterious Koholint Island. In order to return home, Link must overcome challenging dungeons and battle against fearsome monsters. This new version of the classic adventure includes many unique elements that appeared in the original Game Boy release, such as 2D platformer-style rooms and appearances from characters outside of The Legend of Zelda series.

9.

Sid Meier's Civilization VI

Civilization VI offers new ways to interact with your world, expand your empire across the map, advance your culture, and compete against historys greatest leaders to build a civilization that will stand the test of time.

10.

Valfaris

Set in a far corner of space, Valfaris is a heavy metal infused 2D action-platformer and the next game from the team behind Unity Awards finalist, Slain: Back From Hell. Brutal combat. Deadly enemies. Stunning pixel art. Savage soundtrack. Get ready to rip the galaxy a new wormhole.