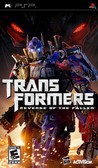 Summary:

The fate of the earth and the survival of the human race hang in the balance in Transformers: Revenge of the Fallen for the PSP. Playing as both the AUTOBOTS and DECEPTICONS, players are propelled into an adrenaline-pumping battle for supremacy across the globe where every second and every

The fate of the earth and the survival of the human race hang in the balance in Transformers: Revenge of the Fallen for the PSP. Playing as both the AUTOBOTS and DECEPTICONS, players are propelled into an adrenaline-pumping battle for supremacy across the globe where every second and every choice makes the difference between mankind's salvation and annihilation. Players are propelled straight into a third-person arcade action game that combines rail levels, visceral melee strikes and projectile combat through a storyline inspired by the epic film. Hone Your Skills and Join Friends to Battle in Arena Mode - Players can come back again and again to test their battle skills as they pick their favorite characters and fight alongside their friends arcade-style against increasing waves of enemies. Battle for the High Score - Players can replay missions again and again in their quest to set a personal high score and top their friends' high scores. Great Cast of Playable TRANSFORMERS - Players battle to save the earth with their choice of characters from a robust cast of 10 playable TRANSFORMERS. [Activision]

…

Expand
Developer:

Savage Entertainment

Genre(s):

Action

,

Adventure

,

Shooter

,

Beat-'Em-Up

,

Sci-Fi

,

Sci-Fi

,

Third-Person

,

3D

,

Arcade

Cheats:

On GameFAQs

Rating:

E10+
A considerably flawed game from start to finish, the PSP version of Transformers: Revenge of the Fallen just disappoints in every possible way.

This dull and unpleasant action game is in desperate need of a tune-up.

One of the worst PSP games. Repetitious and ugly-to-see, you should avoid this version of Transformers.

The PSP has been floundering as a system for years now and its uninspired games like these that will contribute to its ultimate demise. Transformers: Revenge of the Fallen is a great movie and a fun game on the consoles but avoid this PSP abomination at all costs.

Not a good game on the PSP in any way shape or form. In fact, it's one of the most boring and poorly produced titles I've yet played for the system. Steer clear at all costs.
Actually enjoying the game. Not as bad as everyone's prejudging it out to be.

It's really unprofessional, with lots of visual bugs (hence the horrible reviews), but it's actually kind of fun to play. It's

It's really unprofessional, with lots of visual bugs (hence the horrible reviews), but it's actually kind of fun to play. It's repetitive though, so only play it in short bursts or you'll get bored.

…

Expand

Boring gameplay, boring graphics and, for me, maybe the worst PSP game ever made. Once you play it for over 2 minutes: exit the game and never

Boring gameplay, boring graphics and, for me, maybe the worst PSP game ever made. Once you play it for over 2 minutes: exit the game and never play it ever again.

…

Expand