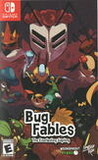 Summary:

Bug Fables is an adventure RPG following three heroes, Vi, Kabbu, and Leif, as they embark on an epic quest in Bugaria in search of treasure and immortality! The game combines colorful platforming with the heroes' unique abilities as they explore a wide variety of areas in the kingdom.

Bug Fables is an adventure RPG following three heroes, Vi, Kabbu, and Leif, as they embark on an epic quest in Bugaria in search of treasure and immortality! The game combines colorful platforming with the heroes' unique abilities as they explore a wide variety of areas in the kingdom. Battles are turn-based and make use of action commands that can enhance attacks.

…

Expand
Developer:

Moonsprout Games

Genre(s):

Action Adventure

,

General

,

Role-Playing

,

Action RPG

# of players:

No Online Multiplayer

Cheats:

On GameFAQs

Rating:

E
So maybe Nintendo will never make a truly great Paper Mario ever again. Lucky for us, Moonsprout Games may have cracked the chemistry of what many fans actually want from the series in Bug Fables. If you're still mad about Sticker Star, or you're still reeling about Color Splash, do yourself a favor and nab this masterpiece as soon as possible, and see what all the buzz is about. Rest assured, that even if Origami King turns out to be a dud, 2020 will see at least one great game with Paper Mario mechanics…even if it doesn't bear its name.

Bug Fables: The Everlasting Sapling is the Paper Mario we've been waiting for for over fifteen years. It's aesthetically pleasing to look at, the main characters have an amusing dynamic, and it has a fun turn-based battle system with real time elements and strategy. I urge not only Paper Mario fans to give it the chance it deserves, but anyone that has ever picked up an RPG.

At the end of the day, Bug Fables is wearing its inspirations proudly on it's sleeve, and still adding on its own experiences that are both meaningful and fun for players. I had a blast with this game, and I highly recommend it to all kinds of players, whether they be looking to dive into a fun story with lovable characters, trying a more tangible, interactive combat-focused game, or just attempting a challenge. Bug Fables does not pull its punches, especially in it's hard mode, but it gives such bountiful rewards, that I am simply left having to return the favor.

Bug Fables is much more than a loving tribute to the first two episodes of the Paper Mario franchise: it is a beautifully crafted rpg adventure that any Switch owner should not miss.

Everyone that is excited over the prospect of the upcoming Paper Mario: The Origami King needs to pick this up. While Sticker Star and Colour Splash took the series in quite unwelcomed directions, this fully embraces the original. The combat system keeps things constantly engaging, the world is inviting, and the trio of main characters utterly charming. This is a world that deserves to be further explored and returned to, and it will hopefully see future instalments. The Origami King has some genuine competition here.

A bit of a triumph, Bug Fables is a superbly polished independent tribute to the first two Paper Mario games – but that's not to say it doesn't have its own, strong identity. The sheer familiarity is a little bit wearying at times – seriously, it's like it's been traced over in places – but Paper Mario with the serial numbers filed off is still a very good time. There's plenty to see and do, a rather compulsive card game to play and hidden secrets all over the place. Add all this silky-smooth performance, a splendid soundtrack and turn-based combat that's never less than engaging and you've got a surefire winner here. Maybe now people will quit "bugging" Nintendo for a throwback Paper Mario. Pun intended. (Sorry.)

Bug Fables: The Everlasting Sapling was made as a tribute to the Paper Mario series and in an attempt to recapture the spirit of the first game of the series. While Bug Fables does not succeed in this purpose, it does deliver a good game, with an addictive combat, well structured plot (and a lot of dialogues), as well as game world that's a marvel to look at. So while the more spiritual goal to pay tribute to Nintendo's series went off the mark, the secondary objectives to make a good game are undoubtedly successful.
Ok so one of my favourite game is Paper Mario TTYD and you know what Bug Fables is even better. Get this and You wont be disapointed I dont

Ok so one of my favourite game is Paper Mario TTYD and you know what Bug Fables is even better. Get this and You wont be disapointed I dont even know why are you checking reviews for serious. Get this game already

…

Expand

Wow! Great game! Got it on sale for 17$ and it's worth the price of a full game! Beautiful art style! This game did what Mario origami king

Wow! Great game! Got it on sale for 17$ and it's worth the price of a full game! Beautiful art style! This game did what Mario origami king couldn't ! Awesome combat! Get the game thank me later!

…

Expand

this game is fantastic! whether you're a fan of the old school paper Mario games and looking for a spiritual successor, or a casual player

this game is fantastic! whether you're a fan of the old school paper Mario games and looking for a spiritual successor, or a casual player looking for a fun experience for a low price, this game is a great choice. it has a well written cast of lovable characters with interesting backstories and amazing chemistry. the combat is incredible, the story and atmosphere are unforgettable, the soundtrack and artstyle are delightful, and there is an incredible amount of content for the price. it blew me away the first time I played it. instant classic.

…

Expand

I've never played an RPG Paper Mario game, and yet, this game blew me away. It is an absolute masterpiece of a game. Everything you come to

I've never played an RPG Paper Mario game, and yet, this game blew me away. It is an absolute masterpiece of a game. Everything you come to expect out of a great RPG is here - fantastic characters, a charming world, and a story that is surprisingly touching. I can not recommend this game more.

…

Expand

"All in all, Bug Fables is an excellent title that I would recommend to everyone. RPG fans, particular those who like Paper Mario should

"All in all, Bug Fables is an excellent title that I would recommend to everyone. RPG fans, particular those who like Paper Mario should especially grab this at their earliest opportunity. The game is so good, however, that I am pretty sure non RPG fans like myself will also have a damn good time. It may not be very replayable, as is the case with the genre, but there's certainly a lot of bang for your bug (sorry)."

https://theeliteinstitute.net/2021/01/07/bug-fables-the-everlasting-sapling/

…

Expand

I give Bug Fables: The Everlasting Sapling a Mario RPG/10.
Bug Fables is a really solid game. The combat is fun, the writing is good, and theI give Bug Fables: The Everlasting Sapling a Mario RPG/10.
Bug Fables is a really solid game. The combat is fun, the writing is good, and the locations are rather memorable.
Of course there's the obvious comparison to Paper Mario, but personally I think the game is more of a fusion of all the Mario RPGs. Whether you think it's better or worse than said RPGs is probably up to you.

…

Expand