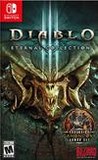 Summary:

Generations of gamers have battled the demonic hordes of Diablo, and now it's your turn to take part in the action-RPG legacy. This Eternal Collection features Diablo III, the Reaper of Souls expansion set and the Rise of the Necromancer packall together in one definitive volume. Prepare

Generations of gamers have battled the demonic hordes of Diablo, and now it's your turn to take part in the action-RPG legacy. This Eternal Collection features Diablo III, the Reaper of Souls expansion set and the Rise of the Necromancer packall together in one definitive volume. Prepare yourself, mortal hero. The hellgates are opening.

…

Expand
Developer:

Blizzard Entertainment

Genre(s):

Role-Playing

,

Action RPG

# of players:

Up to 4

Cheats:

On GameFAQs

Rating:

M
Please enter your birth date to watch this video:
You are not allowed to view this material at this time.
Diablo 3 On Switch - 11 Minutes Of Docked Gameplay | PAX West 2018
LEVEL (Czech Republic)

Dec 31, 2018

Diablo III excels in this handheld version and its full edition shows how much work and new content the authors have put in it after the release. In addition, its coop is fun. [Issue#291]

As much as I love playing Diablo 3 on my PC, the Eternal Collection on Switch may very well be my new preferred way to play - nothing beats lounging in bed, romping through a rift with the light out while I should be sleeping - all thanks to Nintendo Switch and Blizzard Entertainment.

This is the handheld version of Diablo that will please everyone. Diablo III: The Eternal Collection on Switch is a very successful and solid port of the 2012 game with all its content and updates. This is one of the best hack slash ever made, promising dozens and dozens hours of fun exploring, killing and looting in a magnificent dark fantasy world and the fact that you can play it anywhere and with anyone so easily makes it just irresistible.

A fantastic version of Diablo III to enjoy, this time, on the Nintendo hybrid console. And it comes with all the current content of this title that has been designed to be replayed almost infinitely, and on almost any platform. The portable version and the possibility of playing at home are what we like the most. And least of all, the fact that we cannot cross party with our Battle.net account. A small drawback to be able to enjoy a title that returns to feel like new in a new platform (and we must remember that Diablo III is a game that is already 6 years old). Almost nothing.

Well executed conversion of the demonic hack&slay that might not look as crisp as the other versions, but manages to conserve the spirit and the motivation cycles woven into the very fabric of the mechanics.

This compilation of Diablo III and its expansions underscores how far the gothic hack n' slash series has fallen.
Its very surprising to see Diablo 3 a Blizzard IP on the switch, But its even more surprising to see it run at 60 fps constantly and a good

Its very surprising to see Diablo 3 a Blizzard IP on the switch, But its even more surprising to see it run at 60 fps constantly and a good resolution! If you are a fan of loot based games, RPGs, or online multiplayer, This is the game for you! As a PC gamer, i gladly say this is the best way to play Diablo 3 without a doubt.

…

Expand

If you have not played for a decade since burning out on D1 and D2 like me, this is a fantastic return to Sanctuary. I travel for work and to

If you have not played for a decade since burning out on D1 and D2 like me, this is a fantastic return to Sanctuary. I travel for work and to have this portable on the Switch is the perfect solution! If you've never played it is great 'leveling' fun. If you have had a lot of time away from the Diablo universe, D3 on Switch may scratch that 'one more Rift' itch. It may be described as repetitive by some, but for those of us that 'get it', this is a great solution. Seasons and endless Rifts add to the replay value, if you are into that as well.

…

Expand

Having previously owned the PC and PS4 edition of Diablo 3 I must admit that I am literally perplexed at how incredibly well this game runs on

Having previously owned the PC and PS4 edition of Diablo 3 I must admit that I am literally perplexed at how incredibly well this game runs on Nintendo's little machine. It also looks and plays wonderful in undocked mode and is quite frankly a perfect game for gaming on the go.

Unless you already are bored to death with Diablo 3, you cannot go wrong with this game.

…

Expand

Really comes out nice on Switch. A bit old content otherwise 10. Looking forward to Diabolo 4 on switch!

My girlfriend and I have been playing this together and it's a really really fun co op game. 60 fps and no stuttering at all, great addition

My girlfriend and I have been playing this together and it's a really really fun co op game. 60 fps and no stuttering at all, great addition to the Switch library, especially for someone like me who has never played Diablo.

…

Expand

A truly great game made even better by being portable. I often play this in the car, at work or in hotels etc. The combat is smooth and

A truly great game made even better by being portable. I often play this in the car, at work or in hotels etc. The combat is smooth and satisfying, the graphics are gorgeous and the challenge to always push higher and into more and more difficult rifts is awesome.
The only downside is the lack of single player content, I think a company the size of blizzard could easily make a fresh slice of single player story content every year. (and I heard they had some ready but cancelled it).
Another downside is the lack of PvP, I understand that direct PvP wouldn't be possible, but imagine something similar to both being put in an identical dungeon but starting from opposite ends. Whoever kills the most enemies wins. I can definitely see that being fun and an interesting concept to expand on.

…

Expand

Good performing game, but the game reloading the entire session because someone leaves? And pairing me with people with dialup internet with

Good performing game, but the game reloading the entire session because someone leaves? And pairing me with people with dialup internet with 10k Ms? Brings down the rating hard for me..

…

Expand