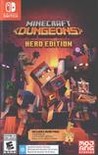 Summary:

Fight your way through an all-new action-adventure game, inspired by classic dungeon crawlers and set in the Minecraft universe! Brave the dungeons alone, or team up with friends! Up to four players can battle together through action-packed, treasure-stuffed, wildly varied levels – all in an

Fight your way through an all-new action-adventure game, inspired by classic dungeon crawlers and set in the Minecraft universe! Brave the dungeons alone, or team up with friends! Up to four players can battle together through action-packed, treasure-stuffed, wildly varied levels – all in an epic quest to save the villagers and take down the evil Arch-Illager. Discover a trove of powerful new weapons and items that will help you defeat ruthless swarms of new-and-nasty mobs. Fight or flee through canyons, swamps and – of course – mines! Any adventurer brave or foolish enough to explore this blocky and beautiful world will need to come prepared. So quickly, gear up!

…

Expand
Developer:

Mojang AB

Genre(s):

Action Adventure

,

Open-World

,

Role-Playing

,

Action RPG

# of players:

Up to 4

Cheats:

On GameFAQs

Rating:

E10+
Please enter your birth date to watch this video:
You are not allowed to view this material at this time.
Minecraft Dungeons - Official Launch Trailer
Minecraft Dungeons is a great game for newcomers of the genre, the series, and veteran players alike. Only slightly held back by its lacklustre graphics in handheld mode, this dungeon crawler is definitely worth a go.

All in all, Minecraft Dungeons is a lot fun. Coming from more of a Diablo background, I wasn't sure how well the simplified mechanics would jive with me, but I was pleasantly surprised. Everything about Minecraft Dungeons, from the enemies to the environments to the increased emphasis on higher-quality items, oozes a charming Minecraft feel. A few minor performance issues hold it back slightly, but not enough to keep me from coming back for a lot more.

Minecraft Dungeons isn't the deepest, most complex game ever, but it definitely keeps you busy and invested long enough to get to the end a few times as the developers intended. And if you're looking for some company, you can bring in local or online friends to play with you. The game was released as a budget title, and it's worth the price. If you enjoy the action of games like Diablo and are down for a simpler version of that same fun, Minecraft Dungeons is a good choice.

Minecraft: Dungeons is now complete, and also available in physical version on Nintendo Switch.

Mojang and Double Eleven offer us a fun game, with nice mechanics, easy to understand, but surely they could have done more. Is the game fun? Yes, although a little more content is missing. We trust that the content that is on the way will continue to entertain us for a longer time.

At its heart, Minecraft Dungeons is the sort of release that feels like it rides on the coattails of greater games a little too much. If this game did not have the Minecraft branding, it's not much of a leap to assume that it would scarcely garner any attention based purely on its own merits. The gear system, combat, level design, and presentation is all fine and entertaining in its own right, but there's little here that we could point to that elevates this game alongside or above peers such as Torchlight II, Diablo III or Path of Exile. Bearing this in mind, we'd give Minecraft Dungeons a very light recommendation to those of you looking for a surface-level introduction to the ARPG genre or for something to play in co-op with the kids. If that doesn't describe you, then we'd suggest going with either Torchlight II or Diablo III, which both offer a more substantial and fulfilling experience of this genre.
Es adictivo y su gameplay invita a la rejugabilidad.

Es exelente para jugar por las tardes con los amigos o familiares y con la switch loEs adictivo y su gameplay invita a la rejugabilidad.

Es exelente para jugar por las tardes con los amigos o familiares y con la switch lo puedes llevar a cualquier parte y jugar con tu amigo.

…

Expand

JñIt is an interesting combination, its good does not last long, the post game is incredible, the truth is very enjoyable

Having tons of fun with my friends slashing, shooting, and blasting our way through mobs.

Context: I played through the entire main story with a few side missions, Nintendo Switch Edition during the August 2021 free game trial. I

Context: I played through the entire main story with a few side missions, Nintendo Switch Edition during the August 2021 free game trial. I have experience playing dungeon crawler RPGs such as the Pokemon Mystery Dungeon series, Hades and Cadence of Hyrule. I have not played much Minecraft by Mojang and have only played PixelJunk Shooter Ultimate and Goat Simulator by Double Eleven. I completed the base game in 15 hours, dying about 20 times and had 3 wipes or game overs, two of them being boss fights I was not prepared for.

Minecraft Dungeons acts as a gateway game into the dungeon crawler RPG genre. For those unfamilar with the aforementioned genres or games, Minecraft Dungeons is a game where you explore linear dungeon layouts, meaning the map will be the same everytime you replay a level, enhancing you character via random loot drops. I say it acts as a gateway to these genres because of the game's simplicity. There are no classes, everyone is the same character that can be visually customized. There are no stats, abilities, perks tied to your character. Your character only grows via the random items you pick up and equip. This does imply you will sometimes get shafted and get the items that you are either hoping to get from said dungeon or get any items that improve your character enough such that you can take on the next dungeon with getting rekt.

You have three slots for equipment (one melee weapon, one ranged weapon, and one armour), as well as three slots for artefacts (which have their own as unique powers) Shoutout to the bees, they are so good. Each weapon, armour, and artefact has a unique level and set of abilities that influence damage, defense and health. In addition, each piece of equipment has one to three enchantment slots and can be used to grant one of a few additional powers. Only one of these skills per slot can be enchanted with enchantment points (given for progressing up). Even if you have identical items, the enchantments on them can be different, providing you a plethora of options for personalising your gameplay. As you continually upgrade your gear, the system encourages you to try out new playstyles. While I would have liked to see a little more depth in the system, I like that I can switch things up on the go.

Minecraft Dungeons is a simple game at start, but as you progress, the game adapts to your abilities. You might even be struggling by the conclusion of your first playthrough. Despite playing in a very different way than Minecraft, Dungeons preserves a lot of the aesthetic that has made the game so popular. The levels are littered with classic foes such as zombies, skeletons, and creepers, each of which is based on a particular environment. There are three primary difficulty levels, but you must first complete the previous one before moving on. You can fine-tune your experience along a spectrum within each difficulty. While each level is set to a particular difficulty level based on your current equipment loadout, you can alter it in either direction. The higher the difficulty, the better the equipment you can be rewarded with. This element alone can drastically increase ones play time, grinding levels to achieve new gear instead of doing a single playthrough like I did in 15 hours.

The main issue, however, is how the game is played. Minecraft Dungeons gameplay is often smooth but when its not, lord have mercy do the frames drop. Im talking 1-2 frames per second, it was headache inducing. These framerate dips were not consistent either, whether it was a loading screen, boss fight or simply exploring a dungeon, the performance drop would occur and last several seconds. Speaking of which, load times were also ridiculously long for a game that is not complex in design. Definitely some optimization spaghetti code under the hood.

Minecraft Dungeons has local and online multiplayer. We are in the middle of the Covid 19 pandemic as of writing this review so I could not try out the local multiplayer but the online multiplayer required to login to a Microsoft account which I found ridiculous on a Nintendo Switch and refused to do so.

All in all, Minecraft Dungeons is a fun and quick game. If you like Minecraft and want a different experience in a familiar setting, this is the game for you. For those looking to try a dungeon crawler or RPG without sinking hundreds of hours grinding or learning the mechanics, this is your game.

…

Expand

An overall disappointing experience - seems like a lot of wasted potential. The game at best is a pretty good Diablo clone, and at its worse

An overall disappointing experience - seems like a lot of wasted potential. The game at best is a pretty good Diablo clone, and at its worse its a Minecraft spin-off that has almost nothing to with Minecraft apart from the title.

There are no mechanics carried over from Minecraft - no crafting, no destructible environments, no ability to build structures - and many features such as The Nether, Mushroom Bios, Ice Bios etc are absent as well. Also, only a few items such as the pickaxes and fishing rods are real items from original Minecraft, every other item is a new item made for this game, it doesn't feel like Minecraft, just feels like a Minecraft re-skin of a game totally irrelevant to the source game.

The core game has a lot of polish, don't get me wrong. Game is a lot of fun to play, and the enchanting system allows for lots of diverse play-styles and customisation. Levels although repetitive are fun, the loot system is well balance, good variety of enemies, great visuals and music etc. However, the game is tiny, the story is almost non-existent, the gameplay is not good enough to warrant a second play through and the fact that there is DLC already despite the small size is a real low blow as well.

I'm kind of just confused as to why this exists? If you're not going to bring anything from Minecraft except a superficial reproduction of its exterior then why even bother? I can't help but feel this is a cheap cash in rather than a creative spin-off title. Not a bad game by any means, but not worth purchasing I'd say.

…

Expand

First and foremost, this is a game targeted at children. However, children are not stupid. I believe that this game could be a lot deeper than

First and foremost, this is a game targeted at children. However, children are not stupid. I believe that this game could be a lot deeper than it currently is and the excuse that "it's just for children" is not an excuse. Mario rabbids is aimed at children and yet it is far more deeper than this game and is proof children can handle a challenge and deep gameplay mechanics. This game doesn't have any deep gameplay mechanics like a game such as Torchlight, an ARPG cheaper than Dungeons. The game is also lacking in content which is a shame. A replayable adventure mode, and some more levels would have made me think highly of this game, but the lack of content and shallow gameplay just aren't acceptable for me as an ARPG fan. You'll be better off buying Torchlight or Diablo 3 imo, this game is a safe skip (unless they do some fixes to make the game better)

…

Expand

A game is foremost supposed to be fun and that is where Minecraft Dungeons fails the most it is just not fun from the second half on. It is

A game is foremost supposed to be fun and that is where Minecraft Dungeons fails the most it is just not fun from the second half on. It is difficult to put your finger onto the reasons. I guess it is a combination of the fighting not beeing fluid, the weird skill system, if one can call it that and bad balancing. Other than that for a long time Diablo and Path of Exile player like me this game just not has what it would need to satisfy my need for hunting better gear and min-maxing my character. However, I still could live with that if the game just would be fun!

…

Expand