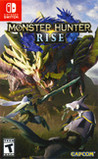 Summary:

Rise to the challenge and join the hunt. The action-RPG series returns to the Nintendo Switch! Set in the ninja-inspired land of Kamura Village, explore lush ecosystems and battle fearsome monsters to become the ultimate hunter. It's been half a century since the last calamity struck, but a

Rise to the challenge and join the hunt. The action-RPG series returns to the Nintendo Switch! Set in the ninja-inspired land of Kamura Village, explore lush ecosystems and battle fearsome monsters to become the ultimate hunter. It's been half a century since the last calamity struck, but a terrifying new monster has reared its head and threatens to plunge the land into chaos once again.

Hunt solo or in a party with friends to earn rewards that you can use to craft a huge variety of weapons and armor. Brand new gameplay systems such as the high-flying 'Wire Action' and your canine companion 'Palamute' will add exciting new layers to the already robust combat that Monster Hunter is known for.

Whether it's at home, on the go, online or offline - you'll always be ready for your next hunt on the Nintendo Switch!

…

Expand
Developer:

Capcom

Genre(s):

Role-Playing

,

Action RPG

# of players:

Up to 4

Cheats:

On GameFAQs

Rating:

T
Please enter your birth date to watch this video:
You are not allowed to view this material at this time.
Monster Hunter Rise - PC Launch Trailer
Monster Hunter Rise delivers as the ultimate Monster Hunter experience. With an abundance of elements that make it uniquely related to the other games of the franchise, it also brings back the best in each entry, both in gameplay and in the roster of monsters. It is a must play for anyone who likes action games.

By carefully mixing the most successful features of Monster Hunter: World, the "classic" structure of the old episodes, as well as a tasty roundup of novelties and sensational improvements to the quality of life, such as the Canyne and the wire insects, the Tsujimoto team he managed to synthesize an almost perfect play formula.

Monster Hunter Rise introduces several new gimmicks such as the wirebug and the Canyne that further improve the depth of the gameplay, becoming thus essential tools for future entries of the franchise. Monster Hunter Rise is, without a doubt, the definitive hunting experience in Nintendo Switch.

I put about 280 hours into Generations Ultimate and was playing it even up to the time this review goes live, but for mostly lack-of-PC reasons I never got into World. Monster Hunter Rise has enough content that I feel like I'll be able to go all the way with it, and be able to take on the new hunts as they're delivered. Even those who are just looking for a good action game, and have no history with the series, should jump in. If nothing else, I could use some help with Rathalos.

Even though it is quite hard to master this game, it is the most accessible Monster Hunter game ever. The Wirebug makes it easier to move around and there are less waiting times between fights.

Monster Hunter Rise is the perfect adaptation of the classic Capcom saga but adapted to the technical possibilities of Nintendo Switch. If you are lovers of the formula you will enjoy it as always. However, something new is missing to help the franchise move forward.

This new opus is a great opportunity for everyone who dreamed of trying out the Monster Hunter licence but never dared to do so. Nonetheless Monster Hunter Rise find itself oversimplified because of its new features for most of the saga's regulars.
I have had a fantastic 85+ hours playing this with my girlfriend who is new to the monster hunter games.

I have played every iteration of the Monster Hunter series since MH3 Ultimate on the Nintendo DS then 3DS (though I've not played MH World).

I have played every iteration of the Monster Hunter series since MH3 Ultimate on the Nintendo DS then 3DS (though I've not played MH World). MH Rise maintains the fun of monster hunting (it's most fun when hunting with other players) but adds two key things:

1. Quality of life improvements e.g. it's quicker to collect materials along the way (it used to be painfully slow), the Palamute speeds up travel, hold A to carve a fallen monster multiple times, etc.

2. Fun new mechanics such as the wirebug which turns you into a bit of a mini Tarzan, and of course, the monster or wyvern riding capability, letting you control some monsters

If you're new to Monster Hunter, my advice is to take it easy. Take your own sweet time at the beginning with the single player "campaign" which walks you through different quests which introduces you key aspects of the game. There is a whole lot to learn, however, you don't need to learn everything in order to enjoy the game. Just learn the basics, and I would say the key basic thing to learn is weapon handling - just pick ONE weapon (easier ones to pick up include sword and shield, dual sword, long sword - note easy to pick up doesn't mean easy to master!), and learn how to use it. (The next important thing is to learn how different monsters "behave" during hunts - it's the difference between success and failure in a hunt!) Your weapon is the main thing (other than armour next) that will carry you through your initial hunts. In fact, once you are familiar with the weapon system, you can immediately jump on multiplayer as well just to get a feel of hunting with other players. Monster Hunter is best played with others around the world - that's the fun of it!

If you're a veteran of Monster Hunter, well, you don't need any advice. All that you knew is still there, but you get to enjoy the quality of life stuff that makes Monster Hunter Rise much more enjoyable since some of the terribly boring and painfully mundane mechanics have been taken out of the mix, letting you jump on multiplayer hunts immediately. That's not all though - there are new mechanics for you to learn too - the new Tarzan moves with the fun wirebugs, new Switch skills, etc. Hunting is still soooo fun!

If you've played Monster Hunter World before this, you may find the mechanics in Rise just a slightly more "complicated" at times, but it's a perfect jumping on point because you're already familiar with hunts and weapons.

As a result, I must say that Monster Hunter Rise is THE best in the Monster Hunter series and is a great time for new Monster Hunter players to join in the hunt, while returning or veteran hunters can continue enjoying the game with lots of new stuff - and helping new Monster Hunter players enjoy the journey.

Jump in and enjoy the thrill of the hunt! Absolute 10/10!

…

Expand

this game is flawless al the gameplay is very huge with so many good things to do

Best MH game to date. Finally are gone the unskippable cutscenes and the game is all about the gameplay. Sure the story of the MH games are

Best MH game to date. Finally are gone the unskippable cutscenes and the game is all about the gameplay. Sure the story of the MH games are not great, never has been and frankly, doesn't have to be. It's all about how detailed are the monster and how good the gameplay is. And the gameplay of the Rise is extremely well done. In previous games what people would do is just poke a monster here and there until the big damage moves comes out and with the iteration of Wirebugs and how versatile they are and how much do they offer to every class the gameplay has changed a bit. You have multiple approaches before your high damage combos to the monster and multiple techniques to weaken the monster down instead of just poking. Slow weapon users can now jump out of the huge attack before the need of sheathing due to Wirebugs and the Palamute works great too and allows melee weapon users to sharpen their weapons on the chase of the monster. The gathering has been improved and doesn't take forever anymore. And the game looks very good considering it's on a weaker system. Really well done.

…

Expand

Perfect game, new features just awesome. I just have a blast playing this gem!

The Best Game i Played 2021the Graficks could better But for the Switch is this Game amazing

Failed to Save - Can't even reach titlescreen.

It's been a week with no updates from Crapcom.

Definition of 0/10
Published:

January 2, 2022

We reveal the highest-scoring Nintendo Switch games released in 2021, ranked by Metascore.