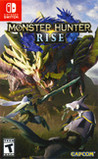 Summary:

Rise to the challenge and join the hunt. The action-RPG series returns to the Nintendo Switch! Set in the ninja-inspired land of Kamura Village, explore lush ecosystems and battle fearsome monsters to become the ultimate hunter. It's been half a century since the last calamity struck, but a

Rise to the challenge and join the hunt. The action-RPG series returns to the Nintendo Switch! Set in the ninja-inspired land of Kamura Village, explore lush ecosystems and battle fearsome monsters to become the ultimate hunter. It's been half a century since the last calamity struck, but a terrifying new monster has reared its head and threatens to plunge the land into chaos once again.

Hunt solo or in a party with friends to earn rewards that you can use to craft a huge variety of weapons and armor. Brand new gameplay systems such as the high-flying 'Wire Action' and your canine companion 'Palamute' will add exciting new layers to the already robust combat that Monster Hunter is known for.

Whether it's at home, on the go, online or offline - you'll always be ready for your next hunt on the Nintendo Switch!

…

Expand
Developer:

Capcom

Genre(s):

Role-Playing

,

Action RPG

# of players:

Up to 4

Cheats:

On GameFAQs

Rating:

T
Please enter your birth date to watch this video:
You are not allowed to view this material at this time.
Monster Hunter Rise - Official Gameplay Trailer | Nintendo Direct
Monster Hunter Rise delivers as the ultimate Monster Hunter experience. With an abundance of elements that make it uniquely related to the other games of the franchise, it also brings back the best in each entry, both in gameplay and in the roster of monsters. It is a must play for anyone who likes action games.

Monster Hunter Rise shows a tremendous amount of progress in terms of game design and accessibility, even after the great strides that Monster Hunter World made in those fields, and continues to improve upon itself with interesting ideas like the new monsters and the Wirebug – this game is a must buy.

The game's various biomes are connected, which means your hunts are no longer bound by the old timey restraint known as 'the loading screen'. This is a major improvement for the handheld side of the franchise, adding an open-world sheen and sense of realism to the biodiversity that is flora, fauna, and big bad monsters.

Monster Hunter Rise manages to continue the series trend of delivering an excellent action RPG while also offering meaningful rewards and addicting gameplay. The game's new additions such as the Palamute and Wirebugs add more depth to what was an already solid foundation. Kamura Village is downright gorgeous, with the surrounding areas teeming with monsters both new and old. I'm excited to continue to play the game for the foreseeable future, playing online with my friends and completing what seems to be nearly endless content.

Monster Hunter Rise takes the best elements from the series and mixes them with a few new mechanics to give players a fresh experience that is the most accessible in the franchise to date.

One of the best games on Nintendo Switch. Very agile with a new vision of classic hunts.

This new opus is a great opportunity for everyone who dreamed of trying out the Monster Hunter licence but never dared to do so. Nonetheless Monster Hunter Rise find itself oversimplified because of its new features for most of the saga's regulars.
Juegazo, increible como corre en esta pequeña consola, muy divertido, espectacular en todos los aspectos.

I have played every iteration of the Monster Hunter series since MH3 Ultimate on the Nintendo DS then 3DS (though I've not played MH World).

I have played every iteration of the Monster Hunter series since MH3 Ultimate on the Nintendo DS then 3DS (though I've not played MH World). MH Rise maintains the fun of monster hunting (it's most fun when hunting with other players) but adds two key things:

1. Quality of life improvements e.g. it's quicker to collect materials along the way (it used to be painfully slow), the Palamute speeds up travel, hold A to carve a fallen monster multiple times, etc.

2. Fun new mechanics such as the wirebug which turns you into a bit of a mini Tarzan, and of course, the monster or wyvern riding capability, letting you control some monsters

If you're new to Monster Hunter, my advice is to take it easy. Take your own sweet time at the beginning with the single player "campaign" which walks you through different quests which introduces you key aspects of the game. There is a whole lot to learn, however, you don't need to learn everything in order to enjoy the game. Just learn the basics, and I would say the key basic thing to learn is weapon handling - just pick ONE weapon (easier ones to pick up include sword and shield, dual sword, long sword - note easy to pick up doesn't mean easy to master!), and learn how to use it. (The next important thing is to learn how different monsters "behave" during hunts - it's the difference between success and failure in a hunt!) Your weapon is the main thing (other than armour next) that will carry you through your initial hunts. In fact, once you are familiar with the weapon system, you can immediately jump on multiplayer as well just to get a feel of hunting with other players. Monster Hunter is best played with others around the world - that's the fun of it!

If you're a veteran of Monster Hunter, well, you don't need any advice. All that you knew is still there, but you get to enjoy the quality of life stuff that makes Monster Hunter Rise much more enjoyable since some of the terribly boring and painfully mundane mechanics have been taken out of the mix, letting you jump on multiplayer hunts immediately. That's not all though - there are new mechanics for you to learn too - the new Tarzan moves with the fun wirebugs, new Switch skills, etc. Hunting is still soooo fun!

If you've played Monster Hunter World before this, you may find the mechanics in Rise just a slightly more "complicated" at times, but it's a perfect jumping on point because you're already familiar with hunts and weapons.

As a result, I must say that Monster Hunter Rise is THE best in the Monster Hunter series and is a great time for new Monster Hunter players to join in the hunt, while returning or veteran hunters can continue enjoying the game with lots of new stuff - and helping new Monster Hunter players enjoy the journey.

Jump in and enjoy the thrill of the hunt! Absolute 10/10!

…

Expand

Conocia la serie de juegos de Monster Hunter pero nunca habia jugado uno. Cuando vi que salio para la switch tenia un poco de temor a la hora

Conocia la serie de juegos de Monster Hunter pero nunca habia jugado uno. Cuando vi que salio para la switch tenia un poco de temor a la hora de comprarlo ya que que pense que podria tener problemas de rendimiento, bajones de fps o texturas de una calidad muy pobre. Estoy orgulloso de decir que me lleve toda una sorpresa al jugarlo, todo esta muy bien adaptado tanto graficamente como en rendimiento para la switch y bueno todo lo demas es simplemente 11/10. El gameplay que ofrece Monster Hunter Rise es simplemente muy divertido, los controles son faciles de entender y de adaptarse a ellos y aunque la cantidad de informacion puede ser un poco abrumadora como para un primerizo como como yo, vale completamente la pena comprarlo, mucho mas si lo tienes planeado jugar con amigos. Totalmente recomendado.

…

Expand

Lo mejor que tiene Nintendo Switch, es espectacular que pueda correr esta obra de arte, y no soy ningún fan de Monster hunter, me gustan y ya,

Lo mejor que tiene Nintendo Switch, es espectacular que pueda correr esta obra de arte, y no soy ningún fan de Monster hunter, me gustan y ya, pero en este caso hay que aplaudir a CAPCOM por su increíble trabajo. Y a parte de lo gráfico, jugablemente 10/10, y ambientación, todo, me tiene enganchado.

…

Expand

This game took everything that was great with World and put it in classic Monster Hunter.

This is the better game.

It is a pretty good game and just like the other mh games it has a pretty good multiplayer.

After a few hours I put my opinion on it, I had a lot of apprehension about this opus and some were confirmed. Good gameplay but it's all, no

After a few hours I put my opinion on it, I had a lot of apprehension about this opus and some were confirmed. Good gameplay but it's all, no difficulty and no content. I've been introduce to the series with freedom unite / portable 2nd G and i feel it like a game for child, too easy.

For those who want to discover the series it may be a good entry point, but for a veteran it leaves a taste of not finished or released too early, we'll see what's gonna be with few update, but i'm very disappointed

…

Expand