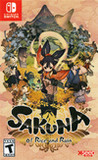 Summary:

Sakuna: Of Rice and Ruin combines side-scrolling action with deep crafting and farming simulation. Players take on the role of Sakuna, a spoiled harvest goddess banished to a dangerous island with a group of outcast humans. As she explores the beautiful, forbidding environments of the

Sakuna: Of Rice and Ruin combines side-scrolling action with deep crafting and farming simulation. Players take on the role of Sakuna, a spoiled harvest goddess banished to a dangerous island with a group of outcast humans. As she explores the beautiful, forbidding environments of the island, she will also find a home in a mountain village, proving herself worthy of her title by harvesting rice and bettering the lives of humans. In addition to being a fresh take on Japanese mythology and a love letter to action games, Sakuna: Of Rice and Ruin is an ode to rice and an engrossing simulation of the craft behind the agriculture.

…

Expand
Developer:

Edelweiss

Genre(s):

Role-Playing

,

Action RPG

# of players:

No Online Multiplayer

Cheats:

On GameFAQs

Rating:

T
This game is the perfect mix of an RPG, 2D Platformer and farming simulator that you can find. Sakuna: Of Rice and Ruin looks and sounds great and has a great story that will make you care about all the characters.

The realistic, in depth elements of rice farming combined with honing fighting skills plus surprising character revelations and development make Sakuna of Rice and Ruin a magnificent game. Sakuna's personal growth is a pleasure to watch. Her reason for living is tested to the limit, she learns to serve others rather than herself, and has to make a sacrifice that she would not have made if faced with the same decision at the start of the game. The balanced emphasis on farming and fighting provides a great variety of tasks to undertake, providing dozens of hours of fun. The delay in the game's original planned release was worth the wait.

Sakuna: Of Rice and Ruin has a beautiful story with an atmosphere typical of Studio Ghibli and offers a gameplay that reminds us of what we can find in Rune Factory, perfectly mixing exploration and resource management to result in a very good game.

Sakuna: Of Rice and Ruin seamlessly blends 2D platforming action with 3D farm management. There's a great amount of depth to both the farming simulation portion of the game as well as the more action-oriented 2D portions.

The biggest mark against Sakuna: Of Rice and Ruin is that this is a game which requires you to love it in its entirety. You cannot play this game solely as a farming simulator or solely as a platforming action game; you have to be willing to fumble through the rice farming as you do the platforming you're much better at. Or maybe fumble through platforming to get back to that hardcore rice farming sim you wanted, to be fair. I don't know your life. But the whole thing is presented with such care, patient attention to detail, and downright love that it's impossible not to enjoy the heck out of this game. It's the sort of game that I highly recommend to people who may naturally only be inclined to one side or the other of this particular melange, because you might find yourself enjoying it more than you expected. Sit back, relax, and let the game soak over you. Take a breath. Plant the rice. Watch the water. Don't ruin it.

Sakuna: Of Rice and Ruin delivers a remarkably in-depth set of mechanical systems. The interplay is impressive, even if the execution is somewhat flawed.

If a quirky action game with RPG progression and relaxing agricultural activities seems like your kind of thing, trust your gut on this one.
Most undervalued farm simulation game!

You definitely need to try this game

I did it for 6 hours Without knowing the time is passing

The story is interesting. And more than anything, the idea is fresh.
It's a farming RPG game, and the action is very good.
Very good action and war.

I preordered sakuna as soon as available.the character design is so cute so lovely,sakuna's action is smooth,she runs .the english voice

I preordered sakuna as soon as available.the character design is so cute so lovely,sakuna's action is smooth,she runs .the english voice acting is almost as good as runefactory4,bu......t,i think the cut scene does not need full voice acting,more effort of voice acting should be put to monters and daily dialogue with NPCs.and when jump in village,sakuna should have voice

…

Expand

This review contains spoilers

, click expand to view

. There's so few games that have the ability to hold my attention enough to finish. I absolutely ADORE this game. The storyline? Excellent. The gameplay? Awesome. Ending was tear jerking but definitely beautiful.

The game mechanics are pretty simple, and there's a farming mechanic where you exclusively grow rice. Sounds kind of boring? Not so! The rice is what grows your character and increases your stats, allowing you to progress and reach new levels and progress through the game. You also use the spoils you find and make food and stuff you can use to upgrade your armour/weapons, or use it to fertilize your rice :D the NPC's will sometimes have quests for you, meaningful quests that will have quite a bit of story, not just "collect 10 sticks 'cause."

The story is beautiful. Some people might find the characters to be annoying, I think that's kind of the intention, especially with Sakuna. She starts as a spoiled childlike princess and throughout the story becomes a really strong female protagonist.

Only negatives I have with this is the raiment controls were a bit clunky and annoying.

Really hope to see a second game, I absolutely loved this one.

…

Expand

Sakuna: Of Rice and Ruin does almost everything right in the aspects it focuses on. The gameplay in the Hack'n'Slash passages is buttery

Sakuna: Of Rice and Ruin does almost everything right in the aspects it focuses on. The gameplay in the Hack'n'Slash passages is buttery smooth, the farming simulator elements are detailed and deep and the soundtrack is divine. It almost seems as if the game was held back entirely by the hardware. Other versions of the game are likely to look better and have no audio issues with the soundtrack.

…

Expand

For starters, Sakuna: of Rice and Ruin is a very well rounded RPG. This game is uniquely portrayed as a side-scrolling platformer and a

For starters, Sakuna: of Rice and Ruin is a very well rounded RPG. This game is uniquely portrayed as a side-scrolling platformer and a farming simulator. While a side-scroller at heart Sakuna has a little something for everybody. It's visually appealing, well written and most of the characters are quite likable. The main encampment in which you live and work has a warmth that wraps around you the more your adventure progresses. Aside from the gorgeous side-scrolling there is a farming simulator too. It takes some getting used to when planting the rice as the controls come off slightly awkward at first, however, once you get this feature down it can be a ton of fun! The developers did a seamless job tying the farming to Sakuna's upgrading. The music has a nice, fitting flow and strides along beautifully while corresponding to the lush environments. Sakuna gives you the feeling of, the more you give the more you get and it's very fitting as you often feel a sense of accomplishment. You get a lot for your dollar in this unique little package. Is it perfect? No. But it's pretty close and it deserves your time especially if you can appreciate the Japanese culture the game transfuses so well.

…

Expand

this game is not brilliant. the gameplay is very easy and its is so stressful sometimes