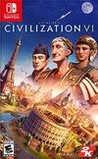 Summary:

Civilization VI offers new ways to interact with your world, expand your empire across the map, advance your culture, and compete against historys greatest leaders to build a civilization that will stand the test of time. Play as one of 24 different leaders from various countries around the

Civilization VI offers new ways to interact with your world, expand your empire across the map, advance your culture, and compete against historys greatest leaders to build a civilization that will stand the test of time. Play as one of 24 different leaders from various countries around the world and throughout history. Build an empire of lucrative trade routes with Cleopatra of Egypt, flex the military might of your legions with Trajan of Rome, or develop a powerhouse of culture with Hojo Tokimune of Japan. Each of the leaders can be played any way you prefer, with unique abilities, units, and infrastructure in their quest for victory.

…

Expand
Developer:

Firaxis Games, Aspyr

Genre(s):

Strategy

,

Turn-Based

,

4X

# of players:

No Online Multiplayer

Cheats:

On GameFAQs

Rating:

E10+
Please enter your birth date to watch this video:
You are not allowed to view this material at this time.
Civilization VI - Nintendo Switch Announcement Trailer
I already know that this will be my most-played game on the Switch over the longer term. Once you start playing Civilization, it has the most incredible ability to make you lose all sense of time, and desire to play anything else.

It's Civilization VI on the Nintendo Switch, practically immaculate and able to run even better than it used to do on certain rattling laptops.

The Switch version is just the base game, but that's more than OK. There's plenty to sink your teeth into, providing hours upon hours of unique experiences, accompanied by a divine soundtrack to really get you in the mood for building nations. Civ VI is a titan of a game and well worth your time, even if you've already spent hours on the PC version, because, now it's portable, which is potentially dangerous to those who have jobs.

The perfect turn based strategy game on the go. Civilization 6 feels at home on the switch.

This is a great version of a great game. It plays great on the Switch, both on TV and on handheld.

Overall, Civilization VI is an excellent addition to the Switch's library. Turn-based-strategy fans will love this very gratifying portable gem.

The possibility of playing Sid Meier's Civilization VI wherever you are is a good incentive to buy this great title that is perfectly adapted to Nintendo Switch, although it is necessary to highlight the lack of online multiplayer.
I'm so glad that my first experience with a Civ game came way of this excellent Switch port. I picked it up on a 50% off sale from the

I'm so glad that my first experience with a Civ game came way of this excellent Switch port. I picked it up on a 50% off sale from the Nintendo eshop and it's worth every penny, even if I'd paid full price for it. Some reviewers here were from back when it was first released and their major gripes were about it not including the DLC/expansion packs, but at the time of my review that is no longer a concern as the expansion packs have now been released! Sure it's an extra $50 (that I haven't purchased yet) but hey it's available for diehard fans of the game. I'm still learning the ropes but man what an addictive and satisfying game to have in the palm of my hands. It's a must-buy if you see it on sale.

…

Expand

This is the first Civ game I've played. I tried to dabble with Civ 3 decades ago but I didn't get the hang of it. Civ 6 on the Switch though

This is the first Civ game I've played. I tried to dabble with Civ 3 decades ago but I didn't get the hang of it. Civ 6 on the Switch though is PERFECT. I like the balance and mechanics and I simply cannot put it down. Being on a handheld it's easy to pick up and play again where I left off even during short breaks. The rest of the time in between though all I think about is my city. If you're having second thoughts let this review be the one to sway you into getting it.

…

Expand

I really like this game, but for some reason they are not announcing the DLC for Switch, only PC. This makes me upset as I enjoy the game and

I really like this game, but for some reason they are not announcing the DLC for Switch, only PC. This makes me upset as I enjoy the game and want new content.

…

Expand

I took the plunge on a first day purchase and I have to say I do not regret it. I have loved the Civ games and own them all, on PC, Consoles

I took the plunge on a first day purchase and I have to say I do not regret it. I have loved the Civ games and own them all, on PC, Consoles and mobile. This game is an excellent port. The controls feel natural, the graphics are great, no slow down, the soundtrack is there, and now with the added bonus of crashed out on the sofa playing it on a large screen TV until early hours of the morning.
Handheld mode is great too.
One little tip is, press the - button on the switch, and it puts tooltips on so you know what each icon does for beginners. ( Tooltips is off by default )
Warning through, this game will take your life away. As for the people complaining about no multiplay etc, it doesnt bother me one bit... I always class Civ as a single player game that you can sit there play for hours in your own time and stop whenever you want.

…

Expand

After all the DLCs been added the game is finally complete on the switch. Everything works so far and the smart menu and button shortcuts make

After all the DLCs been added the game is finally complete on the switch. Everything works so far and the smart menu and button shortcuts make it easy to play even docked. Keyboard and mouse combo is still superior but the fact that you can play on the go and laying on the sofa makes this a great version of Civ6.

Recommended!

…

Expand

Civilization VI is jam-packed full of content but it can be really difficult to get into.

Gathering Storm:The Dealing System is so so flawed - it becomes a game stopper imho

After a year of waiting for the price to drop, I bitGathering Storm:The Dealing System is so so flawed - it becomes a game stopper imho

After a year of waiting for the price to drop, I bit the bullet and bought GS. I enjoyed the challenge of maintaining loyalty and governing cities.

On my first game, though, I started to notice some irritants that made dealing very boring.

I might be wanting to sell say a unit of oil, for example, and get offered (say)180 pieces of gold.
The AI nation might have enough to buy more than 50 units of oil BUT when I try to sell them two or more units, they refuse to pay more or very little more.
BUT, in the same turn, they will buy all 50 units, one at a time.
This does not mirror real life. Buying in bulk should lead to a discount I agree but selling/buying units one at a time: I find boring.

AND it gets worse.....

I'm lateish on in the game. I 'm now finding that AI nations will pay say 200+ for one unit of coal - fair enough BUT they will also pay 330/turn for 30 turns too.
I've just been able to sell Pericles (for example) one unit of Uranium.
In exchange, I've received the Truffles luxury, 367 pieces of gold for 30 turns, 3 units of aluminium, 6 units of coal and 5 units of.... URANIUM!

I can get the same type of deal with all the other nations who consider me as friend.....

I did this a few times and then realised I could bleed all these dry of their money and resources whilst my coffers are filling up at over 4000 pieces of gold a turn; my whole nation id ecstatic because I've cornered all the luxuries, my strategic resource stocks are full to the limit,,, and so on.

It's no longer a game and so I have stopped playing.

…

Expand