Publisher:

Nintendo

Release Date:

Jul 29, 2022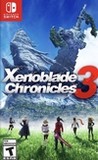 Summary:

"Fighting to liveand living to fight" - A brand new RPG adventure awaits in Xenoblade Chronicles 3. Bringing together the futures of Xenoblade Chronicles and Xenoblade Chronicles 2, this title will take players to the world of Aionios, home to two hostile nations. Keves: a nation where

"Fighting to liveand living to fight" - A brand new RPG adventure awaits in Xenoblade Chronicles 3. Bringing together the futures of Xenoblade Chronicles and Xenoblade Chronicles 2, this title will take players to the world of Aionios, home to two hostile nations. Keves: a nation where mechanical technology was developed. Their armies are composed of units consisting mainly of combat vehicles. They use units of small, mobile weapons operated by soldiers riding them.
Agnus: a nation strong in ether, a magical technology. Their forces are built around units that specialise in ether combat, and they fight with small, mobile, autonomous weapons that use ether technology.
Six soldiers hailing from these nations, will take part in a grand tale with life as its central theme.
Noah: One of the protagonists of Xenoblade Chronicles 3 and a solider of Keves. Noah is also an "off-seer" who mourns for soldiers who've lost their lives on the battlefield.
Lanz: An ally of Noah's who wields a great sword that doubles as a shield.
Eunie: A childhood friend of Noah and Lanz who has a sharp tongue and rough personality. She specialises in healing her allies in battle.
Mio: The other protagonist of this story, Mio is a soldier of Agnus and an off-seer like Noah.
Taion: A tactician who fights alongside Mio using his smarts and insight.
Sena: This soldier is an ally of Mio and Taion. Despite her petite figure, Sena wields immense physical strength!

…

Expand
Developer:

Monolith Soft

Genre(s):

Role-Playing

,

Action RPG

# of players:

No Online Multiplayer

Cheats:

On GameFAQs

Rating:

T
Xenoblade Chronicles 3 is as close to gaming perfection as you'll get on the Nintendo Switch. If the story doesn't grip you, the combat, landscapes, mechanics, or soundtrack surely will. Monolith Soft, take a bow!

We found Xenoblade Chronicles 3 to be a timeless gem that will go down in history as one of the greatest JRPGs ever made. Its beautiful story, great gameplay and beautiful visuals make it a must-have for anyone. A flawless game for a legendary saga.

Xenoblade Chronicles 3 is a massive undertaking that hits some extremely high points while only presenting a few issues like the performance struggles at times due to the Switch's limitations. I fell in love with the cast almost immediately, and I can't wait to see their stories progress in future DLC. This is a game that is going to sit with me for years and is a very serious Game of the Year contender.

Xenoblade Chronicles 3 is an exemplary JRPG on the Nintendo Switch, improving on the already great titles that came out before it while still welcoming newcomers.

Xenoblade Chronicles 3 is a glorious package, tightly integrated and thoroughly compelling.

Despite some of its flaws, Xenoblade Chronicles 3 is a highly unique, incredibly entertaining JRPG that provides players with hours of enjoyable content, from its engaging story and endearing characters to its fun, in-depth gameplay mechanics.

Xenoblade Chronicles 3 just cannot get out of its own way. This is, after all, a game that provides a tutorial on how to complete tutorials, and it keeps piling on slight mechanics well into the 20-hour range.
Xenoblade Chronicles 3 -takes the crown! As someone who played the first Xenosaga and Xenogears I have seen a evolution of this game over the

Xenoblade Chronicles 3 -takes the crown! As someone who played the first Xenosaga and Xenogears I have seen a evolution of this game over the past 20yrs. You can tell Nintendo poured a lot of investment into this series and taken this JRPG to the next level. The story telling is the pinnacle of what JRPG games are about. This is what Star Ocean was supposed to be but never came to be.. Luckily we have Xenoblade Chronicles Series. I am huge collector and gamer for this series since I have cleared X1, X2, X, and now moving to 3.

As Final Fantasy continues to lack in story and gameplay- Xenoblade Chronicles continues to forge ahead building on with newcomers to the the series! Xenoblade Chronicles 3 has 10/10 for story. 10/10 gameplay, music and sound is 10/10 and Graphics is a 9/10. I might consider this game as the best in the series taking over the first one.... Overall, I highly recommend gamers who enjoy a great story telling JRPG with fun gameplay! The series is hitting their pinnacle and glad people are finally recognizing it's value that I saw 20yrs ago and 15yrs ago when the first Xenoblade Chronicles came out on the WII!

…

Expand

Best in the series by far, as it should! Masterpiece, they keep introducing new mechanics way past the opening chapters, this could be

Best in the series by far, as it should! Masterpiece, they keep introducing new mechanics way past the opening chapters, this could be complicated but everything is explained and the slow approach makes it feel like im learning and even evolving the characters. Many games i just put down, but this i cant put down.

Handheld or docked, i like both. It runs very good in my opinion and is contrary to many jrpgs a full fletched game. I love it.

…

Expand

MonolithSoft deserves so much credit for their fantastic work on Xenoblade 3. They have managed to create a modern JRPG masterpiece. XB3 has

MonolithSoft deserves so much credit for their fantastic work on Xenoblade 3. They have managed to create a modern JRPG masterpiece. XB3 has taken the best parts of 1&2 and added a ton of new, impressive systems to combat, traversal, and party customization all the while keeping the wonderful world building, music, characters, and awesome art style of the Xeno franchise. Best game in the series and I loved the first two games! Special shoutout to the complexity and smart design of the combat. The variety is sheer madness when it comes to party customization with classes, mechs, and chain attacks. Incredible improvements to the quality of life elements added to all the menus, navigation, etc in game compared to the first two games. Highly recommended!

…

Expand

dear God they went hard on this one gg monolith thank you funny japanese man takahashi

This game is genuinely the best looking first party Nintendo game on the switch graphics wise. The attention to detail in this game is insane.

This game is genuinely the best looking first party Nintendo game on the switch graphics wise. The attention to detail in this game is insane. If you enjoyed the other Xenoblade games, you would enjoy this game. MonolithSoft has outdone themselves once again.

…

Expand

Este juego ha sido un gran avance con respecto a las 2 entregas anteriores, la jugabilidad a mejorado bastante

He jugado a todos los títulos anteriores y empecé este con gran ilusión llevo 10 horas por el momento no me está gustando:
-Graficos:He jugado a todos los títulos anteriores y empecé este con gran ilusión llevo 10 horas por el momento no me está gustando:
-Graficos: reconozco que se ve bien las cinematicas el estilo anime está bien, pero cuando lo comparo con el Xenoblade X siento que estoy jugando un juego peor que un juego del 2015 les costó mucho más esfuerzo y les hizo ganar menos por lo optarán por el camino fácil.
-La primera horas de banda sonora me recuerdan al primer Xenoblade no me parece algo original.
-Algunos personajes me parecen calcos de los primeros Xenoblade's.
-Sistema de combate sigue siendo el mismo que crítico la gente con el Xeno2 olvidándose de la gran variedad de habilidades de otros xeno.

En general lo que más me ha gustado son las cinematicas la personalidad de Mio, Taion, Lanz(Mola pero su personalidad es horrible) el resto es copy paste.
Una gran desilusión me estoy llevando espero que ha más horas de juego cambie de opinión.

…

Expand